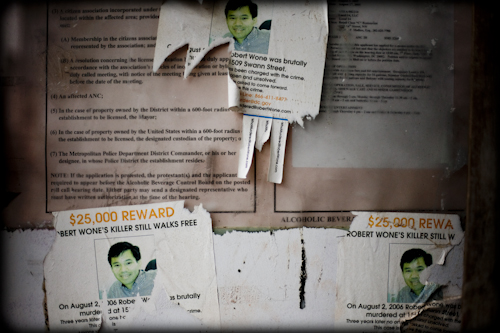 Nine Years Later, No Answers
It's a dark day to mark. On the evening of August 2, 2006, Robert Wone was slain in the home of his three friends, Joseph Price, Dylan Ward and Victor Zaborsky. The secrets from that evening are locked inside 1509 Swann Street and in the consciences of those three men.
Robert Wone lived his life bringing people together and he's done so after his passing. The large community who labored on his and the Wone family's behalf are testament to that. He may have been abandoned by a few, but legions remain loyal to him.
There are few better ways to support Robert's life's work than by donating to the memorial fund that was set up to honor him. Please dig deep, cut a fat check and continue hoping (and working towards) a resolution in the case and peace for Robert's family and true friends.
Robert Wone Memorial Trust  45 North Hill Drive, Suite 100  Warrenton, VA  20186