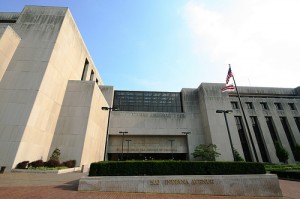 Pre-Gaming Today's Motions Hearing
At Tuesday's 2:00pm motions hearing, Judge Michael Rankin will more than likely hear arguments on one of the most pressing issues that has hung over the civil trial's discovery process – the plaintiff's repeated attempts to get the defendants to answer questions (as many as 500) in written form via roggs, or by way of spoken word during those tense and one-sided depositions.
Since this controvery first erupted last November, the tale of the tape shows a slew of posts covering the tidal wave of plaintiff and defense motions that have been filed and bickered over: here, here, here, here, here, here and here.  Oh yeah, here too, last week. 
The 5th Amendment also came up during the December status hearing. 
And they still haven't gotten this figured out?
Robert Spagnoletti, the summer criminal trial's top jock on constitutional issues will probably handle the chores today for the defense this time as well, squaring off against Covington's Ben Razi, lead counsel for the plaintiffs.  If their December sparring was any indication, today's hearing will no doubt leave us with writers' cramp. (Thanks DC Courts for not allowing recording devices at proceedings!) 
What else could be in store today?  Another depo – that of former MPD Detective Bryan Waid's testimony.  The new defense opposition was filed that takes strong exception with the DC AG's argument that the murder investigation's former top cop is protected by law enforcement privilege.  The new filings follow  and some other familiar detective names surface too.