"Rest awhile and enjoy the wonderful world around you."
Three years ago today, a simple post on a simple website went up. Those 150 words were the start of a long journey. We had no idea where it would lead, but we always had a guiding light to follow – the man who this website was set up to honor.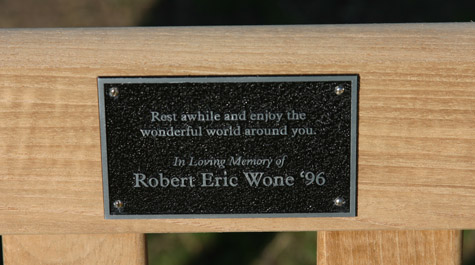 We don't know how to measure success. Simple web metrics only tell a part of the story: this is the 575th post and 45,000 comments were generated from over 2 million page views. But the raw data isn't the success, the people and passion behind those numbers were. Thousands were touched by Robert's life and senseless murder. We often said that Robert brought many people together in his too short life, and he continued to do so long after his passing.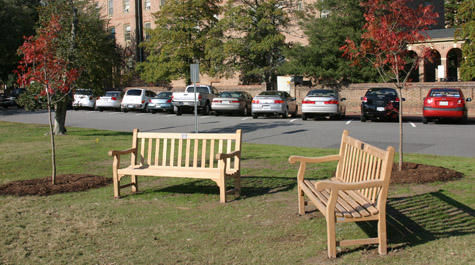 As the lights may flicker on this small outpost, the brighter flame of Robert's life continues to shine. The four of us and the many who keep Robert's memory alive still have that guiding light, its brightness augmented by the unrivaled strength and and undying love that Robert's family and friends have shown; lighting a path during some very dark days.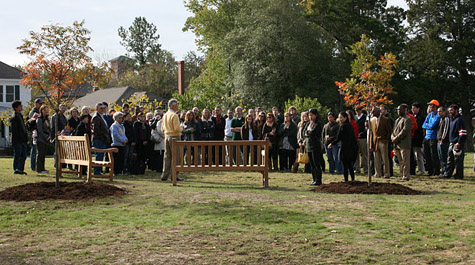 At William and Mary's homecoming, Robert's family and friends gathered to honor him by dedicating a small campus grove in his memory. Anyone who was touched by Robert's life should make the effort to stop by Barksdale Field to honor him. Before embarking on that journey, we can all dig deep again and contribute to the Robert Wone Charitable Trust.  There's no better Tribe to be a part of.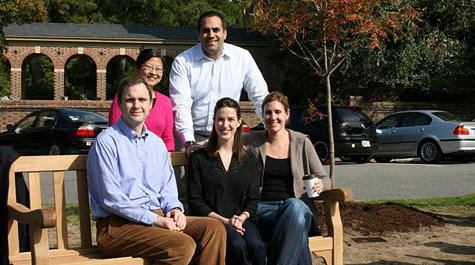 From the William and Mary Website:
In Loving Memory: A plaque created in Robert Wone's memory reads, "Rest awhile and enjoy the wonderful world around you." Tribe family remembers Robert Wone '96. by Brian Whitson |  November 3, 2011
The College community gathered over Homecoming weekend to remember one of their own.
On Oct. 22, 2011, two benches and two Chinese pistache trees were dedicated in memory of Robert Eric Wone '96. Dozens of friends and family gathered on Barksdale Field to remember Wone, who would have celebrated his 15th class reunion that weekend. Plaques in Wone's memory read "Rest awhile and enjoy the wonderful world around you." The William & Mary alumnus was murdered in Washington D.C. in 2006 in what remains an unsolved crime.
"The benches and trees are ideally located on Barksdale Field on the William& Mary campus, a field that overlooks a large grassy area where children are free to play and where students will often soak in the sun/pretend to study," Wone's wife, Kathy, wrote in a message following the event to classmates and friends thanking them for their hard work to raise funds for the tribute.
"This has been one of my happiest days since Robert's tragic death."
Wone's death five years ago has affected many at the close-knit College community. By all accounts, he had a remarkable career at William & Mary. As an undergraduate, Wone served as both a president's aide and a tour guide for prospective students and their families visiting campus. A Monroe Scholar, he received many honors, including membership into the Golden Key International Honor Society and Omicron Delta Kappa, the national leadership honor society for college students. At his Commencement ceremony in 1996, Wone, who majored in public policy at the College, received one of the two student Algernon Sydney Sullivan Awards.
"I always thought that award was very fitting for Robert," said Sam Sadler '64 M.Ed '71, who became good friends with Wone while serving as vice president for student affairs. Sullivan Award recipients are chosen based on their "heart, mind and helpfulness to others."
"Robert was a top student. He was the kind of person who could have been elected to any office on campus but he always chose to work from behind the scenes," said Sadler, who spoke at the dedication. "He was very, very committed to his friends."
As an undergraduate, Sadler said, Wone became interested in the history of the College. He met and became good friends with the late Davis Y. Paschall, who served as William & Mary's 22nd president from 1960 to 1971. He once wrote to Paschall and thanked him for inspiring a young student "to seek greatness in anonymity," Sadler remembered. "He went on to say that 'One of the most important things he found here was a loving group of friends.'
Sadler added, "Both thoughts are defining characteristics of Robert. He was constantly teaching me how to be a friend. He was just a remarkable person."
David Aday, professor of American studies and sociology, knew Wone well as both a student in his class and an advisee. Aday said Wone, who was part of an exceptional cohort of students that came to William & Mary in the mid-1990s, made a positive impact on many people.
"There was always this incredible combination of kindness and vision," Aday said.
Following his William & Mary graduation, Wone went on to earn his law degree from the University of Pennsylvania before working as an attorney in the nation's capital. At the time of his death, Wone was serving as general counsel for Radio Free Asia.
Kathy Wone said the dedication was her first visit to campus since 2006. It had been "too painful, too lonely" to return, she said in her message to friends. Now, however, she has a reason to return on a regular basis: "To make sure the trees are growing healthy and strong and to watch the benches get that well-worn sheen from lots of bottoms sitting on them!"
And she offered a suggestion for friends and family when they return to campus.
"I hope you'll take to heart the sentiment chosen for the plaques made in Robert's memory – to rest awhile and enjoy the wonderful world around you."
Editor's note: The William & Mary News included excerpts from Kathy Wone's email to friends with permission from the family.