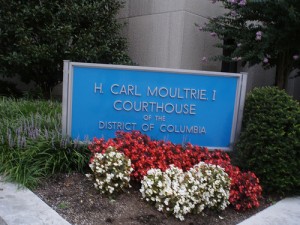 DC Attorney General answers defendants call for MPD records…and calls them cheap
Early in the new year, Joe Price et al served the MPD with a subpoena requesting all the documents in their possession relating to their investigation into the murder of Robert Wone., including detective's notes and correspondence with Kathy Wone regarding the autopsy.  Now, the DC Attorney Generals' office has answered their request with their own Motion to Quash.
The government contends that protecting law enforcement's privilege, which includes protecting the confidentiality of sources, law enforcement strategies and accumulated evidence, outweighs civil discovery interests. They claim it could have chilling effect on witnesses, and would have a negative impact by disclosing identities of people who have given information. 
The DC Attorney General bases his arguments in what looks to be the case the the Superior Court that directly applies on this matter, Kay v. Pick, of which, the AG notes that the defendant does not even address any of those factors in his Notice of Deposition Due Tecum.
Then the AG spells out why this privlege is so vital to this particluar case.
The motion reads, "The potential suspects and suspects' cohorts have an incentive to ensure that additional evidence is not provided to the police or that the witnesses cease their cooperation with law enforcement."  If the "potential suspects and suspects cohorts" by chance means the defendants in the civil suit and their friends, then AG seems to be calling the defendants bluff.  Are they saying the defendants don't want the information just to mount a vigorous defense but rather they're aiming to prevent a criminal indictment by stopping further people from cooperating with the MPD?
But, if all these smart legal arguments, which look to be well established in case law, aren't enough to convince Judge Rankin to quash the supboena, the AG lobs one argument in that is too delish not to mention.  They call out the defendants for being cheap when they note,  "Moreover, defendant has failed to provide funds to cover the cost of producing the documents in response to his requests." Ouch.
One of the most interesting tidbits looks to be how Dylan Ward's counsel, Schertler & Onorato, seems to have taken on a new client — Joe Price.  In the closing note they say that in liue of appearing for the subpeona that MPD can comply by just sending all the documents requested to "counsel for Joseph R. Price to Schertler & Onarato."  Looks like Robert Spagnoletti, who said he would be taking a back seat in the civil case, has not only reversed that course, but even moved back into the driver's seat for not just one of the Swann Street housemates, but now two as he goes toe to toe with the folks in the office that he once led himself.
MPD Motion to Quash
Defense Document Subpoena – Records