January Hymn:  The Status Hearing Transcript 
The final exhibit attached to the Plaintiff Motion to Compel is the transcript from the December 8 status hearing, the last that Judge Brook Hedge was to preside over before she turned the reins and gavel over to her colleague Michael Rankin.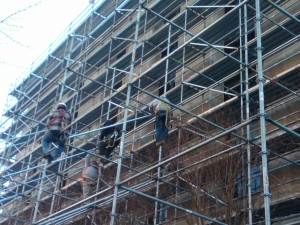 Those attending the proceding will remember the day, unseasonably cold weather and long, long lines to get into the Moultrie Courthouse.  The near hour-long wait delayed the start of the hearing because counsel themselves were on line waiting to get through the security checkpoints and mags.
The hearing itself lasted exacly one hour, but the agenda was packed and the arguments heated.  Debated were the gag order, defense motions to dismiss counts of the complaint, and finally, the Plaintiff Motion to Compel deposition testimony. 
We left Moultrie thinking that all those issues were squared away.  Only this week did we learn that there has been more defendant depo hanky-panky, according to Team Covington.
The transcript that follows is a good read and showcases the talents and strengths of the many attorneys on the case: Covington's Razi, familiar face Robert Spagnoletti, the new guy on the Ward team, Ralph Spooner, and the trio of Bret Buckwalter, Frank Daly and Sean Edwards for defendants Victor Zaborsky and Joe Price.   Also on hand that day was Chip English who argued on behalf of the Media Intervenors, of which we were a party to – or more accurately, the instigator.
The sixty-page read also gives readers the chance to see just how good (or bad) we are taking notes and getting quotes at these hearings.  Readers will also note far more misspellings and typos in the official transcript than seen here on any given day:  Mr. Ravi [sic] and Fred [sic] Daily [sic], just to name a couple. 
And there are no electronic records of DC Court proceedings why exactly?  Oh yeah, the official reporters (a DC Courts sanctioned, for-profit monopoly) has it covered.