When Answers Answer Little
Monday we took at look at the pile of Joe Price emails sent from his Arent Fox office that Plaintiffs have requested in their Motion to Compel Production.  As we only have logs at this point, we learned little concrete other than dates, times, recipients, and one unusual name.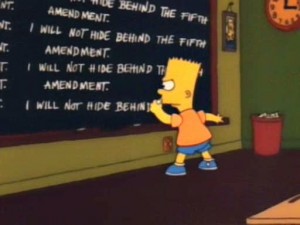 Also part of the Motion are Exhibits 16, 17 and 18 – the answers to Interrogatories by Joseph Price, Victor Zaborsky, and Dylan Ward.  Again, the hard facts we learn are few, as all three defendants either took the Fifth or objected to the questions, with one exception: they each gave their name and occupation.   (For the record: "Joseph R. Price, attorney", "Victor Zaborsky, Self-Employed Consultant", and "Dylan M. Ward, unemployed.")
However there are things we can glean from these pages, with the help of sharp legal eyes…after the jump.
While mostly identical, there are subtle differences in the three documents.   First, the when and where.  Dylan's is notarized August 18, 2010 by a notary in Washington State; Joe is next on the 19th in the District, and Victor last on the 20th – either here in DC or at his attorney's offices in Hunt Valley, MD.  The notary stamp on Zaborsky's response is missing so we can't determine his exact whereabouts.  Suffice it to say,  Ward being on the West Coast says something about the current state of the threesome.
All three were asked the same 21 questions, with one additional question posed to Dylan at the end.  Before submitting answers, Victor's attorney uniquely offers this preliminary objection:
"The U.S. Attorney has openly stated its intent to continue pursuing its criminal investigation against this Defendant, which could result in additional criminal charges being filed against Defendant Zaborsky.  In light of this fact, Defendant Zaborsky must exercise his right under the Fifth Amendment to the Constitution of the United States to decline to answer these Interrogatories, as any substantive answer to these Interrogatories may jeopardize his right to assert his Fifth Amendment rights in the future. "
As a side note, both Joe and Dylan's representatives could have raised the same objection, given MPD Chief Lanier's repeated comment that the Wone case remains "very active."  So why was Team Victor the only one to raise this point?  Is Victor perhaps somehow different?
The Interrogatories broadly seek any information the defendants may have that would shed light on what happened on and around August 2nd, 2006.  Some examples:
#3: "Identify all persons present at the 1509 Swann Street residence at any time on August 2, 2006."

#4: "Describe in detail the circumstances and events surrounding the murder of Robert Wone on the night of…"

#5 "Describe in detail any and all bases for your contention that an "intruder" murdered Robert Wone.
To these and many other questions, the answers are exactly the same:
"Upon advice of counsel, at this time Defendant exercises his right under the Fifth Amendment to the Constitution of the United States to decline to answer this Interrogatory."
There are exceptions.  For example, in response to Interrogatory #11 -asking for details of any and all physical contacts anyone had with Robert, specifically (but not limited to) the "…introduction of drugs, medications, or foreign substances…" into Robert, or "…whether or how you or any other person(s) physically or sexually assaulted Wone…", all three respond:
"Objection.  This Interrogatory seeks information that is irrelevant, not reasonably calculated to lead to the discovery of admissible evidence, and is meant to serve no other purpose than to embarrass, humiliate, and disparage Defendant."
That said, all three then again plead the 5th.  64 questions, and all we have are names and occupations.
So what can be learned from three men who refuse to answer any questions?  Perhaps the refusals themselves provide insight.
"This is highly unusual, and not at all normal for a civil case," notes Alexandria-based attorney Dale Edwin Sanders who has been following the Wone case.
No-one can be forced to provide information that would expose them to possible criminal charges – that's in the 5th Amendment, and a fairly uncontested statement.  However, unusually for a civil trial, the defendants here are still alleged to have committed a crime that prosecutors say remains an on-going investigation.
This puts the Swann Street three in a tough spot.  Answer the questions, and you may put yourself at risk.  Plead the 5th, and go on record with the jury as keeping silent to not self-incriminate.
The exception, says Sanders, are the objections.  If those objections are sustained by a judge, the jury would not be able to consider either the question or the answer – wiping it clean.  That said, questions which are not objected to are fair game.  "Answering with the 5th is basically acquiescing to the legitimacy of that question," says Sanders.
So could the defendants have simply objected to every question? Perhaps, but that may not be a smart strategy.   Frivolous objections are unlikely to be sustained by a judge, and attorneys who engage in clear obstruction can be penalized.  The end result: the jury will still only see defendants who plead the 5th.
"Juries get in that jury room and they want to know what happened," says Sanders.  "Sometimes the judge's instruction on the law are either ignored or not fully digested.  They don't like defendants who appear to duck and dodge every question.  And there will be heated debate about why the defendants chose to plead the 5th, which will include the question '…if they didn't do it, why not just answer the questions?'"
Pleading the 5th, as an answer, can be unsatisfying.  It can also be risky, raising doubts as to whether someone is hiding something they know.
Defendants' Responses to first set of Interrogatories