Marathon Man
The final installment of Dylan Ward's interview with DC police at Anacostia's Violent Crimes Branch runs the better part of two hours.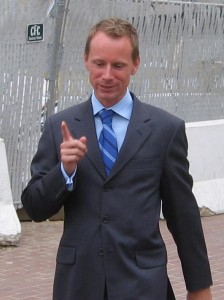 It begins with Detectives Wagner, Norris and Kasul exiting the cramped interrogation room, allowing their subject to sit in the corner, head buried in hands, hunched over in contemplation and letting out the occasional sigh, while waiting, waiting, waiting for the next session to begin.
Those pressed for time who have quick buffering, can fast forward 24 minutes (to 1:57 on the time code) to pick up the action with Detective Bryan Waid.  Ward walks Waid through his version of the evening's events. 
Waid has trouble with the intruder theory from the start – no signs of forced entry were seen by the police on the scene.  Ward maintains his and his housemates' innocence every step of the way.
The transcript of the session is here (page 50). 
One more set of interviews, Joe Price's, is all that remains to be screened.  We will offer those in the coming days.
Dylan Ward MPD Interrogation Video 3 – Time: 01:50