The Late Show Continues
Victor Zaborsky's first interview with MPD detectives at Anacostia's Violent Crimes Branch ended around 4:30am on the morning after Robert's murder.  The night was still young and he would sit for two additional sessions, each growing slightly more contentious that the last.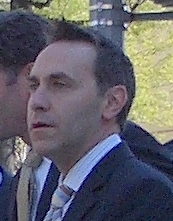 Again we hear of the flight back home from Denver, the gym, showers, burned steaks, plumbing problems, watering the plants, making the bed, post-nasal drip… you get the idea.
He shares more detail here about finding Robert in the guest room and instead of saying he heard screams, it is now described as  "a really low breathy grunt kind of sound," that woke him up.
This interview may have happened after the "Mercedes meeting," in which AUSA Glenn Kirschner accused Zaborsky of changing his talking points after having conferred with Price in Scott  Hixson's car during a break.
Hixson, their Swann Street neighbor and friend, met the threesome early that morning in Anacostia and testified on day fourteen of the obstruction trial.
The transcript for this second installment can be found here.
After the jump, the forty minute session.  On Friday, the "Lost Episode?"
Victor Zaborsky MPD Interrogation Video 2 – Time: 00:42