3:30 Update
As expected, the first witness called after the lunch break was Jason Torchinsky.  Close friends by all measures, attorney Torchinsky was also close to Kathy Wone at the time of the murder, and served unofficially for a brief time as Kathy's counsel. 
Torchinsky testified on two main areas – first, the Sunday evening phone call from Joe, saying that his (Joe's) attorney would be phoning him asking Kathy to waive her attorney client privelege and perhaps answer questions of the interview she (Wone) had with MPD Det. Bryan Waid the day before.  
Second, notably on cross, Torchinsy faced questioning from Grimm on his (Torchinsky's) decision to forward to Patrick Martin a number of emails between Tara Ragone and Joe Price.  "Was this done with Joe's permission?" Bernie asked.  No.  "Why did you do this?"  "I thought it could help," he answered. 
His brief direct, cross and redirect saw him on and off the stand in less than 1/2 an hour.   Next and currently up: expert testimony on DC burgarlies.
Earlier updates follow.
1:30pm Update – and 10 Seconds of Drama
Continuing to be questioned by prosecutor Patrick Martin, neighbor and friend (and sometime sexual partner) Scott Hixson said that he never met Robert Wone didn't know who he was, and "…never heard his name ever in my life," before the murder. 
The night of August 2nd Hixson dressed in his back room before going to bed sometime between 11 and midnight.  Seeing a commotion in the street, he saw someone open the door wearing white bikini underwear and shortly later saw a body wheeled out on a gurney. 
Later, he saw the three defendants being driven away in cars around 3:00am, and got a phone call from Price at 6:00am.  "Scott, I've had the worst night of my life, can you pick us up at the station?"  Both Joe and Victor seemed anxious, he says, before taking a seat in his car.  Joe in the front seat spun out the story of what happened, with Victor occasionally chiming in.  "Joe said he pulled the knife out of his friend," Hixson said. 
Only later did he mention an intruder.  Martin's direct turned to the night of the burglary, with specific focus first on Ward's request for Hixson to accompany him in house, and second as to whether there were any discussions among Ward and Zaborsky about phoning the police.  "Yes," he replied, "they were going to wait and decide what to do…after having a discussion with Joe"
On cross, first by David Schertler, Hixson recounted that he cut himself off from contact with the defendants in the fall of 2008, partly on advice of counsel, and partly to "…remove myself…" from the situation.   He described the housemate's relationship as working very well; "progressive" in his words. 
Grimm's cross followed, more details of which will come later today.  Now the moment of drama.  Asked by Grimm if they housemates knew of his (Hixson's) sexual encounters with Ward and Price, Hixson was under the impression they did. 
When asked to clarify and to explain why he thought that by Judge Leibovitz, Hixson said he "…had been with someone who the night before had been with them."  Been with them?  The courtroom levitated.  Gasps followed as Hixson attempted to clarify before being cut off by a chorus  of defense objections.  Hixson, aware that he had said something he shouldn't have, smiled sheepishly as a lengthy bench couference followed. 
The judge withdrew her own question and had the response stricken, but not before everyone in the courtroom felt that they had learned something new…and wanted to know more.
11:45 Update
A lot happening this morning, even before Scott Hixson took the stand.
The prosecution estimates nine more witnesses, including "fairly substantive" testimony from Hixson and Louis Hinton.  One expert is expected – Dr. Fowler – and the prosecution estimating wrapping its case by Wednesday.  Good luck, we think, judging by today's pace.  The defense will be moving their substantive Rule 29 motion (acquital) on rest, perhaps Thursday, and is hoping to start its case on Monday.
Next up: Scott Hixson – neighbor, good friend, and more.  At least with Ward and Price.
Hixson met Price thro0ugh mutual friend Jefferson Wilson before the trouple moved to Swann.  They became good friends, living close and sharing friends, with Hixson, Price, Zaborsky and several other friends even vacationting in Puerto Rico together. 
Hixson knew of the dynamics of 1509, but perhaps not the exact specifics.   AUSA Patrick Martin worked hard to suggest that Price and Zaborsky didn't share a sexual relationship – knowledge beyond Hixson's ken.
And it seems the threesome may have been somewhat in the dark about Hixson's relations with them.  He admitted to sexual encounters with Price twice before August 2nd 2006, and 3 or 4 times with Ward – before August 2nd and after. 
More on the night of the murder, and what Price and Zaborsky told him, during our next break.
Bull Dog Edition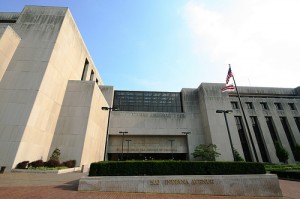 The Robert Wone trial starts up again this Monday morning, following a slightly longer than expected week-long break.  While some may have used this early June hiatus to enjoy the summer, there's no doubting neither legal team did.  In the first three weeks we've seen several mid-course adjustments – some fairly major – from both the prosecution and defense.   More are expected, and each of those adjustments means more late nights and a few more Anacin for all involved.  
Back to Business: The government resumes its case in chief with more witnesses.  We've already heard from Tara Ragone and Sarah Morgan; potentially coming up now are former neighbor and friend of the defendants, Scott Hixson, William & Mary alum and former Wone roomie Jason Torchinsky, and Louis Hinton – Michael Price's boyfriend and alibi on the night of the murder.
Other likely candidates include blood spatter hot-shot Robert Spaulding and MPD Det. Gail Russell-Brown, who twice had been called to the stand earlier, and twice dismissed over legal wrangling of what's "for truth" and what's "not for truth."  With the government's zig of offering everything "not for truth", and the defense's zag to compensate, she may make actually be able to speak this time, assuming she's still on deck.
Keeping Cool: 310 Moutrie is not the best place for a summer-time trial.  As Judge Lynn Leibovitz herself has often noted, it tends to get rather hot rather quickly: witness Tom Connolly's close call with passing out a few weeks back.  It's a small room, with a lot of lawyers gathered close in, and it's in a building run with all the efficiency of the DC government.
But it's also the emotional heat that seems to be on the rise from all parts – notably the defendants.  Again, not so surprising.  The trial is likely more than half-way over, and the stakes are significant.   And the week-ahead forecast – both inside the courtroom and outside – is for the heat to build.
Taking Pride:For all who were inclined to celebrate Pride this weekend in DC, we hope it was a good one.  There's been another type of pride on display recently: the swelling ranks of first-timers coming to this site.  By and large commentors have remained focused, active and curious without being overly tart…or worse.  We genuinely appreciate all your thoughts and continued good manners.  One small point: if you're writing a reply that's a big longer, it helps readers if you put in the occasional line break to make it easier to scan.
Just like this one.