Knife Fight
The morning was spent trying to determine whether or not two key tests performed by semi-retired FBI trace evidence analyst Douglas Deedrick would be included.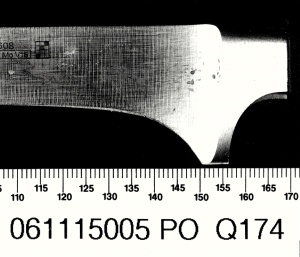 The tests involve his work on fiber transfers from an eight pound pork loin, meant to simulate human tissue, and his fiber imprint test using a substitute white cotton towel and equine blood. 
Judge Lynn Leibovitz wanted to hear testimony on Deedrick's methodology on both tests so she could decide. 
After the lunch break, Deedrick and the government were given their chance to show what they had.  It was a messy afternoon.
The late session began with Leibovitz quizzing AUSA Rachel Carlson Lieber on what she expected to elicit from Deedrick when he testifies.  Carlson Lieber said Deedrick's findings would say that the marks he saw on the knife found at the scene (government exhibit #13) were consistent with blood being swiped across or dabbed onto it.  That was the easy part.  When Deedrick finally took the stand, it got far more complicated. 
Complicated is a clever euphemism for combative.  The legal pugilistics after the jump.
At 2:20pm, when Deedrick began, the courtroom was at capacity.  There's no telling what sort of testimony those in the audience expected to hear, but an in-the-weeds forensics class may not have been what they had in mind.
Carlson Lieber walked Deedrick through each of the experiments and what led him to conduct them.  He started with fibers he recovered and analyzed on different items of evidence: the knife, bloody towel, Robert's green gym shorts and government exhibit #34 – the white t-shirt recovered from the washing machine at 1509 Swann.  To analyze them Deedrick did a basic microscopic examination, then two more advanced methods: a fluorescent microscope and spectography.
At more than one point during Deedrick's testimony, Ward counsel David Schertler rose to make several objections.  Sometimes he would just rise and try to get a word in edgewise, leading Leibovitz to scold him about interrupting Carlson Lieber's direct.  As far as the fiber imprint analysis on the knife found at the scene, Deedrick said the "dotted pattern" of blood that he found on the knife's bolster (hilt), caught his attention:
"When I first saw the dotted pattern…I found it unusual based on my experience.  On the reverse side of the knife I saw a similar pattern although more faint."
He thought it could be a towel that left the imprint because the closely aligned loops of the fabric could impart that particular pattern.  Deedrick needed a duplicate towel to conduct his tests and got one from Robert Spaulding, another retired FBI analyst who will be testifying on behalf of the government.
Deedrick's first imprint test was with something called an 'identicator." Alternately referred to as a "thingie" and "contraption" by Judge Leibovitz this afternoon, an identicator is a large stamp pad with an ink-like chemical, and special test paper that can display any fabric patterns pressed against it.  Deedrick dipped the duplicate towel in the ink, pressed it against the test paper and got a dotted pattern, although it was somewhat muddled.  He chalked that up to not applying the right pressure to the test paper.
There were more provocative outbursts from Schertler, and again Judge Leibovitz told him to back off.  Schertler then started firing his own questions at Deedrick while Carlson Lieber was questioning her witness about the identicator "thingie".
Deedrick again spoke of the test with the horse blood and a replica of the knife found at the scene – an exemplar in court talk.  He smeared the towel with blood and swiped it from the tip to the handle.  On his second imprint test, Deedrick dabbed the bloody towel onto the knife.
Asked by Carlson Lieber what his conclusion was on the test pattern, Deedrick said, "The marks on the replica knife are similar with the knife found at the scene…They could've been produced by a towel."
There was a short break, then Carlson Lieber continued with Deedrick on his pork loin experiment.  He said he conducted the test because there is little material available on fiber transfer rates; he was curious and wanted to see for himself.  He wrapped the loin in a black Tultex t-shirt.  The William and Mary t-shirt Robert was found in was also a Tultex, but it was grey.  Deedrick said he used black so the fibers would be more easily identifiable under magnification.
He did three trials of three stabs each.  There results were similar: trial #1 resulted in 20 short fiber fragments remaining on the knife, on the blade edge.  Trial #2: nearly 40; trial #3: about 15.  He found short fragments on his test knife while the fibers from the crime scene knife were longer.
At 4:10, Ward counsel David Schertler took his opening shots at Deedrick, working to hang the expert out to dry in front of the entire courtroom.  Although he first inspected the crime scence knife in December 2006, he did not know when the murder occured…November 2006, Deedrick thought.  Schertler hectored him at length on that supposed two-month delay in beginning his analysis.  Eveyone in the courtroom knew Robert was murdered in August 2006, but Schertler dug at Deedrick, and his confusion as to the actual date.
As the cross wore on, the shots became more sustained and aggressive.
How many meetings or calls did Deedrick have with the government?  Deedrick responded the first time was in early 2010, but it took David Schertler to remind the witness that there was actually a July 2008 meeting between him, Spaulding and AUSA Glenn Kirchner.
Did Deedrick ever see crime scene photos so he could know the environment and context that the knife was found?  Deedrick did not and chalked that up to oversight.  "It's relly not how we operate…I can't do examinations from crime scene photos."
Schertler wasn't done; he had a big finish in store to close out the day.  Using a super enlargement of an early crime scene photo of the knife, many dark hairs were clearly visible.  How many hairs did Deedrick recover?  Only two.  Would it have been important to get a look at how the knife was found (with all those hairs)?  "What I did not find, I did not report on," Deedrick replied.
After a trip through Deedrick's bench notes, Schertler shanked the witness one final time for the day.  He walked Deedrick through a chronology of his time on the case.  Deedrick first saw the knife in December 2007, then saw the bloody towel in January 2007.  But it wasn't until March 2010, two months ago that Deedrick did his experiments.   Schertler pounded Deedrick on whether he knew that three people were indicted in the case and why it took him so long to test, implying a serious lapse in someone's duties.
In a parting jab, Schertler hit Deedrick on his association with colleagues.  It turned out that it was Deedrick's 'friend,' Robert Spaulding who actually supplied him with the duplicate towel and equine blood for the experiments.
That was it for the day, and it couldn't end soon enough for Doug Deedrick. The trial resumes Friday morning at 11:00am.