Target: May 10
At first it didn't  look like today's status hearing was going to start on time.  It was nearly 3:00pm and there was no sign of the defendants.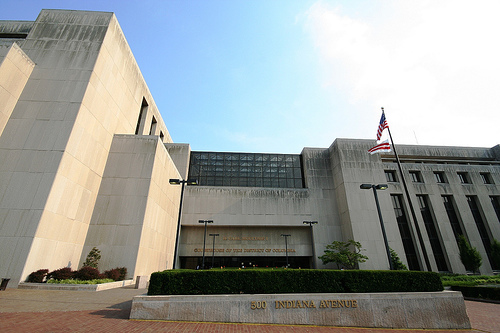 While his defense team colleagues were all seated in room 310, Victor Zaborsky counsel Tom Connolly was the designated lookout watching the zig zag of escalators in the atrium of the Moultrie Courthouse.   A few minutes before 3:00pm the Swann Street defendants were spotted coming up, all together.
Judge Lynn Leibovitz was wrapping up her previous case and was awaiting the jury to return with their verdict.  "Not guilty," the foreperson announced.  Not guilty on murder in the second degree, use of a firearm in a violent crime and possession of a unlicensed weapon.  A family member wept upon hearing the verdict and was ushered out. Excuse the jury. Done and done.
Without missing a beat, Leibovitz transitioned to the Wone case.  She made it clear what the agenda was: housekeeping.  The major pending motions to sever and suppress, including a few new motions in limine that hit the clerk's office just today will have to wait.
Leibovitz announced that room 310 will be the trial's venue.  Another Superior Court judge told her that he was able to juggle a recent four defendant trial with no problems at all.  A three defendant affair will offer plenty of room to move.
The judge still has her mind set on sticking to the trial date May 10,  "We're on target to have everything resolved and start on time."
But there sure seemed like there was plenty left to resolve this afternoon.  About an hour and half's worth.
 Let's make that an hour and half's worth of minutia:
Whether government's expert witness, retired FBI agent and forensics ace Robert Spaudling's documents have been delivered to the defense.

If the government has provided the defense with the "front of the envelope" documentation on the fingerprint evidence.

When the government should expect to get all their physical evidence returned (all except for item #34, the knife?)

If it's appropriate for the government to provide the defense with the current DC Medical Examiner's policies and procedures.
Important to the defense seems to be the chain of custody on a number of evidence items.  Very important it seems.   Connolly maintained there were no chain of custody logs of the knife and fibers.  They have results but no chain.  Leibovitz pressed him to be more specific and state exactly what he was asking for.  She asked him where exactly in Rule 16 does it say the government owes him any of that.  She wanted specifics and pointedly told him, "You really haven't described that piece of paper.  You haven't articulated what you want."
Leibovitz then turned her attention to the three defendants.   While the judge was engaging counsel, the housemates were a little too animated for her tastes and patience.  "I'm talking to the lawyers," she admonished them, "comments, nods and expressions should be saved for later."
Tying up the loose ends on the chain of documents, she again pressed the defense team for specifics.  "I can't order the government to produce or hunt for every piece of paper in the world.  Rule 16 does not require that."
Reading between the lines of this lengthy back and forth shows how the defense may build their case, calling into question every piece of physical evidence as compromised in some fashion whether by the MPD or FBI. 
We learn of a new defense expert witness expected at trial, a cardiac surgeon.   AUSA T. Patrick Martin rose to express his reservations on this new disclosure.  He may file motions in limine regarding this witness because of credentials and maybe not enough notice was provided.  Martin characterized the surgeon's possible testimony: that one single stab wound to the heart can incapacitate the victim. 
Next up was discussion on the newly found documents and evidence: videotape of Zaborsky's interview, notes taken by Detective Brown and the "recollections" of the eleven MPD officers who were in a position to have heard the defendants' conversations on the night and morning after the murder.   "Recollection," Leibovitz said sarcasticly.  
Bottom line on the newly found material, there's nothing new in any of it, nothing of substance that the defense does not already have and the government has complied with their Rule 16 obligations on them. 
Taking the lead on this piece for the government was a new face, AUSA Rachel Carson, who may have the unenviable task of document management for this case.   Connolly managed  a lot of the day for the defense but at one point was at a loss as to who all the the clients were," Mr. Price, Zaborsky and…. (pause)  Ward."
MPD Detective Waid, currently in Florida (hmmmm… is that a fishing trip or a fishing trip?) will be a witness at the trial and the defense has the freedom to interview him beforehand.
In order for Leibovitz to rule on the defense motion to sever, she needs more specifics from the government, more details on which statements establish co-conspiracy.  She told AUSA Glenn Kirsner to go read 'Thomas," a recent ruling that touches upon the issue.   She gave him until April 16 to respond and gave the defense until April 23 for their reply.
Next to the expected testimony of the government experts including  DC Deputy Medical Examiner Lois Goslinowski, Maureen Walsh and David Sergeant and whether they'll be offering testimony based on scientific fact or opinion.  To Kirschner, Leibovitz said, "Medical examiners say a lot of stuff, some with certainty, some with not."  She told him to submit a detailed proffer on the three experts.
On Goslinowski, Leibovitz was even more specific asking if she'll conclude in front of the jury that Robert was sexually assaulted.  Goslinowski said as much in the affidavit Kirschner responded.  "Was she speculating," the judge asked, "she can't just blurt out an opinion."   Leibovitz told Kirschner he has to get the M.E. to specify how she will approach sexual assault, the basis of her reasoning and this must be shared with the defense.  Bottom line according to the judge, "Did she conclude sexual assault took place with a reasonable degree of certainty?"
This didn't necessarily suit Connolly who mentioned a Frye hearing on the M.E's scientific underpinnings on sexual assault.  Leibovitz  quipped, "Why don't you just file a motion and proffer your opening statement." 
She warned both sides on the "semantic risks" that may open up the discussion in front of the jury.  Tread carefully on this highly charged issue.
All that was left was to set the date of the next status hearing: Friday, April 23 at 3:00pm.  At 4:30 she began a lengthy bench discussion at counsel and then gaveled out.
The Scene:  Supporters on hand for the defendants were Aunt Marcia and her ever-present companion, Louis Hinton and a just a few others including Kim Musheno.  The Wone family was present with Kathy Wone seated next to her attorney in the civil case, Covington's Ben Razi.  The courtroom was maybe two-thirds full, if that, the light turnout possibly due to being held on a Monday; it's much easier to slip out of the office on a Friday afternoon.
Joe Price sat in between Zaborsky and Ward, again balancing a thick binder on his knees.  Ward sat apart from his two housemates separated by someone's wheel around document case.  At times, Ward, well tanned, appeared as if his eyes were closed during parts of the proceedings.  Price looked engaged, Zaborsky too.
-posted by Craig and Michael
The Sights:
Defendants and supporters depart the courthouse
[youtube=http://www.youtube.com/watch?v=zej-82v2G0c]
Defense counsel departs the courthouse
[youtube=http://www.youtube.com/watch?v=pDJhqwsMUqA]