Friday's Hearing – And Behavior – Raises A New Theory
The more time passes from Friday's status hearing, the more serious questions arise.  We love hearings like that, and will have much to say over the next few weeks.
As always, there were small details of the day that could easily be over-looked.  Mere dots on a much larger canvas.  However seen together, and with the advantage of a little distance, these small pieces may – perhaps – be the telling details of a very big story change about to come.  Perhaps.
These are the dots…and one possible way to connect them.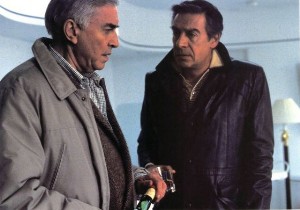 First, while shooting the departure video (shakes and all, our apologies) it did seem a bit odd that Joe Price and Dylan Ward's co-counsel Robert Spagnoletti were leaving together, and alone.
Of course, one could write that off to the defendants becoming more wily in evading cameras, or perhaps Joe's apparent need to manage the legal strategies.
Second, when we learned that Victor Zaborsky, Dylan Ward and Victor's counsel – a clearly irritated Thomas Connolly – not only used a different exit but actually went in a completely different direction than Joe…eyebrows raised.
Third, thinking back to the pre-trial scene, we all separately noted how…uncomfortable… it felt that Joe was at one end of the hall conferring the Mr. Spagnoletti, with Dylan and Victor at the other end; those two arriving and even entering the court-room together (and thanks again  for the door Victor; very kind.)  In fact, looking back the only time the three defendants were physically together was during the hearing: Joe in the middle, Victor on Joe's right, Dylan at his left.  There is a certain truth in physical details.
And fourth, these all combined with Mr. Connolly's "indiscreet" remark, directly in front of one of these four editors.  Face clenched, clearly irritated at the knuckle-rapping he and his team had just received from Judge Leibovitz,  Mr. Connolly none-the-less moved himself to prevent any direct photos of Dylan – who isn't even his client.  And a breath of a moment later, speaking loudly enough to be heard, he made his now headline remark.
Let's be plain.  A man of Mr. Connolly's skills knows exactly what he's doing.  He could have waited for a private moment to relay his thoughts to his client, but didn't.  He chose this moment to make clear his displeasure at what had been "…not a good day."  It seems obvious he wasn't just speaking to his client, but to someone else as well.   But who?
After the jump, the dots connect in an unforseen way.
First, it seems much breaks down for the defense – and builds up for the prosecution – following Judge Leibovitz decision.  Decisive, it appears to allow broader range for the prosecution and limits the defense claims of unconstitutional charge.   Of course, we expect Judge Leibovitz to continue to confound with her rulings.
So: a new theory.   The Trouple – or Duople more apt – are physically separating, but not along the expected fault lines.  Joe and Victor are the domestic partners, but it's Victor and Dylan who seem unusually chummy.  Victor's attorney previously has made clear his intention to separate his client from the other two defendants; now it seems Joe is the one getting separated.
Previously on this site we've heard a cramped effort to cast Dylan as sole murderer and Joe (and Victor) as willing dupes in the cover-up at worst…or perhaps Joe as mere bystander.
But what if we're asking the wrong questions?  What if the missing piece is actually missing?
What if it wasn't Dylan, what if it wasn't Victor?
What if the murder was committed by one or both of the Price brothers, with Michael Price the missing piece?  Although missing here, he's been in attendance at each of the us hearing.  Follow the dots here…
Joe and Mr. Spagnoletti (Ward co-counsel) huddle before and after the hearing, departing together to unknown location.  Joe – and the entire Team Trouple – have just been schooled by Judge Leibovitz, who not only denied the (Joe's?) Joint Motion to Dismiss Counts One and Two but took precious court time to read her opinion into the record – are in retreat.  Thomas Connolly, tired of following the constrained defense map charted out elsewhere – and certainly not by his client – decides it's time for bullshit to be called for what it is.
Think about it.  Connolly has been the most vociferous advocate for testing on any of Robert's remaining physical samples.  What he may know: my client wasn't involved in the murder.  Might he be working on creating even more distance between Joe and Victor…and bringing Dylan along as well?
Everything we've seen – and that you will soon see – from the autopsy suggests that Robert's fatal blows came not accidentally or casually, but with great force and with Robert clearly unable to defend himself.  Joe or Michael seem to have the physical size for that; Victor and Dylan appear not to.
It seems some evidence – the actual murder knife, bloody towels, clothing, etc. – may have been removed from 1509.  Michael could have performed this task at the behest of his older brother.  He was originally one of the targets of the early police investigation, after all.
Dylan and Victor are found in their robes, either in a daze or a panic.  Joe is not wearing a robe, but just underpants.  He's the one doing all the talking….changing his story even between Diane Durham and subsequent investigators.
And if one of the brothers is actually covering for the other, why would the two innocents (Dylan and Victor) cover for Joe?
Any number of reasons present themselves, including Joe's insistence that if they hang together and keep their mouths shut, the police won't be able to charge any of them with murder.  Maybe not even charge them with conspiracy or obstruction.
It was a tactic that appeared to have worked; at least until Friday's hearing.  Now, not so much.
And if the legal arguments continue to fall apart, at what point does the person/people doing the covering decide they need their own cover?
–posted by Doug