The Post's Second Take
In the Saturday, August 5 edition of the Washington Post, coverage of Robert's murder was bumped from the Metro section's front page to B 3. 
A few more details emerged in reporter Allison Klein's second article on the case.  And it didn't take long for it to go gay.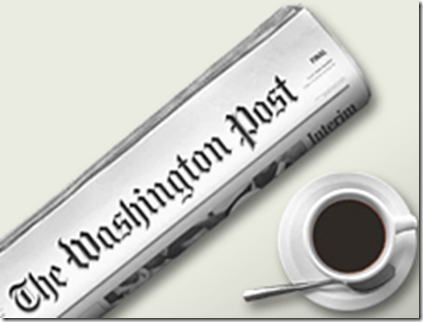 While unnamed sources filled much of the Post's first article on the crime, the MPD rushed out Sgt. Brett Parson, then commander of the MPD's Gay and Lesbian Liaison Unit, as the lead spokesman for the Wone case on Day 2. 
Maybe in some ways this was due to Detective Daniel Wagner's amped-up questioning directed to Joe Price, as reported by the Post's Paul Duggan, that some have characterized as gay-baiting.  But for the record, Klein writes Parson:
"…is helping to investigate the case because neighborhood residents include prominent members of the gay community. Parson said his unit will investigate a crime if it intersects with the gay community in any way, 'regardless of whether the victim, suspects, witnesses or location is connected with the gay community,' "
Parson's message to the Post was one of confidence leavened with realism.  According to Klein, "Parson said that police were confident they would find the person who killed Wone but that they were not close to an arrest."
The full piece after the jump.  Allison Klein would go on to write more about the Wone case including a 2007 article on the first anniversary.  She contuniues to dutifully cover the region for the Metro section.
Killer Targeted Lawyer, Police Say

Assailant Used Butcher Knife in Rowhouse Near Dupont Circle

D.C. police believe that a prominent lawyer was targeted when he was stabbed to death with a butcher knife in a townhouse this week near Dupont Circle.

Robert Wone, 32, who lived in Oakton, was found late Wednesday in a home in the 1500 block of Swann Street NW. He was the general counsel for Radio Free Asia, a nonprofit group that broadcasts news in Asian countries.

"The evidence we have found so far would lead us to believe Mr. Wone was not the victim of some happenstance," said police Sgt. Brett Parson. "This attack was specific towards him."

No arrest has been made.

Initially, detectives were looking into the possibility that a burglar broke into the house and encountered Wone by chance. But investigators said there were no immediate signs of forced entry. And authorities believe that the knife used to stab Wone came from the kitchen, an investigator said.

Police continued to search the home for evidence last night.

Parson, commanding officer of the D.C. Gay and Lesbian Liaison Unit, said he is helping to investigate the case because neighborhood residents include prominent members of the gay community. Parson said his unit will investigate a crime if it intersects with the gay community in any way, "regardless of whether the victim, suspects, witnesses or location is connected with the gay community," he said.

A police source said Wone was friends with a resident of the house and was spending the night there because he had worked late and did not want to drive home to Virginia, where he lived with his wife. She has declined to speak with reporters since his death.

 "I don't think a closure is imminent," he said.

Wone, who grew up in New York, was president-elect of the Asian Pacific American Bar Association's Washington area chapter. A member of the group said yesterday that the organization was respecting family wishes and not commenting about Wone or the case.

Former colleagues remembered Wone as a kind, dedicated co-worker and friend. Before joining Radio Free Asia in July, Wone worked for six years as an associate at the law firm of Covington & Burling.

Heather Haberl, an associate with Covington & Burling, worked with Wone in the firm's real estate group for four years.

"It's a devastating loss. He's a truly amazing person," Haberl said. "He always had a smile on his face. He was always interested in understanding who you were. He was very charming and very good with clients."
-Craig