Although a couple weeks late, we mark the 4th anniversary of the first post.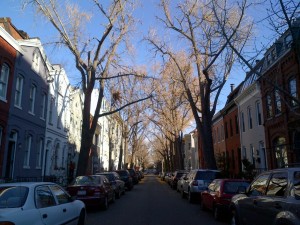 While biking past 1509 Swann Street the other day, we were again struck by the block's beauty. No matter what the season, it remains one of Washington's most charming streets.
The trees were bare and the late afternoon sun dappled the handsome facades. Residents were putting up Christmas decorations, and in fact, the new owners of 1509 were hard at work hanging wreaths that afternoon.
We've long given up trying to make sense of the crime that occurred there, although in private moments, we think we've picked the lock and have pieced together exactly what happened on that August night in 2006, and who is responsible for Robert's murder and its cover-up. But the "why" always escapes us.
With the perspective of years, we have complete confidence in one important "why," and that is the people who came here to respect and honor Robert's life. It's because they cared, maybe the most important "why" there is.
We did the easy part. Thousands of visitors, commenters and sharp minds came together here for years and still do. Many have become friends. They are the true testament and legacy of this site and they will always have our deepest and most sincere thanks.
Michael, Doug, David and Craig