A Defense Version Of What Happened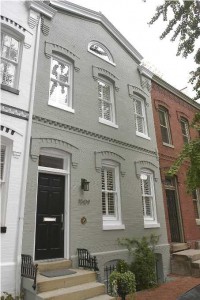 With news on the Robert Wone case trickling to a standstill after the civil judgement, we thought this would be a good time to report something we heard.
It seems that a certain investigator for the defense has not been discrete about what she thinks went down the night of August 2, 2006 at 1509 Swann Street.
For folks who attended the trial this  investigator stood out.  She looked like someone more at home attending an L.A.-based celebrity trial, such as the O.J. Simpson case, instead of one in frumpy, fashion-challenged Washington, DC.
Whether it was the Christian Louboutin heels, the striking slit skirts and bleached blonde mane, one couldn't help but notice her.
Yet, her identity and purpose remained a mystery.
Throughout the trial folks could be identified — Wone family or supporters; defendants, their families and supporters; or they were press people and interested trial observers.  One of the tell-tale signs was who gathered with whom when the trial was on break.
She never gave up a single source of information about who she was or why she was there, even when we prodded or tried to broker a conversation,
It turns out she was hired by Joe Price's counsel, Bernie Grimm, and was his investigator.  Could she have been the one who found the caved-in plastic toy in the house next door?
Whether or not she discovered this information, she certainly has some opinions that she is sharing.
Seems that even she doesn't believe there was an intruder that night.  A rather surprising admission coming from the defense bench. Their entire case was premised on an unknown intruder breaking into the house and murdering Robert.
She believes there was no intruder that night and Robert committed suicide.
This, of course, raises more  questions than it answers.  If that was the case, then how did Joe and Victor hear the door chime go off before the low-breathy grunts sounded, which woke them from their slumber.  Her answer is Robert went outside for a breath of air when we went down to get the knife from the knife set in the kitchen.   Robert, also, forgot to lock the back door as well.  Seems no one cared to lock the back door that night.
Then, he went upstairs and stabbed himself three times, once into the the difficult-to-pierce breast bone.
This far-fetched scenario seems to reveal a couple of things.  First, even people inside the defense camp did not believe the intruder story.  Our leggy investigator shoud be congratulated for this rationale and reasoned thought.
Yet, because our Christie Brinkley look-alike believes her client is innocent, she is left with a sceanrio so outside the realm of possibility it is absurd.
— David