Today marks exactly four months until the (scheduled) start of the October wrongful death trial.  That flurry of motions and filings we'd expected have yet to materialize, but the coming months should see the kickoff of a nasty battle over what evidence and testimony makes it to trial. 
Now that we know the proper pronunciation of 'in limine,' we feel like old pros (or paralegals) and are ready to jump into them.
And for you devotees of guest posts, we took "Christine' up on her offer she made in a comment on Hoya's essay – to do a statement analysis of Price's portion of the 'Anacostia Dialogues." Statement analysis is to some an emerging (soft) science for criminal investigators, but not without its critics.  It should make for an interesting, if not exhaustive post, to come in the next week or so.
Part one of Bea's submission generated close to 100 comments and the final chapter could elicit as many. When lobbing in a comment, if the preceeding one looks skinny, start a new thread and mention who and what you're responding to up front.  Until the large print version of WMRW is released, that's the best we can suggest. We now yield the floor bandwidth:
"We can all speculate as to how we would have acted/reacted under the same circumstances.  I might've been rattled and even overcome with grief that night, but I know that I wouldn't stop cooperating in the days, months and years that followed.  Without a doubt some people are wrongfully convicted, but that would not be an overriding concern for me nor, I would venture, would it be for most people. 
There is no denying that that night was hell for the defendants – to see the bloody body of a murdered friend, to feel the heat of suspicion, to sit for hours in the sparse interrogation rooms with cops coming and going like car salesmen following a script to wear you down. 
Taxing, to be sure, but not enough to stop someone from helping find the murderer.  What we didn't see from Joe Price during the interview was anguish over not knowing who killed his friend – at least I didn't – there seemed to be no turmoil or outrage of feeling useless, of wanting to stop wasting time, of wanting the cops to get on to the real business of catching a murderer.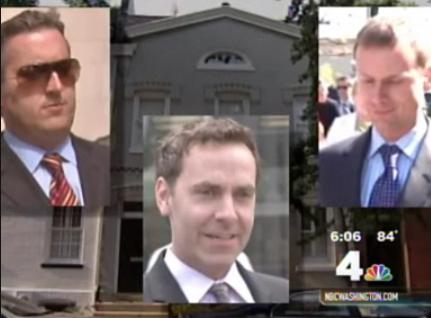 Joe Price understood the process very well, as he bragged, and he thought he could beat them at their own game.  It began with his "regular guy" small talk on the ride over and carried through most of the interrogations – when pressed too far, he retreated to his stock answers ("it isn't possible!") and his offended yuppie pose ("this is very traumatic"). 
He did some grandstanding ("if you're going to charge us, charge us!) but he didn't want to end the interrogations.  If he had a hand in the murder or if he knew more than he was telling, the interrogations were his best hope.  Because the "story" seemed ludicrous on its face, he had to convince police that it was SO crazy that it had to be true. 
Only once did he mention wanting to help find Robert's killer – when asked if he would tell the police if he knew Dylan or Victor had killed Robert, Joe said he would tell the police.  When asked why the police should believe him, he responded with a strangely unremarkable answer: "Because why, why not tell you?  I mean, why not?  I want to find who did this.  You know?"
Despite trying to stay ahead of the detectives, certain elements of Joe's behavior (which he knows is being taped) are revealing.  His emphatic and vocalized concern over Dylan's whereabouts and well-being seem odd at best when compared to his lack of concern for Victor (who Joe described as "hysterical" previously).  His continued answer of "it's not possible" and "it's not even a possibility" to questions about Victor's or Dylan's involvement in the murder sounds more like an argument of a teenager accused of breaking curfew than a well-reasoned response of a trial attorney.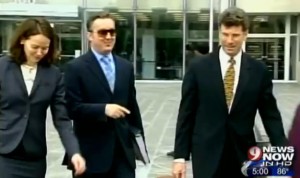 He uses the same phrase when asked if he, Joe, murdered Robert.  He uses one particular analogy twice – once in each set of interviews with different detectives – that "it's like finding a hippo in your house" (the first time to describe the surreality of the night, the second to describe how it felt to find Robert lying on the bed); another analogy was that "this is as crazy as having a rocket land on your house."  To me, the escalating hyperbole is akin to arguments waged by my teen-aged nephew to my sister in support of his denial that he'd been drinking at a party.
While he agreed to take a polygraph when he was twice asked, Joe handily avoided having to do so by claiming (first) that he didn't want to wait another hour, and, second, only if he was allowed to see Dylan and Victor.  It's strange that he thought to "bargain" with police under the circumstances, but when denied that request, Joe said he was leaving – and the polygraph never materialized.  My guess – and it's only that – is that he wanted to advise Dylan to avoid the polygraph. 
While polygraphs are not admissible as evidence in court, and are widely derided in popular media, they are routinely used as a screening tool by authorities.  It's one way that cops will rule out someone so they can move ahead.  Studies show an accuracy range between 65% – 95%.  The prejudicial nature of "failing" a polygraph would be too great to be accepted as "evidence" (the jury would put too much weight on an inexact test) but that does not mean they are without merit.  Polygraph testing is accepted at the administrative level (for example, use by a probation or parole officer to support a claim that an individual has violated probation/parole – and, as reported even by Wikipedia, regular polygraph testing can be a condition of an inmate's parole). 
Like anyone, I'd hate to be in the 35% (or 5%) with a "false fail" (just as guilty people are likely happy with a "false pass") but I'd be willing, possibly eager, to take one if police needed to rule me out in order to concentrate on finding the "real killer" – as most people are willing to do, in my experience.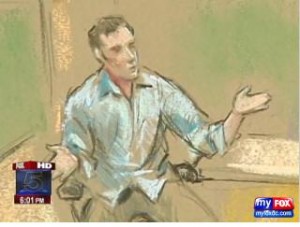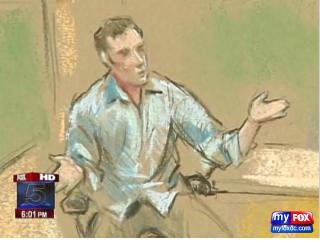 Joe's actions give the appearance of being the leader of the orchestra which "played" Anacostia that night – what was presented by the trio was very much orchestrated, in my opinion.  It began at Swann, with Joe shutting down Dylan's attempts to speak.  While there is disagreement in the ranks here about the importance of the "11:43" time stamp being uttered in error by both Joe and Victor, I don't recall a discussion on one specific quote from Joe when pressed about the subject.  When detectives aggressively pursued the "coincidence," Joe made this statement: "I believe he asked them to say what time, you know, what – to tell him what time it was."  An odd use of language, I think; most want to know the time, not have it be "said" on tape.
There were many "facts" uttered that night which boxed in the defendants, statements which later haunted them, or may someday haunt them:
(1) that neither Joe nor Victor checked to see if Dylan too had been stabbed; (2) all three of them giving Dylan credit for noticing the unlocked backdoor even though Victor says this on the 911 call, (3) in the first interview, Joe saw "blood everywhere" but after the Mercedes meeting amended the statement to  "a lot of blood, like, in two spots"; (4) and one statement that was missing throughout – that no one told the 911 operator that Robert was dead, and there was no mention during interrogations that anyone worried that he might be dead; (5) many instances of particular language by Joe which would raise red flags in a statement analysis, such as (a) ". . .I think you have to buy this stuff because, you know, there was somebody in there" – use of "buy" in common parlance usually references someone believing a falsehood (b) in arguing with detectives about the nature of murder: "[t]his isn't a crime of passion" – how would anyone know for certain? (c) mentioning in both interviews with different detectives that the intruder may have worn gloves; (d) when asked if Victor ever touched Robert's body, Joe stated "I don't think he ever touched it." – emphasis added.
So why would Joe let them all be interviewed?  These are but some of the problems the defendants created for themselves that night – and without the statements, there would not have been a conspiracy/tampering trial, at least not the way it played out last spring.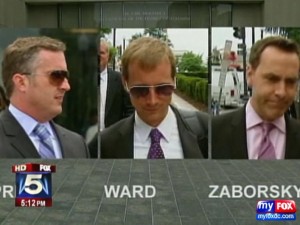 None of us know what happened.  Joe Price, Dylan Ward and Victor Zaborsky are, in my opinion, hiding something important at a minimum, as Judge L. all but said.  But if Joe had a hand in committing murder, or wanted the police not to find the murderer, why would he allow the Anacostia interviews? 
We do know that Dylan and Victor were following Joe's direction and that Joe did consciously consider that they could all be arrested that night.  The struggle he seemed to display, in using it as a "card" to play before continuing/stopping the interview, resonated with me as a conscious act – something quite strange to have at the forefront while police investigate the murder of your friend.
We don't know why he allowed the interrogations, but here is my guess:  Joe had no way of knowing that Ashley's Reagent would effectively render useless all that night's crime scene investigation. 
He didn't know that there wasn't any useable blood evidence when he asked Jason Torchinsky to secure the grieving widow's consent to waive her attorney-client privilege to speak of inconsistencies between Joe's and Kathy's accounts to police. 
He didn't know that there wasn't any useable blood evidence that when, in the Wone family basement, he told Kathy that Robert had been stabbed three times as he made grunting noises with each hand motion mimicking the stabbing as was reported.  He didn't tell police that he noticed there were three stab wounds, only that Robert had been stabbed and that he was covered in blood.  He didn't tell cops that there were three successive grunts.  Was this what he "remembered" but didn't want to share with police?
When did the trio stop "assisting" the investigation?  Was it because Joe came to terms with the fact that he hadn't convinced the police department?   I can only imagine how a criminal must begin to second-guess himself, how he or she must experience the "elevator drop" sensation of remembering little things that could've gone wrong, evidence that might not add up.  And if Joe was hiding something, did he grow more concerned once he had time alone with his thoughts?  Even his beloved W&M cheerleaders began to question him, if not stray altogether.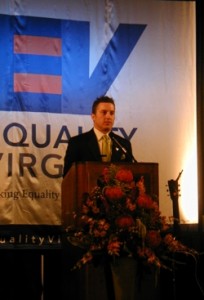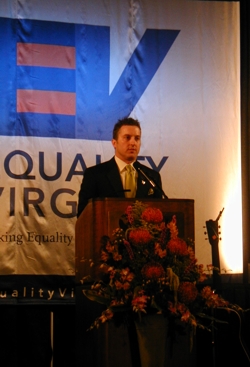 He was asked not to attend the "remembrance" at W&M after he and Victor had arrived on campus.  "Little things that go wrong" eat at all of us, whether on a small scale (a teen having a beer at a party – did the neighbor see me?).  I wonder whether Joe was fighting those dragons when Tara Ragone pushed back, when he wrote her that wiping up blood was not the same thing as tampering with evidence. 
At some point he knew that it would be "out" that there was little blood at the scene and very little on the towel he used to "stanch" Robert's blood.  Did the "second towel" Victor allegedly handed him make its way into his consciousness?  And if he genuinely wanted to tell the police everything but couldn't because he feared one of them would be arrested, as he said, what might that extra bit of evidence be?  Why might it result in one of them being arrested?
I suspect that many of us in that position would end up bothering police too much, that with each new morning we'd awaken with tangential theories or forgotten minutia.  And most of us are not heroes.  I'd guess that most of us don't have a cultivated reputation of righting wrongs, that we haven't spent nearly the amount of time greasing the wheels of the press that Joe Price has.  What a strange time he chose to avoid the press – no well-said request for help, no putting himself on the line.
Joe and I have some things in common.  I got interested in this case because I lived a few blocks from Swann twenty years ago.  Joe and I practice in the same field, attend the same conferences.  I know people he knows, although I don't know him.  We were both working class kids who became lawyers, and like many others, I understand some of his desires to succeed.  
Although I am impressed with how many good things he's done, how many causes he has championed, I do find it interesting that his name was in the paper as often as it was.   And why would he shy away from being in the newspaper this time?  His friend was murdered in his home – when is there a better time to be a hero?
 
Or maybe Joe did play the hero after all – just not Robert's hero.  Joe bet everything he had (his job, his home, his reputation) to save someone  – brother Michael, Dylan, a murderous third from Alt-dot-com.  Himself.  If it was information, not his own actions, he hid from police that night, the info had to be a game-changer – Joe walked away from all that he'd accomplished to hide the truth.  He must miss the hell out of his old life – the accolades and the spoils – but not nearly as much as Kathy misses her husband."