The Op-Ed Pages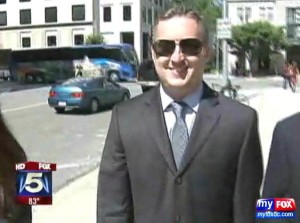 Once again, taking to these pages with a guest post is longtime reader (maybe the very first), Bea.  She was one of the early trackers in this case when the only outpost was at datalounge. Few outside the immediate principals in this saga have a better grasp on the history of this case, evidence, players and the many dynamics.
This is the first installment of a piece she recently wrote. Treatise may be the more apt characterization. We thank her for her continued support, good humor and her indefatigable pursuit of justice in this case.
"Joe Price always wanted to be a hero, with a back-up plan of being rich and famous.  According to his anonymous friend here on WMRW, he was very exceedingly ambitious in high school.  At William & Mary, he stayed in the closet in part because of his political aspirations; he hammered out enough support and found enough backers, if not friends, to be elected Student Body President his senior year. According to the Facebook Page for "College Partnership for Kids," one "Joseph R. Price" is credited as being the "CPK founder" in 1990, when he, along with other W&M students, forged a project to help elementary school kids. 
Mr. Joseph R. Price is quoted as saying "I wanted to create a way in which college students could give back a little of what they have received."  He's the only person quoted and given more "props" than any other W&M alum or current student in the organization, despite that he no longer appears to be an officer, member or admin of the group – I'm guessing it's not easy to for Joe to be on Facebook these days – but it's remarkable that he still gets top billing.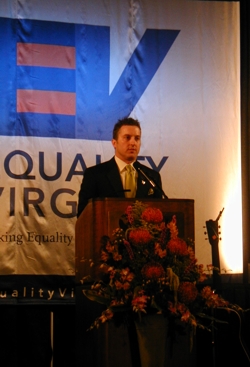 A busy man, Joe's imprint on the web is far-reaching, even before the indictment against him came down.  The web has many photographs of Joe Price in his glory days.  There's him standing at the podium at the Equality Virginia annual dinner in April 2006 with dignitaries that included a former governor of Virginia and a US Senator.  Despite being closeted while at W&M, he later served as president of the W&M Gay Alumni organization – this title accounts for more photos on the web of a smiling Price, with loving Victor sitting in attendance, at the 20th anniversary of the organization in November 2006, only months after Robert Wone's murder.
But Joe didn't stumble into this notoriety – he seemed poised and positioned from early on.  In 1994, Joseph Price copyrighted an essay entitled "Everything I Really Needed to Know I Learned at William & Mary."   College demands a lot of essays, and many of us wrote many of them, but I'm guessing few of us took the time to secure a copyright registration for any of them.  But Joe did – but for what reason?   The thrill of seeing the official seal attached to one's writing – something anyone willing to part with twenty dollars for the then-filing fee could get.  And what college student doesn't have a better use for twenty dollars?  It does suggest one thing:  Joe Price had his eye on the prize.
But what was the prize?  Being burned into the eternal memory of the worldwide web in a handsome suit, at a microphone, giving or receiving awards, Joe seemed to be his own personal PR firm.   He took up many causes pro bono as an attorney, for homeless people, nonresident commuters, and a particular cause célèbre for a lesbian mother in a custody battle, which made its way through the courts and into many newspaper headlines, always with a quote from Joe. 
It wasn't only his business or political or activist acumen that caught the media's attention.  In 2004, a USA Today article on gay parenting carried his picture, alongside Victor, the lesbian couple with whom they "parented," and Joe's toddler son.  Forging new territories indeed, one of tens of thousands or more gay parents with children, but the "lead" picture (the story features other families too) shows a smiling Joe Price, dead center.
One might say, simply, that Joe was an accomplished man who gave a lot to others.  Or one might say that Joe liked to fight the good fight, put himself in the fray (at least after he came out, since he wanted to get elected).  What strikes me about this list of things is that Joe knew how to manage his public identity and get his name in the paper – not that there weren't other good motives, too, but it sure seemed like he liked being a hero and he liked getting credit for it.
He engineered his future early on, according to that high school friend in describing his type-A friend Joe (as he himself was) that "success and making money came first," and that he was "arrogant, smart and cocky" but a good guy too, one who promised to buy his friend his first Lamborghini when he "struck it rich."  
A politician.  An activist.  A role model.  A lawyer fighting the good fight, free of charge (but being paid by his button-down law firm which supported pro bono work).  It doesn't seem Joe was ever afraid to step into the limelight; he was ready and able to take on all comers.  He had justice on his side.  If he got a little personal glory, so what.  It added to his A-list Gay self-image.
Joe Price made all the right moves for a very long time, although there has been much speculation and some anecdotal evidence of his drug use (he didn't do drugs or even drink in high school) that may have added a different layer to Joe.  It didn't keep him from making partner at his law firm, though, or buying a million dollar home.  We know that Joe liked to take care of bathroom leaks himself, that he was the one in charge of ordering cable channels, and undoubtedly he was the one who decided that his outside-the-domestic-partnership lover should move into the "main house" in Dupont after a stay in the basement on Capital Hill.
But all of this is as puzzling as it is impressive.  With the varied and weighty media coverage, it does seem he had a hand in it in its proliferation and its management.  Joe was creating the Joe he wanted the world to see.   Most puzzling to me is how THIS Joe Price would go in deep cover after a long time friend was murdered in his home.  He didn't want to tell the police everything he knew, he was quoted as saying, for fear that one of the trio would be arrested.  Was he telling everything he knew or did he just want cops to think so  – kind of like stonewalling Kathy Wone but serving as a pall bearer at Robert's funeral.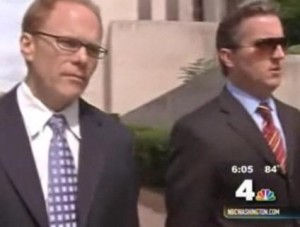 Telling the police that the knife was lying on Robert's chest (and lambasting himself for putting his fingerprints on the knife) – yet "bragging" to friends that he'd pulled the knife from Robert's chest.  Being emotionally drained after the night of the murder and all-night investigations at Anacostia, excusing himself from the breakfast with close friends at Cosi to take Dylan home because Dylan was beside himself – yet showing up to work at the law firm later that morning to tell co-workers what he'd been through (described as "holding court in the hallway"). 
A man very careful about his image and his good works – yet he kept sexually explicit pictures of himself being sexually dominated on his work computer and he posted a public profile on an S & M website looking for a "third" for he and Dylan.  Joe said up front that he liked all sorts of things including torture but he dodged the question of drug use with a "rather not say."
Had I been in Joe's position, I would have been "all in" to find my friend's murderer.  It would have been my job to do whatever I could to help Kathy Wone, and I wouldn't have stopped until the murderer was behind bars.  And I'm no hero.  I think most of us would dismiss concerns that the police might wrongly think us a suspect for a while – they do have to rule everyone out, particularly those at the scene.  To most of us, not helping the grieving widow is unacceptable behavior.  Many of us would have persevered even if we had to suffer through trash-talking cops – haven't we all seen that Law and Order or Criminal Minds or Perry Mason episode?  But knowing Joe's history, it's a conundrum to think that that Joe Price was afraid to continue talking to police if he was innocent, legally or morally.  It's a conundrum to think that that Joe Price was afraid to continue talking to police if he knew anything else that would be helpful to the investigation.
If one does a web search about when one should speak to police without a lawyer, pages of search result headlines repeat the answer:  NEVER!  Not surprisingly, most are from criminal defense lawyers wanting business.  It's not that it's bad advice, but too it's never quite that simple.  Time and again, we see here that Joe Price chose to speak to police that night – albeit, as he said, against advice of counsel and his own better judgment.  But very soon after that, cooperation came to a halt.  There were no follow up interviews, alone or with counsel, at least none reported and certainly no formal taped interviews.  More telling, to me, was that we heard of no demonstrable effort by Lawyer Price (nor Old Friend Price) to avenge his friend's murder, no battle cry to find the cold-blooded killer, quite peculiar for the man who was practically known for doing good deeds and righting wrongs.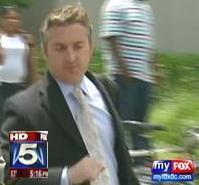 Many who defend Price on this board insist that Price was within his rights to stop cooperating with the police, and some go so far to say that he shouldn't have spoken to the police at all.  It's pointed out that without having done so, the police would have had no basis for bringing the original criminal action.  It's certainly true that Judge Leibovitz's damning words in the criminal conspiracy trial opinion came as a result of watching the defendants' "Anacostia Dialogues"– and she saved the harshest criticism for Price himself.
More than once I've pointed to the defendants' lack of cooperation as support for my opinion that, at a minimum, the defendants were hiding something, that they were being less than completely honest about what they knew.  Because of that position, and because I'm a lawyer, I've been asked whether I would advise a friend to speak to police without a lawyer.  The easy answer might be "no" but such a question – and answer – would have to be considered in context.  I would consider who was asking and why.  If police are investigating a crime committed weeks or months earlier, there's no harm in having counsel present.  But in the matter of Robert Wone's murder, we must begin right there at Swann Street, with a murdered man in a second floor bedroom.  Would it be logical that Joe Price, lawyer and Robert's longtime friend, would refuse to answer questions? 
How exactly would that play out?  "He's upstairs, bleeding from stab wounds, but that's all I'm going to say?" 
Decent human beings simply don't behave that way.  If Joe passed a bleeding stranger on the sidewalk, he'd tell cops all that he knew (and his name might be in the paper too).  It is true that Martha Stewart did jail time for having "talked" to authorities, but it wasn't because she talked – it's because she lied.  My advice to anyone planning on lying to the police would be "don't talk to them" followed by "you need to get a different lawyer." 
After speaking to police at Swann, the men were asked to give formal interviews at Anacostia.  Should they have refused?  In retrospect, they may wish that they had, but why?  In giving statements, their "stories" became concrete – the taped interviews prevented them from giving vastly different accounts later – and the statements, collectively, did not exonerate them in the eyes of investigators. 
The interviews revealed inconsistencies, and some would say too many consistencies.  The stories didn't make sense and the men were unconvincing in demeanor and affect (according to the good Judge L).  What good would it have done to insist on having counsel present?  Joe specifically told police that he'd contacted "his lawyer" and was cooperating against advice of counsel (possibly a lie) but in that proclamation he likely hoped that his apparent "transparency" would be further proof of innocence, that the police would be persuaded to cross him off their list of suspects. 
I'm fairly confident that had counsel been secured for all three men that Dylan would not have taken a polygraph.  The interviews would've been completed in an hour – accomplished with a nod to courtesy about the late hour and the trauma of the night's events.  Certainly, counsel would've stopped the redundancy in questioning and counsel would have intervened when the police turned heavy-handed.  But what about Joe?  Would the presence of any lawyer have prevented him from talking and talking?
I don't think so.  It's my opinion that Joe was using the interrogations as a platform to convince the investigators of his innocence (Victor's and Dylan's as well).  In his manner and in his answers, Joe was trying to rule himself out as a suspect rather than aid the investigation of his murdered friend.  As Joe himself said to police that night, his story didn't make sense ("I know it sounds crazy"). 
His best shot was to get investigators on his side – and to do that, he needed to talk to the detectives and keep talking until he had them swayed.  He tried being "one of them" (from a military family).  He tried sounding like a great guy (visits to Kathy in hospital, comparisons of himself to his bad violent, drug addicted brother).   He tried intimidating them, and even thought he wasn't successful, he got some semblance of control through indirectly informing everyone that he was the smartest guy in the room ("I understand the whole game here" – and my favorite, when pressed for his best guess of the intruder's departure: "between 11:10 and 11:43")."
-To be continued –