What We Have Here, Is An Effort To Mediate
Last week, in response to a joint motion, Judge Michael Rankin signed an order to cancel the June 14 Court-ordered ADR (Mediation/Case Evaluation) that had been on the Scheduling Order since last October.

But that's only half the story, and not as it seems that both sides in this case have a failure to communicate. Now scheduled for June 21 is a private mediation session. We learn that, "Parties are prepared to spend several hours with Judge (Howard) Chasanow in attempt to reach an amicable resolution to this matter and avoid future litigation costs and resources."
It sounds like an impossible task.  Maybe so, but this Chasanow guy has quite a track record.
Before doing a deep dive on Chasanow's record, we tried to wrap our arms around the whole mediation game and asked a couple of smart attorneys how this may play out in the Wone case:
"I wonder if mediation won't be entirely without merit here? In settlement conferences, the judge (or special master or whoever) usually tries to convince both sides that they have no case and to make a deal.

That obviously won't work here for Kathy or, seemingly, the defendants. The goal of mediation is to find common ground, hence its increased use in divorce cases.  Is there any here? At first blush, no. But in theory, both sides want the truth about what happened to come out; they just disagree on whether the defendants know who did it.

Also, I imagine both sides would like to avoid another painful, lengthy trial. If Joe et al. insist on their innocence, might a retired judge be able to appeal to lawyer Joe to stop the blanket stonewalling and admit to facts that in and of themselves are not incriminating, move things along and perhaps allow for a speedier trial? A good mediator will sympathize with Joe about the ordeal he's been through, ask him to understand Kathy's persistence and need for closure, and appeal to his best side to get some admissions or concessions.

On Kathy's side he'll sympathize, but ask her to consider what the guys are going through if they are indeed innocent and ascertain her ultimate goal in the civil case and whether anything less than that might suffice. I don't expect that all parties will come out of mediation hand-in-hand pledging to find the real killer, but I'm wondering if the judge might get through at some level. Also, I could be wrong, but I believe the mediator would insist on meeting with all three defendants separately, which might have interesting consequences, especially if he sniffs out a weak link."
And another view:
"Usually the parties just prefer to handle the mediation in the way they see fit (and satisfy the judge who ordered it) and thus agree to a private mediation.  Whether they expect to accomplish anything is another story, but they need to go through the exercise to please the judge.

The effectiveness of the mediation comes down to (1) how GOOD the mediator is, and (2) whether Kathy Wone is willing to believe a WORD the defendants say AND whether the defendants have ANY interest in ACTUALLY participating.  In my view, everyone will come to the table willing to listen but expecting the other side to offer the first olive branch.  Joe might just use it as a soapbox to talk "off the record" to Kathy to win her sympathy, as unlikely as that is. 

If the mediator does get each defendant alone, and the mediator is smart, he/she may learn a thing or two — and nothing prevents him/her from giving that "impression" to the other side.  It's not a trier of fact and rules of evidence don't apply, although nothing can be used as evidence either (all under the umbrella of being "for settlement purposes only").  Again, that doesn't mean the mediator can't say to Kathy Wone, for example, "Ward seems to want to distance himself from the other two" or "Zaborsky was crying".

All I've been involved in have included some "games" by the mediator in which he has everyone in the room, then dismisses one set, then the other set, then brings the first back in and tries to sway them by saying "I think if you do X, then they'll really accept Y" and so forth.  I find the whole thing shady."
OK, so who is this guy?Judge Howard Chasanow was in the Maryland Courts judging business for nearly 25 years, until he retired in 1999.  He rose to the state Court of Appeals and served on that bench for 10 years after punching his ticket as Associate Judge on the Prince George's County Circuit Court from 1977-90, and before that he was Associate Judge for the District Court of Maryland (PG County) from 1971-77.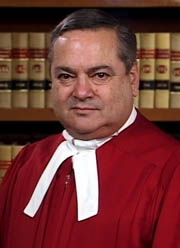 But he hardly retired.  He traded in his robe for… whatever it is mediation guys wear (nice suits, we guess), and the DC native and double-platinum retired jurist (University of Maryland School of Law, J.D., 1961 and Harvard Law School, LL.M., 1962) has made a name for himself in the mediation game for the last 10 years. 
In January, Chasanow joined JAMS, a 23 office outfit which seems like Planet Mediation.  They are, according to their site, "… the largest private alternative dispute resolution (ADR) provider in the world. With its prestigious panel of neutrals, JAMS specializes in mediating and arbitrating complex, multi-party, business/commercial cases – those in which the choice of neutral is crucial." 
For those of you asking, JAMS stands for "Judicial Arbitration and Mediation Services, Inc."
In his years as a mediator, Chasanow has gotten his share of kudos from media and legal colleagues. From the quote sheet in his JAMS marketing materials:
"One of Maryland's best known retired judicial mediators… is the Honorable Howard S. Chasanow, who won national acclaim for settling the high profile 'bridge collapse' case last summer before a lawsuit was filed."

"You're a lawyer with a tremendous legal headache – you've got clients who don't want their case to drag on for years and run up tens of thousands of dollars in legal fees. Who do you call? Lawyers  and judges in Maryland would give you the telephone number of a man they say is one of the state's smartest peacemakers: retired Judge Howard S. Chasanow."
And satisfied customers:
"I sincerely thank you for your help, your concern and your sensitivity. I am delighted to be working in the same profession that you chose." M.R.P.
"Thank you again for your expertise and efficiency, which led to a mutually satisfactory settlement reached in a most economical way." L.E.C.
"Thank you again for expert assistance in achieving a successful resolution of a case that seemed highly unlikely to settle." B.S.
"In what appeared to be one of the more difficult cases that I have faced as an attorney, you were able to forge out an amicable resolution in which all parties were satisfied." J.J.T.
"As always, it was indeed a pleasure to observe the "guru" of mediation work his magic to efficiently resolve a complex claim that would otherwise have consumed the parties, their resources, and the court system to an extreme degree." D.G.W.
"Once again, I have been awed by your masterful abilities. Our clients are very grateful to you for your expertise and assistance with their case." B.J.K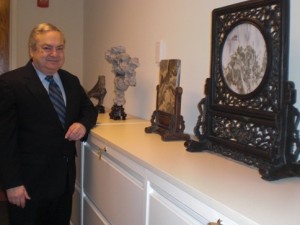 Great tributes no doubt, but this guy will have to be a superhero if he's able to make any headway in this case. 
Judge Chasanow's work puts him in an enviable position (to some). 
His office, decorated with Asian art, 19th century pieces used by scholars of serenity during long days of studying, is just steps away from his wife's office chambers.  The He judge can see the She judge's digs from his office window – she being Deborah K. Chasanow, Chief Judge of the United States District Court for the District of Maryland. Howard Chasanow's Maryland roots may have proved welcome to the defense counsel in this case; they are probabaly familiar with his from his years in both robes and suit. 
Our attorney friend thought that could play either way:
"I can't help but notice the Maryland connection with the insurance defense counsel for Joe and Vic. Probably known to them and not objectionable, maybe even suggested by them. If so and Covington went along, it tells me Kathy/Razi have no intention of settling (not really news) and are going along to get this out of the way."
To be on the safe side, despite Chasanow's skills as a mediator, don't scratch October 17 of your calendars just yet.
Joint Motion
Order