Defense Continues their Depos
Under the header of bringing you last week's news today, it seems that DC EMT Jeff Baker, was deposed at the offices of Schertler & Onorato last Friday afternoon.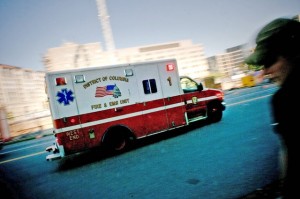 Baker, as readers may recall, was a key witness at the summer conspiracy and obstruction trial and he took the stand on several occasions. 
His testimony, recalling the night of Robert's murder, and his arrival on the scene – the EMTs Baker and his partner Tracy Weaver) arriving before the MPD, provided moments of horror and occasional levity too.  He appeared mostly steady on the stand under what seemed at times rather hostile and rapid-fire cross.
A review of his time served in Judge Leibovitz' courtroom and this depo subpoena follows.
It was Baker's run reports that made up for some of the more hair-raising aspects of the original indictment and Baker was brought up there to recount the events of the evening and back up those first reactions.  Baker had an easy air about him on the stand, some self-depreacting jokes about his girth broke the tension on more than one occasion.  He was what one could be considered at headliner in the summer trial, taking the stand on Day 2's afternoon session.  From his testimony, AUSA Glenn Kirschner's direct:
EMT Jeff Baker, first to arrive at 1509, took the stand. He relayed his 14 years of experience answering calls in DC, minor and traumatic. He's seen several hundred violent crime scenes including many stabbings.  He described the typical atmosphere he sees as "chaotic."  He arrived at 1509, saw Zaborsky on a phone at the stoop and proceeded upstairs with a Reeves stretcher. He says he saw the unresponsive Ward even before getting to the top of the stairs.  In the guestroom he observed Price sitting on the bed with his back to him, a leg tucked up underneath.

Baker volunteered, "…hair stood up on the back of my neck."  A moment later, the entire defense table seemed to erupt with an objection, as if they've been waiting years for that moment.  Sustained.  Leibovitz cautioned Kirschner to better manage his witness and to stick to the observations, not feelings.  "I'll strike the last sentence and instruct myself not to consider it," she said.

Baker saw Price and "spotted him up," short hand to determine if he was a threat or not. Asked if he saw any blood on Price's hand, Baker replied "no."  Moments later Baker attended to Robert.  The stab wounds were visible, but he didn't see any blood on his chest, abdomen or anywhere in the room.  Robert's vitals were flat, no signs of life. As an EMT he could not pronounce death, just presume it.  Robert appeared dead to Baker….  It was en route to GW that Baker noticed the striations on Robert's abdomen.  "It looked like it was wiped down," and that the imprint of a towel's texture was visible. "It looked like a light film,"… moist with linear marks.
Baker's cross and redirect occurred on Day 3.  Whether his civil case depo follows the same line of questioning we saw last summer will be revealed when Baker is back on the stand this fall.  When he was excused on Day 3, he exited the courtroom and quipped, "Tough crowd."  We wonder what his reaction will be the next time around.