And Some Relief 
You've all been there – doing anything you can to avoid a lenghty conference call at the office.  Yesterday, in lieu of a status hearing on the MPD Motions to Quash detectives' deposition testimony based on law enforcement privilege, a conference call was all that occurred.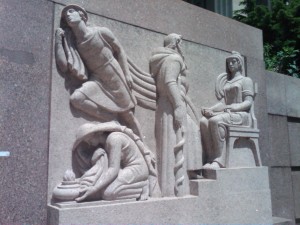 At issue was was the MPD's hesitancy, argued by the DC AG's office, to have their detectives open up the Wone murder case files, for fear that it could jeopardize their further efforts and violate the sanctity of the investigative process. 
Judge Michael Rankin, did however rule, and issued an order later in the day to try and settle the dispute.  About fifteen minutes before the 1:45pm scheduled start, the court clerk told observers that the conference call option was a distinct possibility. 
The next clue that there wasn't going to be a hearing was the surprising lack of attorneys that normally haunt the hallway to courtroom 517, and inside the room itself. 
One however did show up but he wasn't attached to these particular proceedings.  Assistant US Attorney Glenn Kirschner, lead prosecutor for last summer's conspiracy and obstruction trial, and for all we know, starting quarterback once again if there is ever a murder trial, did a drop by.
The media attendance in 517 seemed to outweigh the relatively minor, procedural issue at stake yesterday, but Legal Time's Mike Scarcella, The Post's Keith Alexander and the Examiner's Emily Babay were on hand.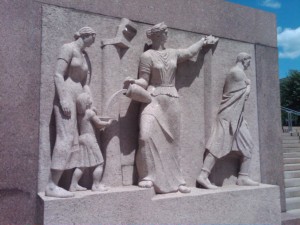 Several members of the Wone family took seats in the back row of 517 and waited patiently for word on whether there'd be a hearing. 
Mr. Kirchner came into the courtroom, took a seat in a row in front of them, and spoke discretely with them for about 10 minutes.
After about a half hour of waiting, word came down that the call had happened and that Rankin would rule on the matter (below); he split the difference, or punted to a date to be determined.
"ORDERED, that both of the MPD's Motions to Quash are DENIED WITHOUT PREJUDICE, as to MPD's reassertion of the privilege in a timely fashion during the depositions in question. The court will rule at a future hearing, to be scheduled, on all questions that are not answered due to the assertion of the privilege during those depositions."
Plenty remains on Judge Rankin's plate, specifically the 5th Amendment fight. We've no indication on what his plans are to rule on that or when the next status hearing will be scheduled.
Bonus Round:  Extra credit given to whoever can identify the artist(s) who did these relief sculptures that flank the steps on the courtyard next to Moultrie.  Partial credit given to whoever can decipher the allegory.  We're guessing something along the lines of  "The Wheels of Justice turn slowly (or sometimes grind to a halt completely)."