Tuesday's Motions Hearing
It was hard to get a grasp on Judge Michael Rankin's style today.  He started the hearing fifteen minutes late and played the Absent Minded Professor Jurist (AMJ) with us.  After taking his seat on the bench he admitted to forgetting the password to the computer on his desk.  "You must remember it," he said to what seemed like no one in particular in 517.  'Try 'password,' lead plaintiff attorney Ben Razi replied. The stage was set for what turned out to be a brief yet sometimes amusing session.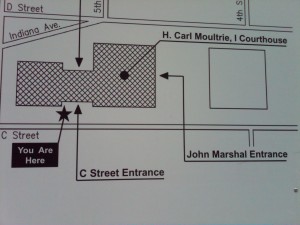 At the December status, the room was fat with counsel, today, there were several no-shows, in particular Robert Spagnoletti, counsel for defendant Dylan Ward, and plaintiff co-counsel (and gunslinger) Patrick Regan.  Later in the session however, another attorney would be channeling his "energy."
"Standing in" for the Spag was a familiar face from those hazy, crazy but hardly lazy days of summer, Schertler & Onorato's Veronica Jennings, a regular fixture in Judge Leibovitz's courtroom during the criminal trial.
Also MIA was any counsel for Defendant Victor Zaborsky, neither Hunt Valley, Maryland, attorneys Frank Daily or Sean Edwards were in the house.  Noting their absence, Rankin said, "Someone had no interest… and didn't drive in from Baltimore…"  
Also in attendance were Covington's Charles Kitcher, Price counsel, Brett Buckwalter, and Patricia Donkor, a DC AG's office attorney on behalf of the MPD.  In the gallery were members of the Wone family, other Covington hands, Legal Times' Mike Scarcella, the Post's Keith Alexander,  Emily Babay from the Examiner and the Blade's Lou Chibbaro. Longtime WMRW reader Gloria was also on hand and helped provide notes and quotes for this post.
Our first indication that this was going to be a breif hearing was that none of the attorneys came in with any binders, files and roll-about carts that are usually stacked with boxes of paper. Razi only had a slim file on his desk in the well.  The other attorneys also traveled just as light.
The main order of business was the questions regarding defense depositions of five (see below) MPD detectives, all still on the force except for Bryan Waid, a relatively new Florida transplant.  Donkor and Buckwalter pretty much had the floor to themselves for the thirty minute hearing.
The issue comes down to the AG's office, on behald of the MPD, not willing to subject the detectives to lines of questioning that did not originally surface in the criminal proceedings. The defense argues that a blanket law enforcement privilege keeps them from doing the discovery they need to accomplish.
Both Donkor and Buckwalter have been in communication and working together but were at odds on how to proceed further.  Donkor maintains that without knowing what questions the detectives will be asked, she will side on trying to apply the privilege.  The MPD is willing to show some leg, but must ensure the integrity of the case investigative file, since the murder investigation continues.
After she stated her position, Buckwalter said the downside of such a 'blanket assertion' of law enforcement privilege in unwarranted, several of the detectives, including Waid had testified in the criminal.  Rankin said of the logjam, I'm not sure we're making progress.  We need to get closer." 
Buckwalter said he wasn't asking for documents, a list was provided by the MPD of the case file contents, a Declaration by Daniel Hickson, Commander of the Department's Criminal Investigations Division, but the defense wanted access to witnesses.
Rankin was concerned about how high up in the MPD the AG's office went on the issue of privilege, suggesting she go all the way to the top, perhaps to Chief Lanier. "If you have a concrete idea of what you are looking for.. you have to go to the top… Either the public has a right to know, or the public will be harmed (by loosening up the law enforcement privilege). Then you have an issue for me," he said.
In the end, Rankin told them to continue working together.  Donkor will accept the defense subpoenas on the MPD detectives' behalf and they have to report back, in another status hearing on May 5, Cinco de Mayo, the Judge noted.
Then things got interesting.  Ben Razi stood up and went on a tear:
"Just for the record on this current discovery dispute we don't have a dog in this fight… but I'll make one observation that's been obscured — the problem isn't lack of information from the police.  They have provided binders, and binders, of documents.

Nothing is going to come out of these depositions… and come up new insight…  This thing has been discovered extensively. We're ready to try this case now based on the evidence we already have.  We don't want a side show fishing expedition that was started at the bottom of the seventh inning of discovery to delay trial. 

The real problem with discovery and the motions to compel against the defendants' decision to sit out and not provide evidence.  Those are issues that we request the court make clear its opinions…  at some point we're going to need to deal with what happens in a case like this that involves something happening in your house for 90 minutes, and you are the only one there… " 
Rankin interjected and jokingly asked, "Are you being provocative?  You said you didn't have a dog in this fight.  You were doing so well and now you're gonna upset everything…  You raise good points (but we'll deal with that later)." Then wrapping up and indicating his preferred style, the Judge told counsel:
"I'm a big fan of trying to work things out… We're trying to make sure we understand the issue and identify the law correctly so I can resolve it… The way to do it better is if everyone works together.  I'm ready and able to decide on things that you can't work out."
Razi got up another time to weigh in on law enforcement privilege dispute and tried to take another shot at the defendants.  Rankin told him, "You're not being helpful.  You could be right (Mr. Razi) but I could be right too.  If I'm wrong it won't be the first time."
Lastly, the followup filing from the MPD and DC AG on quashing depo testimony from other detectives besides Waid.
THE METROPOLITAN POLICE DEPARTMENT'S MOTION TO QUASH THE
DEPOSITIONS OF DETECTIVE XANTEN AND MOTION TO QUASH THE
DEPOSITIONS OF DETECTIVES WHALEN, NORRIS, AND SERGEANT WAGNER
FOR THE LIMITED PURPOSE OF ASSERTING THE LAW ENFORCEMENT
PRIVILEGE AS TO SUBJECT MATTER NOT PREVIOUSLY DIVULGED BY LAW
ENFORCEMENT