Blowing Smoke?
On February 14, opposing counsel in the Wone civil case exchanged Valentines.  Well, not really, let's call them salvos.  Meeting the designated Court deadline to exchange Lists of Fact Witness, both sides filed their paper on Monday.  Today – the three near-identical lists submitted by the defense for Price, Ward and Zaborsky; next week we'll publish the plaintiff list.
The seven page defense lists are chock full of names familiar to any case watcher; many of the investigators and other witnesses from the summer conspiracy and obstruction trial.  MPD Detectives Norris, Whalen, Xanten, Brown, Kasul, Wagner and Waid among others.
Some new names surface too: Robert's brother Andrew, several friends (we think) of the defendants, mother to the Price and Zaborsky kids, Kim Musheno, other Swann Street residents, contractors, a bunch of attorneys including lead plaintiff counsel and former colleague of Robert's at Covington, Ben Razi, and lastly, a bold face name, former Cov rainmaker and current Attorney General, Eric Holder.  No kidding.
Shortly after Robert's murder, Holder committed Covington to represent Katherine Wone pro bono.  He participated in the one year anniversary press conference and had some strong language that many thought was directed squarely at the defendants.
Among the case's more familiar faces: Deputy DC M.E. Lois Goslinoski, former roommate Sarah Morgan, forensic jock Doug Deedrick, Maryland Chief M.E. Dr. David Fowler, EMTs Baker/Weaver, GW ER staff, Swann Street neighbors, the Thomases, Robert's friends Ragone & Torchinsky also make the lists. 
Also from the MPD are two police officers talked about, but never seen on the stand, former head of the Department's gay liaison desk, Bret Parsons and Diane Durham, a longtime mysterious figure in the case – the officer who wrote in her report on the morning after the murder, that Price said he'd found Robert by/near the 1509 Swann Street patio door, not in the home's guest room where Robert's body was ultimately recovered.
Neighbor, friend and sexual partner, of Price and Ward, and wheel man in the 'Mercedes Meeting,' Scott Hixson, is also included.  In short, that old gang of ours.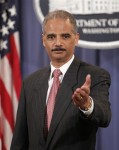 We lobbed in a call to the Justice Department's Public Affairs Office asking for either comment/statement regarding Holder, asking if he was aware of it and if there were DoJ rules on whether AGs can testify in civil proceedings.  As of press time, 11:00pmET, we haven't heard back. 
How does attorney-client privilege play out here for Holder and Razi?  Were their statements at the one-year anniversary press conference outside of the privilege context?  Can Razi be both lead counsel and a witness too? 
Many of these names may indeed surface next October, but there also seems to be some smoke and bluster.  And the plaintiff list has some real doozies too. 
Ahead of posting the docs, we made some minor redactions, the home addresses of the 'civilians.'  Although these docs are public, available to anyone, we sided towards additional privacy for some. Exceptions are Swann Street neighbors – their proximity to the scene of the crime is important.
We're trying to think who may be missing and can only come up with a few names, a key witness at the criminal trial, defendant Dylan Ward's mother, Diane, the high wattage Dr. Henry Lee and who can forget that other defense expert, you know, the dude with the ketchup stains on his tie.
And maybe  next week we'll see Cov's reply to the D oppo to the P motion to compel depo testimony.  Does Judge Rankin know what he's gotten himself into?
Price Preliminary Witness List
Ward Preliminary Witness List
Zaborsky Preliminary Witness List