What We Have Here, is a Failure to Communicate
Wasn't it just the other day that we remarked how slow the paper chase in the Wone case was going?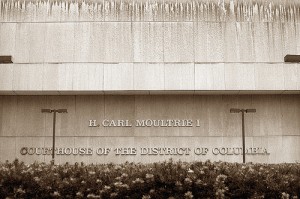 There had been no new filings since early December, and little or no activity according to the Court database. 
Late yesterday afternoon, a four page filing trickled in.  OK, we have a little post for Tuesday, we thought. 
Then a few minutes later, another filing came in.  That one tipped the scales at 150 pages.  So today's post won't be that little after all.
The last real action we saw in the Wone civil case was on December 8, at the status hearing that Judge Brook Hedge ordered so both sides could argue 5th Amendment issues.  At issue was the near complete silence of Defendant Dylan Ward in response to questions at his November 10, 2010 deposition.
At that depo, Ward refused to answer most of the questions posed to him by Plaintiff counsel Ben Razi of Covington.  Ward counsel, Robert Spagnoletti, did almost all of the talking that day and leaned on 5th Amendment privilege claims to protect his client.  Not only that, but Ward remained mute when asked if he was accepting his counsel's advice.
That impasse, or game of legal chicken, led to a hasty call to Judge Hedge's chambers.  Unable to reach agreement, she scheduled the December status hearing to hammer it out, along with one or two other ancillary issues.
The upshot of that status was the defendants' had to mouth their 5th Amendment claims themselves, and not through their mouthpieces.  The next Ward deposition was quickly scheduled.  How quickly?  One week later, on December 15, he was back inside Covington and facing his inquisitors.
A month later, Ward's former housemates/roommates/whatevers found themselves in the same hot seat for their depositions in the Covington offices on Pennsylvania Avenue.  All three of the depositions got a little bumpy according to yesterday's filing by Razi.  How bumpy? Fasten your seatbelts.
Filed yesterday in Superior Court were two documents, the shorter Plaintiff's Consent Motion to File Certain Documents Under Seal, and the behemoth Plaintiff's Motion to Compel Defendants to Provide Answers to Deposition Questions Not Protected by the 5th Amendment.  According to Team Razi, Ward, Price and Zaborsky are still not providing answers to the deposition questions. 
In addition to the seal order below, is the larger Plaintiff filing, which includes the motion to compel, a proposed order, and a memorandum in support of the motion.  Attached to this memo are 26 pages of an entirely redacted document – a log of the 504 questions asked to the deponents. 
Exhibit A, which we'll post later this week, is the entire transcript of the December 8 status.  Also attached are single pages noting the sealed documents – the depo transcripts of the Ward, Zaborsky and Price that were conducted on December 15, January 7 and January 11 respectively.
The final exhibit is the transcript of the aborted Ward depo from November. For background and review purposes, that document is here.
Simply put, Razi argues that there is no reason for the defendants to hide behind any 5th Amendment claims and that the threat to them for further prosecution is very unlikely.
"By the time this case reaches trial in October 2011, Mr. Wone will have been dead for more than five years.  At this late stage, Defendants face no reasonable prospect of criminal prosecution."
This was hardly a vote of confidence in either the MPD or US Attorneys Office to bring additional charges against the threesome, by Covington.
Instead of answering questions, Cov maintains that, "All three Defendants refused to answer the overwhelming majority of the questions they were asked.  Instead, they chose to follow a rehearsed pattern of waiting for their counsels' objections before reading a prewritten statement declining to answer."
And then Covington ticks off the topics of the line of questioning that was conducted:
Deposition Preparation
Relationship with other Defendants
Relationships with Mr. Wone
Relationships and Communications with Mrs. Wone
Conduct for which Defendants have been Acquitted and Cannot be Prosecuted Again
Defendants Price and Ward's relationship and Violent Conduct
Activities on August 2, 2006
Defendants' plans to testify or other Evidence at Trial
Additional Questions
The arguments hit on a handful of basic points, of course backed up by reams of precedent, according to Razi:
I:  The Court Should Reject Defendants' Attempts to Hide Critical Evidence from Mrs. Wone based on Overstated 5th Amendment Assertions
A. The Information Mrs. Wone Seeks is Properly Discoverable and Cannot be Obtained from any other Source

B. The Court Should Reject Defendants' 5th Amendment Privilege Claims Because they do not Reasonably Fear Future Criminal Prosecution
II:  Defendants' 5th Amendment Claims are Overbroad
A. Defendants Cannot Refuse to Answer Questions Related to the offenses for which they were Acquitted

B. Defendants have no 5th Amendment Basis not to Respond to Questions regarding their Deposition Preparation

C. Defendants have no 5th Amendment Privilege not to Respond to Questions Regarding their Relationships with Defendant Ward, and Defendants Ward and Price have no 5th Amendment privilege not to Respond to Questions regarding their Violent Sexual Practices

D. Defendants have no 5th Amendment Privilege not to Respond to Questions Regarding their Relationship and Communications with Mrs. Wone
III:  If Defendants do not Provide the Discovery that is Exclusively within their Control, Mrs. Wone will seek, and will be Entitled to, Adverse Inferences and other Relief.
And it is here we learn about possible next steps.  The obvious first next step is for the Defense to file a response in opposition to this motion, of course, and to expect a Plaintiff reply to that, but Razi goes on to warn of other possible action:
"Adverse inferences, and other penalties – such as default, burden-shifting, barring introduction of evidence and permitting counsel to draw jury's attention to defendants' incriminating silences…"
Finally, Razi asks the Court to set dates for argument:
"…a briefing schedule so that the parties may address what counterbalancing remedies are appropriate. 

Because the potential for defendants' refusals to provide crucial evidence central to this case may have significant effect on the shape and focus of remaining discovery and trial, Mrs. Wone submits that the Court should establish a briefing schedule in order to address such issues as soon as possible in order to minimize any unfairness to Mrs. Wone."
Perhaps we should keep an eye open for more paper, and another status hearing or two.  And depending on how the new judge on the case, Michael Rankin, rules on this motion, perhaps another set of depostions.  Round III?
 
CONSENT MOTION TO SEAL
PLAINTIFF MOTION TO COMPEL