Why an Obscure Club May Hold the Key to Solving This Crime
You could be forgiven some skepticism when first hearing about the Vidocq Society.  "Cuisine and crime-solving," reads their home page, going on to explain how the world's greatest forensic detectives gather monthly at the elegant walnut-lined Down Town Club in Philadelphia – all to dine on fine food and solve murder cases gone cold.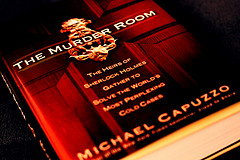 Right.
"I thought this can't be real," says former Philadelphia Inquirer reporter Michael Capuzzo.   "This is like the 'League of Extraordinary Gentlemen' or some James Bond sort of thing."
Bondian, perhaps.  But as Capuzzo and others have learned, Vidocq is real.  And hyperbole aside, it can legitimately claim to being one of the world's most successful organizations when it comes to solving cases previously considered unsolvable.
Here's why this is important: Vidocq may just be the last best hope for answering the riddles of 1509 Swann.  How, and how you can help, follows. 
Vidocq is not what you would call a completely transparent organization.  However the rules – such as they are – of what cases they work on are fairly basic…if also unyielding.
Here's how it works.  Vidocq and it's 82 members will offer their help, pro bono to law enforcement agencies trying to solve a long-cold crime provided:
The case involves a homicide that has gone unsolved for at least two years,
the victims were not involved in any illegal or criminal activity, and
the case is presented to them by local law enforcement officials.
While writing a profile of the group for his book "The Murder Room", Capuzzo became close with the club's three founders: forensic artist Frank Bender, psychologist Richard Walter – who boasts that he's never been wrong about a crime – and former federal agent Bill Fleischer, who now runs the Keystone Intelligence Network – 'the FBI for the little guy.'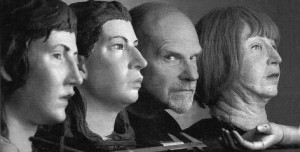 He got to know what interests them, what they look for in a case, how they take very different paths to the same solution.
They are, he says, all opinionated, eccentric, often egocentric, but passionate about solving crimes that have eluded others.  In short: characters.
"Fleischer – he loves characters…he's one himself," says Capuzzo.   "He waives around copies of Hugo's Les Miserables, and talks about redeeming victims like Bishop Myriel did."
If Vidocq accepts a case, the police departments that asked for help suddenly have at their disposal some of the greatest forensic professionals on the planet.  From profilers like Walter or Robert Ressler, to pathologists, to crime-scene reconstructers, district attorneys, blood-spatter analysts, experts in arson, mob-busting, terror – they're all there, in one place, and ready to help.
"It's been said they're the greatest collection of forensic talent ever assembled in one room, and I don't think that's much of an exaggeration,"  says Capuzzo.  Which is exactly why it can intimidate police agencies, large and small.
Cases go cold all the time as police departments struggle with rising needs and declining resources.  Still it's never easy to ask for help.
What unites those that do, says Capuzzo, is a burning drive to solve the case, whatever it takes.
Listen to our complete interview with Michael Capuzzo:
For those agencies that swallow hard and reach out, the rewards can be great.  Take, for example, Oregon's tiny Coquille Police Department.  Profiled recently by ABC's 20/20, Coquille asked Vidocq for help in solving the 2000 murder of Leah Freeman.
"The police could never put it together," says Capuzzo.  But when Richard Walter went out to Oregon to look over the same evidence that led nowhere for ten years, he was able to break through.  "It's not that he found different evidence, although he did help point them to new alleys," Capuzzo says.
What Walter was able to do was synthesize the evidence with fresh insight, and his experience and intuition, and yield a possible new answer.   Within weeks, Leah Freeman's murderer was identified and arrested.
Which brings us to August 2nd, 2006.
Cathy Lanier and the MPD have clearly done everything they can – and then some – to identify and prosecute those responsible for Robert's death.  Despite their best work, it has remained a puzzle.
Just about 140 miles north of the District are a group people who may be able to help find the keys that unlock this mystery.   We have asked Chief Lanier to please consider reaching out to Vidocq.  We're now asking you to do likewise – reminding her office of the great value and respect you have, and letting her know that this may be the last, best chance to solve Robert's murder. 
It's Vidocq's third rule: a plea for help can't come from a friend, a family member, or even a community.  It must come voluntarily from the local police.  "This is a volunteer thing and the Vidocq Society investigates cases that they think they can help on and that fascinate them, and with people that they think they can work with," says Capuzzo.
We have good reason to believe this is exactly the sort of case the Vidocq members wait for, and would be eager to help the MPD find its solution.
All Cathy Lanier has to do is ask.