Kathy Wone Goes on Record
On page 2 of the latest plaintiff's filing, Covington's Ben Razi noted that since oral argument had not been scheduled on the defense motion to dismiss, his document may have to suffice.   He may have spoke too soon; a status hearing has been scheduled for Wednesday, December 8, that in all likelihood will focus on this outstanding issue.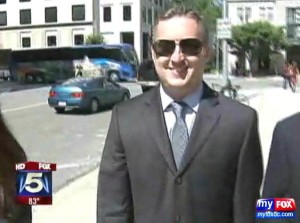 The first order of business in the Plaintiff's motion for leave to file a sur-reply in response to Defendants' Reply Memorandum in Support of Defendants' Joint Motion to Dismiss or, in the alternative, for Summary Judgment, is to take the defense to task on process violations.
In submitting their November 2 Reply Memorandum of Point and Authorities in Support of Motion to Dismiss, the defense failed to seek plaintiff's consent or leave of Court, before it was filed.
Apparently, DC Superior Court civil procedure does not allow "parties to submit reply briefs or sur-reply briefs as of right," and Cov called them out on that.  Ahead of the Plaintiff's sur-reply, motion for leave was requested and so was Defendant's consent.  And perhaps surprising no one, consent wasn't given.
Then, moving beyond process, the gloves come off.
Continuing to refer to the motion to dismiss as "meritless," the Sur-Reply was peppered with swipe after swipe on the defense team's (and perhaps Joe Price's) legal underpinnings: "gross mis-reading… erroneous claim… false assrertion… distort… misconstrue DC Law…"  And that's just the first two pages.
The main points are that the defense misinterpreted Chappelle; are off base on the relationship between murder cases and wrongful death claims; and the assertion that there are no disputed issues of material fact – in particular, …"regarding when Mrs. Wone learned of Defendants' wrongdoing."
As to Chappelle:
"Contrary to Defendants' over-reading of the decision, Chappelle does not hold that if a tortfeasor's identity is concealed, the statute of limitations is nevertolled.  As the Court of Appeals has explained, Chappelle held that a "defendant's concealment merely of his identity does not toll the statute of limitations." Diamond v. Davis, 680 A.2d 364, 380 n.14 (D.C. 1996)  (emphasis added)."
Pointing out a hole in established DC precedent, Covington says the defendants:
 "…are not permitted to hide behind the statute of limitations.  And, although the D.C. courts apparently have not yet addressed the unique statute of limitations issues that arise in unsolved murder cases involving fraudulent concealment, numerous other courts around the country have done so."
As if painting a picture for Judge Brook Hedge of how the plaintiffs view the three defendants' roles in Robert's murder, Covington mocks their reasoning:
"Under Defendants' proposed rule, it would not matter if a murderer destroyed every shred of evidence connecting him to the murder, moved the victim's body, and fabricated an airtight alibi. Prospective plaintiffs would still be expected to file suit within a year of death.

Unquestionably, Defendants' proposed rule would be good for anyone who wrongfully kills another person in D.C., guaranteeing the perpetrator a windfall as long as he can hide his involvement for 365 days."
In what may have been a difficult sworn statement to make, the attached affidavit of Kathy Wone's set out to clear up what she knew and when she knew it.  She relays the painful days and months after Robert's murder and the trust she had in the three men that she and her husband once considered freinds:
"Days after Robert's murder, a group of family and freinds gathered at my home in Oakton, Virginia to mourn Robert's death.  The defendants joined this gathering.  During their visit I asked the defendants how Robert was killed. 

In response, defendant Price said the he and defendants Zaborsky and Ward did not know how Robert was murdered but they believed an unknown intruder had entered their home and killed Robert.

At the time, I believed the defendants were telling the truth…. In the months and years that followed, defendant Price reiterated repeatedly that he and defendants Zaborsky and Ward had absolutely nothing to do with Robert's death."

Upon learning the facts set forth in the MPD affidavit, I realized that the defendants had been lying to me about what they knew and their involvement in Robert's death."