Stacking the Deck 
An insurance bet in Blackjack is one of the worst bets a player can make.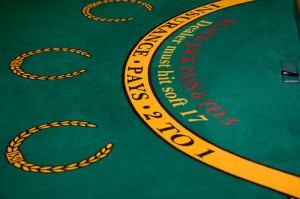 We've long wondered about how the Maryland attorneys for the defendants, Price and Zaborsky specifically, are being paid for their work, and what role an insurance policy on 1509 Swann Street would have in cashing out in the event of a judgment against them. 
Dylan Ward remains a wild card.  Was he or was he not part of the policy and if not, why does the DC Courts database show the Price and Zaborsky attorneys working for him too?
At last count, four attorneys are working on Ward's behalf, including the dynamic duo that got him and his co-defendants off the hook in the criminal trial, David Schertler and Robert Spagnoletti. 
After a lengthy criminal trial and still another year of doubling down for the civil, that's a lot of chips.  Who pays and how, may offer glimpses into the overall defense strategy.
What can the Maryland team honestly bring to the table?  Longtime reader-attorney Bruce weighs in on the nuances and possible scenarios.  He gives us a homework assignment too.
"We know that Dylan did not mention insurance as an asset in answers to interrogatories, as Joe and Victor did.  However, I was troubled that this interrogatory question was not directed to insurance, specifically, and there were no specific insurance interrogatories.  His answer to that interrogatory lead me me to think that he had no insurance, but I still had some questions.  There is certainly the possibility that Dylan and his attorney just answered it "differently" than Price and Zaborsky, and he is being defended by insurance."

"But I think the chance of that is probably in the 1% to 5% area.  Some thoughts:
(1) Is it possible that all three defendants agreed, as well as their attorneys and the insurance company, thus waiving any conflicts, and all the three's attorneys agreed to allow the insurance attorney to enter an appearance for each defendant so that it could promote the "joint defense" privilege? I would want to see if the other attorneys did this.  Again, quite a long shot.  Doesn't mean any insurance company is paying for Dylan.

(2) Is it possible that all three defendants agreed, as well as their attorneys and insurance company, thus waiving any conflicts, and, to help out on defense costs for Dylan, and keeping with a "joint defense" posture, they agreed that the insurance counsel could be listed as representing them all? Possible, but again doubtful. We do know that Dylan has that Washington State attorney. What's up with him. Again, doesn't mean that the insurance company is paying for Dylan. A separate bill could emanate from the insurance company attorney as to work specifically done for Dylan. Long shot!!!!!

(3) It is possible that Dylan made a "tender" to Joe & Victor's insurance company, claiming that he should be defended under Joe and Victor's policy.  And the insurance company agreed to defend him with a big reservation of rights letter, like with Joe & Victor, we assume.  Very doubtful to me, since I think we all think that Dylan would not be an "insured" under the policy (I have been so convinced by other posters, despite my earlier protestations in this regard).  Of course, NONE of us have read the insurance policy! We don't know exactly what endorsements or exclusions that it had. But if this is the case, why did Dylan answer the interrogatory question differently?

(4) The insurance company could decide, despite having no obligation to do so, that the case against its insureds Joe and Victor hinges on Dylan, and to protect Joe & Victor, its insureds, and to promote a successful defense without a "wild card," and to protect against a run-away verdict, it could make a business decision to defend Dylan and pay for the defense.  Everyone would have to waive any conflicts.  Again, very doubtful in my view, but a slight possibility.  But might explain why Dylan would answer that interrogatory different than Joe & Victor, because under this scenario, it would be perfectly clear that the insurance company would not be an "asset" to pay for any settlement or judgment against Dylan, and only providing payment of defense. 

What would be helpful is if we can get our hands on the actual "Appearance(s)" of that insurance defense attorney.  This is a filing with the court called an "Appearance", sometimes called an "Appearance and Jury Demand."  Each attorney representing a party has to file this usually one page document and sign it. In it, the attorney must list each person he or she represents. It controls who represents whom."
Thanks Bruce.  We'll see what turns up.