(Not) For Immediate Release
We continue to keep an eye out for the plaintiff's response to the defense motion for a gag order, one that would preclude all attorneys involved in the Wone civil case from speaking to members of the media, both in the mainstream press, and we assume, the not-so mainstream.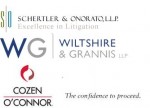 As we wait for that reply and Judge Brook Hedge's ruling, it may be worth looking back to see how the firms that represented Price, Ward and Zaborsky in the criminal case managed the post-trial publicity, such as it is/was.
In two instances, silence; and in the other, a certain degree of pride in winning the acquittal in a trial that they consider was "…the subject of extensive media coverage for the last four years."
The news pages of Bernie Grimm's (Price) Cozen O'Connor and Tom Connolly's (Zaborsky) Wiltshire & Grannis showcase plenty of announcements.  Typical of many firms' news pages and press releases are their announcements on publications, media mentions, pro bono work, new hires, awards and the bigger wins – dismissals and acquittals.
Yet nowhere on either of their two pages is any mention of what could be considered a rather big win from the summer – the Wone verdict.
It's only on the Schertler & Onorato news page do we see anything on the obstruction and conspiracy case.  There, along with news of wins on several cases involving domestic abuse, sexual battery, firearms and assault on a police officer is this five line mention:
"July 2010  Schertler & Onorato client acquitted of all charges: The Schertler & Onorato defense team of David Schertler, Bob Spagnoletti, and Veronica Jennings represented our client charged with conspiracy, obstruction of justice, and evidence tampering, stemming from the highly publicized 2006 stabbing death of Robert Wone. Following a five week trial in D.C. Superior Court, our client was found not guilty on all counts."
It only makes sense that Team Schertler crows about the big win; conventional wisdom says that firm drove the strategy in the criminal trial (with our without the assist from Joe Price).
Now, the criminal trial belongs to the ages, but as far as the three firms that won it, only one seems to be proud of the score, and that news shares space on the same page with other recent big wins for them: Blackwater and Alberto Gonzales.
–posted by Craig