Thursday Tea Time Movie Matinee
Joe Price's recorded interview with DC police at the Ancacostia Violent Crimes Branch detectives began with a phone call.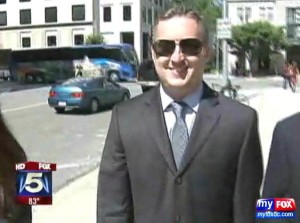 Detective Bryan Waid escorted Price into the cramped interrogation room with Victor Zaborsky in tow. 
Zaborsky was scooted out to a separate holding room while Price took a seat and answered his cel phone.  It was "Tom" on the line. 
Apparently, Tom had been called by Zaborsky and was told of a problem.  Price took the call and explained to him what happened:
"A very, very good, old friend of mine was at our house last night and someone broke into our home, stabbed and killed him in the process of you know attempting to rob us basically…  Victor was trying to get a hold of you to tell you that." 
In Price's telling of the events he seems to equivocate somewhat on where he found the knife and what he did with it.  He is certain Robert took a shower, but doesn't say how he knew.  He tells Waid he moved Robert's arm but could not remember which one.  
And in another seeming contradiction to the known events of the evening:  Price offered, "I kept saying where's the ambulance?  When's the ambulance getting here?  Ask them – tell them we need the ambulance!"   However, none of that was heard in the background of the enhanced recording of Zaborsky's 911 call.  Listen and watch for yourselves.
The interview transcript can be found here (Part II) and the tape follows.  Parts 2 and 3 of Price's VCB interview will be screened in the coming days.
Joseph Price MPD Interrogation Video 1 – Time: 00:30