The Lost Episode
The first look we had of Victor Zaborsky's final interview at the Violent Crimes Branch was on May 26, day seven of the trial.  Transcipts of this twenty minute session were never released so we were caught by surprise when the tape was screened in Judge Lynn Leibovitz' courtroom.  Detective Brian Kasul batted cleanup for the MPD squad and took the game right to Zaborsky, all but calling him a liar, repeatedly.  The headline that day was Kasul doing his best to rattle Zaborsky, "You will not last in DC jail.  Those boys will eat you alive."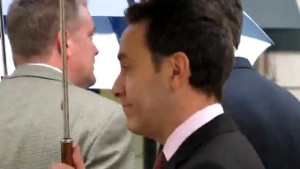 Kasul was relentless. "Victor, you're not being honest… there are things you're holding back…  I don't think you're telling us the whole truth about what happened… there's three people in the house, you, Joe and Dylan.  One of you killed him."  
Zaborsky sat slumped in the chair.  Kasul started the session on the other side of the table in the cramped interrogation room. 
By the time it was over, Kasul was knee-to-knee and almost face-to-face with his suspect, peppering him constantly.  At one point, Zaborsky, almost pleading for Kasul to believe him said, "A friend of ours died tonight," before the detective brusquely cut him off, and shot back, "A friend of yours was MURDERED tonight!  He didn't DIE.  He didnt JUST DIE.  He was MURDERED and somebody stabbed him with a knife from that kitchen.  And YOU know who that someone was." 
Kasul banged him up pretty badly and confidently said, " Somebody's getting charged with murder.  Somebody's getting charged with this murder…  as far as murder cases go, this is one of the easy ones.  There's nothing complicated about this.  All the pieces are there.  It's just a question of putting them together."
Almost four years to the day later, it's obvious Kasul was wrong.  Dead wrong.  But no one can argue that Zaborsky wasn't telling the truth when, near the end of the session, said,  "My life will never be the same. "  And neither was the Wone family's.  Wone.  Zaborsky managed to mispronounce that night.  It rhymes with Swann, Victor.  The clip follows.
Next week: While the Discovery Channel reprises 'Shark Week,' we debut 'Ward Week. '
-posted by Craig
Victor Zaborsky MPD Interrogation Video 3 – Time: 00:26