And Ready To Suit Up  (UPDATED)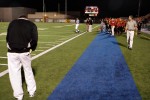 Attorneys representing the Estate of Robert Wone in the $20million wrongful death civil suit have wasted no time in the week since the criminal verdict.  They appear ready to take the field.  In the July 5 issue of the National Law Journal [sub. req'd.], Mike Scarcella writes on the next steps and legal teams standing by to tackle the case, "Civil fight looms for defendants in Wone case." 
"Legally speaking, Judge Lynn Leibovitz' not-guilty verdicts are irrelevant to the civil case. Even her opinion deeming it "very probable" that Price, Zaborsky and Ward know more than they've told police about Wone's death has no formal effect on the civil proceedings. 

But several plaintiffs' lawyers noted Leibovitz' statement that the government simply failed to convince her beyond a reasonable doubt offers encouragement that the Wone family lawyers can meet the lower burden of proof in the civil arena. And they can use the criminal prosecution as a road map. 

Lawyers from Covington & Burling and Regan, Zambri & Long, the two Washington firms representing the Wone estate pro bono, wasted no time in expressing their eagerness to kick-start the civil litigation. 

"We've been sitting on the sideline for two years," said Patrick Regan, a name partner at Regan Zambri. "We are happy at long last that we can move this forward." 
We don't have the clearance to republish the entire article (yet), but excerpts follow.   It seems that the article is now on the law.com free site.  It follows.
Civil Fight Looms for Defendants in Case of Murdered D.C. Lawyer
Acquittal doesn't end legal battle in Wone saga
Jeff Jeffrey and Mike Scarcella, The National Law Journal   July 07, 2010
After a five-week criminal trial that examined one of Washington, D.C.'s most vexing unsolved homicides, the three housemates charged with covering up the murder of Washington attorney Robert Wone walked out of court as free men. But their legal wrangling is far from over.
Victor Zaborsky, Dylan Ward and former Arent Fox litigation partner Joseph Price were acquitted June 29 in the District of Columbia Superior Court on charges of obstruction of justice and conspiracy and, in Price's case, tampering with evidence. All three men still face a $20 million wrongful death suit that was filed on the heels of the criminal case in late 2008.
The civil suit, which has been on hold during the criminal prosecution, will keep the meter running on their legal bills. Several criminal defense lawyers in Washington estimated defending against the criminal charges cost them between $2 million and $3 million in fees.
Legally speaking, Judge Lynn Leibovitz's not-guilty verdicts are irrelevant to the civil case. Even her opinion deeming it "very probable" that Price, Zaborsky and Ward know more than they've told police about Wone's death has no formal effect on the civil proceedings. But several plaintiffs lawyers noted Leibovitz's statement that the government simply failed to convince her beyond a reasonable doubt offers encouragement that the Wone family lawyers can meet the lower burden of proof in the civil arena. And they can use the criminal prosecution as a road map.
Lawyers from Covington & Burling and Regan, Zambri & Long, the two Washington firms representing the Wone estate pro bono, wasted no time in expressing their eagerness to kick-start the civil litigation.
"We've been sitting on the sideline for two years," said Patrick Regan, a name partner at Regan Zambri. "We are happy at long last that we can move this forward."
For their part, the defendants and their criminal lawyers were careful not to greet the acquittals with public exuberance. "There were losers all the way around and on multiple levels, with obviously the worst being Robert himself," said Price's lawyer, Cozen O'Connor partner Bernard Grimm. "You don't go out on the courthouse steps and claim victory. It's not jubilation. It's relief."
A HIGH-POWERED DEFENSE
The Wone murder has baffled law enforcement from the start. On Aug. 2, 2006, Wone stayed at the Northwest Washington house shared by Price, his domestic partner Zaborsky and Ward, who form what the three men have called a "polyamorous family." Wone had worked late at his new job as general counsel for Radio Free Asia and had made plans to spend the night at their Dupont Circle house.
Within an hour or so after arriving at the house, Wone was stabbed three times in the chest. Although Price, Zaborsky and Ward have always maintained that an unknown intruder killed Wone, investigators found no evidence of a break-in, and no property was missing from the house. Two years went by before criminal charges were filed in the case, and even then no one was charged with murder. The three men were indicted on tampering with evidence, obstruction of justice and conspiracy.
Price, Zaborsky and Ward faced up to 38 years in prison each if convicted on all counts. In the weeks after the murder, they hired criminal defense lawyers.
Price initially hired solo practitioner Kathleen Voelker, a former Arent Fox partner, but later switched to Grimm, a well-known Washington attorney who has gained a national reputation for his cable TV legal commentary. Zaborsky retained Thomas Connolly, who chairs the litigation practice at Wiltshire & Grannis, and partner Amy Richardson. Ward tapped David Schertler of Schertler & Onorato, a former homicide chief in the U.S. Attorney's Office in Washington, and Robert Spagnoletti, also a Schertler & Onorato partner and a former D.C. attorney general.
Several defense attorneys estimated that, even if the lawyers have been working for Price, Zaborsky and Ward at a reduced price, they are likely charging between $350 and $500 an hour. Their tab has been running through the four-year police investigation, the pretrial discovery and preparation process and the five-week trial. Moreover, the $2 million to $3 million estimate on fees does not include additional expenses such as forensic experts, including Henry Lee, who also testified in the O.J. Simpson trial.
All that money brought the defendants their freedom but not a full exoneration. The judge said that, even if Price, Zaborsky and Ward did not commit the murder, they likely know enough about the circumstances to help the police but are keeping that information secret. She called the theory that an intruder killed Wone "implausible." She characterized Price in particular as "consistently arrogant, unconcerned, flippant, aggressive, self-centered and dismissive" in his interaction with the police.
Regardless, said Robert Trout of Trout Cacheris, who represented former Rep. William Jefferson, D-La., on corruption charges, "This appears to have been a textbook illustration of the significance of burden of proof and reasonable doubt. The defense astutely realized that, understood the judge would be conscientious in applying the proper legal standards and so waived a jury trial. Good move."
THE CIVIL BATTLE
Now that the criminal case is behind them, the three men have the $20 million civil case to look forward to. The D.C. Superior Court suit alleges wrongful death, negligence, spoliation of evidence and conspiracy. It's set for a status hearing in September.
Because Wone was an associate at Covington & Burling before joining Radio Free Asia, the firm agreed to represent his widow, Katherine Wone, and his estate pro bono. Partner Eric Holder Jr. represented Katherine Wone until he became U.S. attorney general. The case then moved to partner Benjamin Razi, who handles complex civil and criminal litigation. Regan was added to the team last year because he is an expert in wrongful death suits.
Although Leibovitz's 38-page opinion is not admissible in the civil suit, it does provide a possible outline for obtaining a judgment against Price, Zaborsky and Ward under the lower civil standard of a preponderence of the evidence. Moreover, much of the evidence needed in the civil case has already been collected by virtue of the criminal case.
"The criminal case … is helpful in terms of developing a trial and discovery strategy as well as which themes and messages to highlight," said William Lightfoot of Washington's Koonz, McKenney, Johnson, DePaolis & Lightfoot, who has handled wrongful death cases. "It's almost like a dress rehearsal for the civil case."
Lawyers defending Price, Zaborsky and Ward in the civil suit did not return calls or declined to comment. Price is represented by Craig Roswell, who chairs the litigation practice at Baltimore's Niles, Barton & Wilmer. Zaborsky has retained Frank Daily, who has his own firm in Hunt Valley, Md. Court records show Schertler & Onorato is continuing to represent Ward in the civil matter.
Unlike the defendants, Regan said Katherine Wone has no intention of waiving her right to a jury trial. He said the plaintiffs are gearing up for depositions of Price, Zaborsky and Ward.
The three men, who did not testify in the criminal case, could try to plead the Fifth Amendment to avoid the depositions on the ground that they might implicate themselves in the ongoing murder investigation. Whether that would fly with the civil judge, given their acquittals on related charges, is unclear, one defense lawyer said.
What seems clear is the weight of legal fees burdening the three men. Several plaintiffs attorneys noted that, depending on how the insurance policy for the Dupont Circle house was written, it may cover at least part of the civil defense, if not the potential damages.
"We expect there will be problems collecting for Kathy," Regan said. "But that's a problem down the road."
Mike Scarcella and Jeff Jeffery have our sincere thanks for his continued coverage of the case. 
-posted by Craig