And Other News Indicating It's Not Over
WTOP crackerjack Mark Segraves hosted MPD police chief Kathy Lanier on the "Ask the…" program Thursday.  Good timing.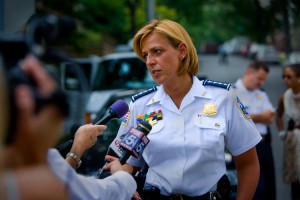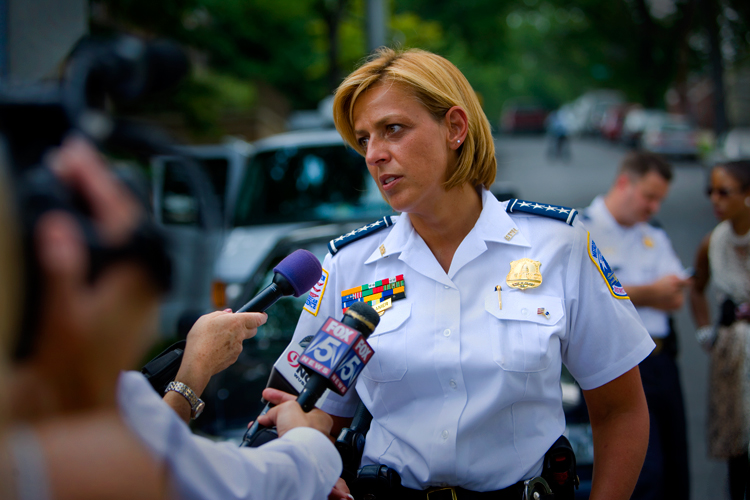 Segraves has been indefatigable in covering this case, and after a month of daily trial coverage, it's no surprise the first six minutes of the program focused on the Wone trial.  A WTOP write-up of her comments can be found here, and here's the audio.
You can listen for yourself; suffice it to say Lanier made clear the criminal investigation into Robert Wone's murder is still "…open and very active…" and the MPD is working closely with the US Attorney's office.
"(It's) been ongoing from the beginning," she said.  "This is just one piece of it, and beyond that I guess I'm a little restricted to what I can say, but it's gonna continue to go on."
Her comments mirror Glenn Kirschner's on Tuesday, and are nearly identical to previous statements she's made over the past two years.  A talking point?  Perhaps.  But we have additional reason to think the MPD is wanting this case solved.  
On Tuesday, outside 310 Moultrie, we met Det. Gail Russell-Brown waiting for a seat in the courtroom.  She, in fact, had been a regular presence in the audience…joined by another of her colleagues who also testified.  We noted how unusual it is for MPD witnesses to take such interest in a trial, and asked them both why they were there.  "Because this is important," they both said, and suggested that many in the MPD – including the chief herself – are troubled that Robert's murder has remained unsolved.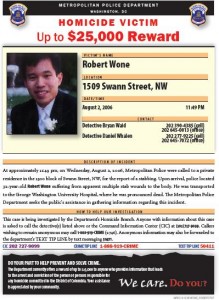 Also this week we found these, at the MPD website. 
Early last year we noted with frustration the omission of Robert's murder from the MPD unsolved homicide list, leading us to printing up and posting our own. 
Now, Robert Wone is on the list for 2006, and while we have yet to see any of these posted around the neighborhood,  people are free to print and hang these MPD flyers where they will.
Another update: the first status hearing in the civil trial has been scheduled.  September 10, 9:45,  before Associate Judge Brook Hedge;  Craig Roswell will be representing Joseph Price.  A closer look at the civil case and its principals comes next week after the holiday.
–posted by Doug