Poll Results
The following are the results of yesterday's polls from the post 24.  For those who did not vote or view the results, these are the tallies as of midnight Eastern Time (6/29/2010).
Dr. David Fowler was selected as the strongest expert for the prosecution with 75% of the votes cast.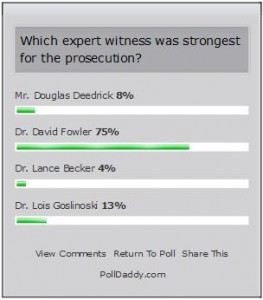 Dr. Farzad Najam narrowly edged out Dr. Vincent DiMaio as the strongest expert for the defense with 32% of the votes cast.  Of course in a statistically valid poll, this would probably be a tie.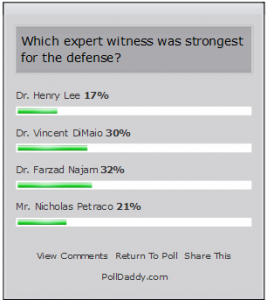 The majority of votes cast, 60%,  indicated that Judge Leibovitz will render a mixed decision with two or more of the defendants found guilty.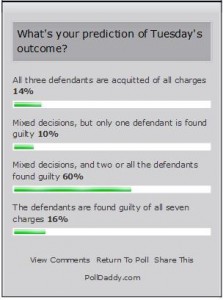 Coverage begins tomorrow with the outcome from Room 310 at the Moultrie Courthouse to be posted once a verdict is announced.
Michael, co-editor
(Graphics available for polls after the jump.)