5:00pm Update: Adjournment
Defendant Dylan Ward's mother, Diane, took the stand this afternoon and said the missing knife from her son's cutlery set never was in DC and was in Tacoma all the time.  Nervous and weeping on the stand, she actually produced two knives.  One of them fit into the case.  She says she produced them to attorneys after Ward's arrest.
Also testifying: The baby-sitter who was on duty at 1511 Swann Street, Ms. King, said the top cover of a turtle sandbox that was in the backyard was crushed upon seeing it on August 3.  MPD photographs of it were produced.  On cross, King stated she did not know what transpired on the night of August 2 but had seen earlier news reports.
A full wrap of the day hits around 7:30pmET.
11:00AM and 1:30 PM Updates:
Dr. Henry Lee takes the stand qualified as an expert in blood pattern analysis and crime scene reconstruction, under direct questioning by Price counsel Bernie Grimm.   He testified on the towel, the t-shirt, the bed, as well as the results of prosecution expert Douglas Deedrick's fiber pattern transfer (to the knife) test.
More on Lee's testimony follows.
8:30am Update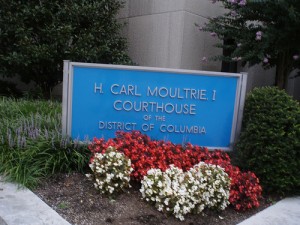 The Plan: Trial resumes at 9:45 this morning in 310 Moultrie.
David Schertler on Friday said the defense may call six more witnesses before they rest, but that number isn't hard and fast: there's still that witness trying to return from China/Mongolia.
Up to three witnesses may be called today.
A Defensive Shift? We may have heard a shift in the defense last week…and then again, maybe not.  Previously, defense counsel asserted that tamponade would have immediately incapacitated Robert – and thus no defensive wounds.
But last week Schertler and Connolly had adopted Dr. Fowler's :45-1 minute incapacitation theory…sort of.  On Friday Schertler repeatedly used the :45 second time-window when trying to dial back the clock to somewhere near 11:49.  However he muddled it, several times, as :45 seconds that perhaps Robert lived.  Despite the muddle, it seemed clear that Judge Leibovitz remembered Fowler's assertion.
Blonde on Blonde: Ever since the trial kicked off on May 17, a lot of faces have become familiar to us: reps from media, associates, paralegals, MPD and the DoJ officials who fill the nearly fifty seats in room 310.  It's almost always crowded and while filing in or out through the courtroom's narrow doors, spectators can find themselves shoulder to shoulder with a defendant, a prosecutor, a wmrw.com stringer and one woman in particular, a mystery woman.
Mysterious only because she won't identify herself.  Obviously a member of the defense team, we first thought she was attached to Grimm, then Schertler, now we're just confused mystified.
Sean's Dissent: Intern Sean had a different take on Friday's proceedings:
"I think the defense overall had a pretty good day.  After the break, they got what they wanted – they managed to lay a foundation for the tamponade stuff after all, even after Judge Leibovitz told them before the break that they hadn't yet.  And they got the PEA testimony that might undermine the prosecution's evidence regarding the time line of the 9-1-1 call.

"Dr. Smith also had a pretty good explanation for the 12:17 (record of PEA with Robert at GW) – he made very clear that the :12 minute reference was only for untreated PEA.  Once medical intervention began, PEA could last 20 or 30 minutes.  I think Martin's biggest hit was with the studies, and Judge Leibovitz' questioning – particularly that those studies supporting his (Smith's) opinion were all essentially extrapolations from animals."
As to the identified stains, Lee said stain 1B had a large semicircular area that came from a direct contact applying pressure to a bloody surface. 
1B also contained stains that Lee described as "fingermarks" which showed movement upon contact with a bloody surface. 
Lee concluded that 1B was consistent with a right hand applying pressure on a surface such as the wound.
Stains 2 and 3 were smaller, and Lee testified they came from secondary transfer (not from directly contacting blood, but from another
Lee's examination of the knife resulted in his conclusion that the blood could not have come from a towel.  Deedrick's exemplar knife showed grease spots and evidence of cleaning. 
On the crime scene knife, Lee also found "multiple deposits"; 3 distinctive patterns.  "Multiple deposits," he said, indicated "multiple stabbings."
Finally, the blood on the t-shirt and the bed. While recognizing that the t-shirt was saturated while the sheet only showed two spots of blood, Lee indicated that it was much of the blood on the shirt came after Robert had been moved and while the EMTs were attempting to resuscitate him.
AUSA Glenn Kirschner began his questioning by asking Dr. Lee about the differences between a staged scene and a non-staged scene. Lee insisted that, if anything, a staged scene would often be easier to examine.
Kirschner then moved on to the towel.  Was it Lee's testimony on direct that this was a normal amount of blood?  Lee answered, as he said in direct (although he did not actually say it in direct) that it was less than expected for a struggle, but not unusual when there was no struggle.  "A quick stabbing may have very little blood."  Was it usual to see a struggle in stabbings?  Lee said he could not say.
 Kirschner asked how many stabbings Lee had worked.  "Over 100, maybe 1000."  Would Lee expect to see more blood on the towel if it had been used to apply pressure on a wound?  Lee took exception to the premise that there was not much blood found.  "That's not little, that's 5 to 10 ccs."  That, and because of the "limited surface area" that was exposed to the blood, and because Robert was laying face up, equal a perfectly expected amount of blood that was found on the towel.
 Moving on to Lee's objections to Deedrick's conclusions, Kirschner noted the possibility that someone could have placed the knife blade side up, with the spine of the knife on the towel.  Then he pointed out the relative lack of blood on the knife's cutting edge.  Lee hedged, indicating there was blood there.  At this, Judge Leibovitz interjected, saying that to her layman's eyes, there was much less blood on the edge.
 Lee said that the reflections and camera angles could make this deceptive.  "So you're saying . . . this is an illusion?" Leibovitz asked.  Lee conceded that no, it was not, and that although there was blood on the edge, there was less.  So, after all this, was it possible for the knife to have been wiped across the towel, blade-up?  Lee never answered it definitively, and the cross continued onto details regarding the differences between the patterns on Deedrick's example knife and the crime scene knife.
 Ward counsel David Schertler started his re-direct of Lee with the subject of struggle.  Would he expect no movement, and would he expect no defensive wounds from a sleeping victim?  Yes, to both questions.  Then Schertler moved on to the shirt and the sheets.  The shirt, although saturated, showed a flow pattern consistent with the spots on the bed.  The rest of the blood, he reiterated, likely came when Robert was moved.  Finally, Lee pointed out the presence of hair and fatty tissue on the crime scene knife, things that would not be added if the blood had been dabbed on later from a towel.
Grimm's redirect was similar, again emphasizing the differences between the exemplar knife and the crime scene knife, as well as the lack of evidence of staging.
Following Lee was Dr. Vincent DiMaio, who was qualified as an expert in forensic pathology.  Questioned by Zaborsky counsel Thomas Connolly, DiMaio's testimony was simple, repeatedly emphasizing that nearly all the findings of the prosecution's forensic experts were meaningless.  Lack of fishtailing?  "You don't see them in most, a majority" of stab wounds.  "Even," he added, "when the victims are fighting with knives."  Lack of defensive wounds? Again, "a majority of people who are stabbed to death have no defensive wounds."
 In the medical literature, he claims, that number is 60%. Then he said that it was almost impossible to determine the length of a blade that makes a specific stab wound, and that the blood in the abdomen could easily have come from resuscitation efforts.
The prosecution will cross examine Dr. DiMaio after lunch.