The Chief Lays Out His Case In Chief
Maria Allison, RPR, retired last week as an Official Court Reporter for the DC Superior Court.  We think we know why she packed it in.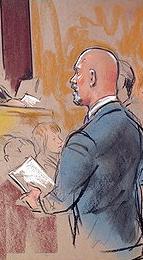 Maria was at the keyboard on Monday, May 17, when US v. Price, Ward and Zaborsky was first gaveled into session and prosecutor AUSA Glenn Kirschner delivered his marathon opening statement. 
Trial observers clocked the Homicide Chief at an hour and fifteen minutes; forty-six pages pages worth.  That day, Maria earned whatever relaxation her retirement has in store for her.
There's been much discussion during the first three weeks of the trial that Kirschner's case in chief has been a string of disparate elements lacking a cohesive narrative.  Here, is that narrative.  Kirschner was nothing if not thorough, exceedingly thorough that day.  He hit all the key points: chimes, towel(s), knife/knives, delayed reporting, the implausibility of the intruder theory, needle puncture marks, Michael Price, and family, family, family.
"They considered themselves a family, a very tight cohesive unit.  And sadly, Robert Wone was not a member of their family on the night of August 2, 2006, there was a choice to be made."
"I don't think anybody in here needs to articulate that motive and murder don't always go hand in hand."

"He says that he (Price) sees Robert Wone, and he is clear about this over and over, with a knife lying on his chest."

"And you could tell it was a danger zone for Mr. Zaborsky when he was talking to the police (about if he saw the knife) and all of a sudden — 'I'm cloudy on that.  I don't know.  I was hysterical, so I can't be sure.'"
Maria's transcript follows.  Tomorrow we post the opening statements from the defense team: Bernie Grimm, David Schertler and Tom Connolly.
-posted by Craig