…And When Did he Know it?   Parsing Zaborsky.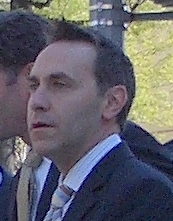 Two minutes and forty-five seconds into Victor Zaborsky's 911 call, the dispatcher asks him if Robert is still breathing, a question he repeats to the nearby Joe Price, who is providing the first-aid to their stricken friend. 
No response from Price.  Fifteen seconds go by until the dispatcher repeats her question; Zaborsky finally answers, "He's breathing, but we need help now."
As noted, this element may complicate the defense team's cardiac surgery experts are to testify that a single knife thrust into Robert's chest immobilized and killed him instantly, perhaps within a heartbeat.
But that's for the docs to spin.  What may be more troublesome for the defense is the other inconsistencies between Zaborsky's call, his interview with detectives and what came out of Sarah Morgan's testimony.
Zaborsky's friend (or ex-friend) of 15 years, Morgan testified that when she left 1509 at 6:00pm on August 2, she set the 'away' function on the alarm system because no one was at home.  We learned this on AUSA Glenn Kirschner's redirect.  The away setting enables the motion detectors inside.
But a half hour later, at 6:30pm, the house was abuzz again.  Zaborsky got home and he had company.
On page 5, line 21 of Zaborsky's interview, he said that when he arrived home from Dulles at 6:30pm, "Dylan was home.  He was exercising up in his room."  This comes up again in part II of Zaborsky's transcript, page 3, line 9, "Dylan was home.  He was exercising in his room…"
But nowhere in any of Ward's statements do we hear about his day or what time he came home.  Ward must have breezed into the house just after Morgan left, just missing her, and began his workout pretty quickly, so that by the time Zaborsky arrived just a few minutes later.  Just another coincidence in a night full of them.
There's plenty of daylight between two other elements in Zaborsky's retelling of the night. On page 11, line 2, Zaborsky says he came downstairs while on the 911 call and that:
"Joe was with Robert and he was, he was applying pressure to the wound already — the 911 operator had told me to take a towel and apply pressure to the wound, so I had gone into the bathroom and grabbed a towel and my robe when I came downstairs.

I gave the towel to Joe and I was still on the phone with the operator.
In his part II, page 27, line 22, Zaborsky said,
"So I grabbed a towel and I grabbed my robe and I went downstairs.  And at that point Joe was already applying pressure to the wound.  I gave him another towel."
Identical recollections but still daylight:  What exactly was Price already applying pressure to Robert's wounds with if it was the towel that Zaborsky brought down to use.  From the crime scene photos shown, there were two white towels on the back of the desk chair in the guestroom; both folded neatly, neither disturbed.
Zaborsky said gave Price "another towel." Simple math says that equals at least two towels, but only one has been entered into evidence.  Will the defense team conjure up a towel like they did with the carving knife they found in Seattle?
At four minutes and fifteen seconds into the 911 call, a distracted Zaborsky tells the dispatcher, "The person has one of our knives."  The dispatcher responded by asking him, "The person that stabbed him ran out the door with a knife?  Zaborsky says, "I think so."
This real-time crisis that Zaborsky reported on the 911 call differed from considerably from what he told the detectives hours later.
Zaborsky's statement made to the MPD detectives hours later (page 10, line 1), in which he described his first look at Robert on the sofa-bed, "His eyes were rolled back.  He looked very pale."   That description doesn't seem to match what one might expect from a knife attack victim who was still breathing more than three minutes later.
And it's anyone's guess what Zaborsky saw when he first laid eyes on Robert, if and where he saw the knife.  In part II of his interview, page 12, line 8, Zaborsky admitted confusion over what he saw at first glance, "I'm confused now because I think I saw the knife the first time I came down the steps, but I really looked so quickly and was hysterical that I don't know whether I did or not." 
Yet, as indicated above and two pages earlier in the transcript, he apparently had a good enough view to see Robert's "eyes rolled back," and on the call, he was able to confirm to the dispatcher that the intruder made off with the knife.  Again, it's anyone's guess.
This has become a mind-bending task so feel free to add any possibile inconsistencies, and this being Washington, they can be with or without plausible deniability.
-posted by Craig