5:00pm Adjournment Update
The downstairs tenant of 1509, Sarah Morgan, took the stand and described the relationships among the three defendants, her reasons for being gone on the night of the murder, and the series of phone calls she got that morning from Joe and Michael Price before her visit to the VCB in Anacostia.
A full wrap for the day will hit around 7:00pm.
3:00pm update:
The afternoon session kicked off with a government breakthrough; AUSA Glenn Kirschner said he would be offering all statements (defendants' interviews on tape, those to police officers and to civilians) for their truth. 100% of the statements will be offered for their truth against the individual defendant who made the statement, but not against the other two.
They will rely upon the judge to make the distinction as to what can and cannot properly be admitted against each defendant, and to rely only upon admissabile evidence in making her decisions. 
Ward co-counsel Robert Spagnoletti was up to object.  He said the government was changing course mid-trial, and only at the prompting of Judge Leibovitz' hypothetical question she posed to the prosecution this morning; a bank robber and get-away car driver.
Spagnoletti said the  defense would've taken a different course and they may have crossed witnesses in a different manner.  "This informed our cross examination effect… This (change of course by the government) raises huge Cnfrontation Clause problems…  which will powerfully incriminate other defendants." 
Spagnoletti was a direct and animated as we've seen him.  Leibovitz needled him somewhat, "Why can't a judge follow her own instrctions," she asked.
The government cited a 3d Circuit ruling but the judge noted that the DC Court of Appeals has yet tackled this issue.  Rather than decide today, Leibovitz gave Spagnoletti time to decide on a filing or response while she works over the matter too.  "I take seriously the unfairness issue," she told Spagnoletti. 
A break was called just as AUSA Patrick Martin finished his direct of Paula Salvador, the phlebotomy instructor of Michael Price.  Her cross begings at 3:00pm
More updates follow after the jump.
1:15pm Update (Lunch break)
We're three hours into today's session and have yet to see a witness take the stand. The discussion has all been process, process, process.  Oh, Michael Price and Sarah Morgan too.
For the Nth time over the past few weeks, Judge Leibovitz has pleaded with AUSA Glenn Kirschner to make clear and unambiguous, how we will present the defendants' interview statements, as well as others by police and civilian witnesses: for the truth,not,  as verbal acts or whatever. 
 I won't even begin to try and explain the mind-bending complexity of the 25 minute discussion as Sean is off today so we're screwed on evidentiary inside baseball.  Leibovitz does not want Kirschner to do this "on the fly," and it now appears that the prosecutor and Zaborsky counsel Tom Connolly may hammer out some sort of agreement and/or understanding during the 90 minute lunch break.
At 11:30am, the discussion turned to defendant Joe Price's brother Michael.  The pertinent case law appears to be Winfield, maybe some Hager and Resper too for good measure.
Kirschner maintains that evidence exists regarding implicating Michael Price, and will speak to the charge that his brother Joe had good reason to cover for him, and that the other defendants did as well.  A Montgomery County College professor will testify to the younger Price's phelbotomy classes and attendance; Louis Hinton will testify to Michael's substance abuse, proclivity to "benders.. and disappearing for days at a time," as well as his bi-polar disorder.
Sarah Morgan will testify, immediately after the break we think, that when she agreed to be a tenant of 1509, she directly asked Joe if Michael had a key to the house.
Kirschner contends that Joe did not say to Morgan that his brother either had a key or knew the security codes to the alarm system.  Kirschner also said that right after the 1509 burglary, Joe Price and Hinton had a conversation on the need to get Michael "off the streets,"  and that Hinton said he falsely reported his car was stolen by Michael in an effort "to secure his presence."
Talk next turned to what Michael Price said or was overheard saying at Robert's funeral, "…cussing out a homicide detective and rallying to the defense of his brother (Joe)."  There is some confusion of Michael's statements at the funeral and whether when he said "he was at the hospital," was meant to mean GWU (where Robert was taken), or was on his rounds at St Mary's as part of his phelbotomy training.
Price counsel Bernie Grimm got up to speak on his efforts to exclude any of that testimony and offered the grand jury testimony of Daniel Rogers, a William and Mary classmate of Joe's, who heard the hospital statement.  Grimm undercsored that the meaning of it was unclear.  Kirschner said it had more to do with the tone in which this ambiguous statement was said.
A five minute defense conference followed in the hallway and we came to learn that neither Ward nor Zaborsky joined in on Joe Price's motion to exclude the Michael Price testimony or evidence. "We agree with the government that it should come in and is admissible," said Ward counsel David Schertler.
Leibovitz said that the government had met the Winfield standard and the Michael Price evidence was relevant to establishing the motivation by Joe Price to not identify his brother to police as a key holder, one of the overt acts of conspiracy in Kirschner's charges.  She handed the prosecution their fourth win for the day.
The judge said, "The evidence advances the proposition that Michael Price may have committed the murder…" although it is neither clear or convincing. 
At 12:30pm, downstairs tenant Sarah Morgan was about to take the stand for what Kirschner called "lengthy" testimony, but the lunch break was called, ostensibly to allow Kirschner and Connolly to talk about statements.  Kirschner said he hoped to "make more clear, or clear for the first time," how they would be submitted.
Lastly: Sean is back and will help us navigate the rocky shoals of the statements, and expect to see some wmrw "Shakey-Cam" footage on the news this evening.  We may be the only ones with video of Michael Price. 
11:00am Update
First up today was Judge Leibovitz' ruling on the admissibility of the testing and experiments of government's trace evidence analyst, Douglas Deedrick.
The defense had argued that both of his tests (Fabric Imprint on the Knife and Fiber Transfer on pork loin) failed to meet certain scientific and legal thresholds, notably Frye and Dias, and that Deedrick was unqualified to offer expert opinions on imprints.
Judge Leibovitz ruled that both of Deedrick's tests /experiments did meet the requirements of being "substantially similar," and will allow them in.  
She also ruled in favor of admitting his testimony as a fiber expert on the question of imprint analysis.  His experience, skills and knowledge in the field were more than enough to satisfy Leibovitz.
Next, discussion on the Michael Price issue, after the mid-morning session resumes at 11:05am.
10am Update – Remembering Robert's 36th
Court sits very soon, and as always we'll have full coverage from the day.
But before beginning we wanted to mark this day, June 1st, as Robert's birthday.  He would have turned 36 today – still young enough to just be starting life.
We recall once again that Robert's favorite song was "What a Wonderful World."   Let's all remember to remind ourselves – and our loved ones – about that on this day.
8:30am Update – The Heavy Weather Edition
The tropical hurricane season starts today, and it just might be getting stormier inside Judge Lynn Leibovitz' courtroom this week.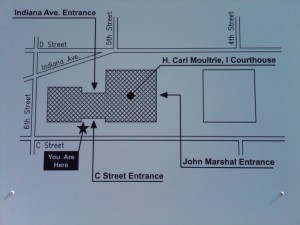 AUSA Glenn Kirschner indicated he may bring MPD lead Detective Brian Waid to the stand early this week for up to two days of testimony and cross.
At some point we may also see the return of Detective Gail Russell-Brown.  Her testimony was cut short on Friday because the government wasn't squared away on how to present statements.
At some point, the government will be stitching together the threads of the alleged conspiracy.  The Washington Post's Keith Alexander had this in yesterday's edition, and perhaps it's a preview of her testimony on what may emerge as a key element of that charge:
"Prosecutors also plan to present evidence of a confrontation between Michael Price and a homicide detective on the day of Wone's funeral. As mourners and police detectives gathered in a parking lot after the funeral, Price allegedly, in a profanity-laced rage, confronted Detective Gail Russell-Brown with questions about why police were harassing his brother instead of searching for Wone's killer.

The confrontation, prosecutors assert, is evidence of Michael Price's "consciousness of guilt" — a legal standard of evidence that prosecutors use to show how a person's actions after a crime reveal that person's involvement in the crime. Attorneys for the housemates argue that Price was simply defending his brother. On Friday, Leibovitz ordered prosecutors to present additional evidence of Price's state of mind during his confrontation with the detective before she allows the detective to testify."
Kudos to Keith for nailing this over the holiday weekend.
Mercedes, Mercedes, Old Van:  A Swann Street resident helps us identify "the guy" that Joe Price initially fingered as a person the police should question regarding Robert's murder.  As best as we can tell, there was a gentleman who lived from the back of his van, perhaps parked in a neighboring T Street backyard, not far from 1509 Swann.
Based on what we've heard, this gentleman may not have posed all that high a threat.  The man was somewhat well-known to residents who shared the alley, as a harmless and non-threatening figure who was given to drink.  So given it appears, that it was unlikely he could've gotten over the 1509 back fence even if he was shot out of a cannon.
Today's session kicks off at 9:50am in courtroom 310.