The View After Two Hectic Days – Updated @ 10:30pm 
Only two days into this trial, the strategies, battle lines, and maybe some breaches are emerging. 
The government's plan looks pretty clear, a strong and steady march using eye witness reports and expert testimony to shred any and every alleged inconsistency and anomaly in the defendants' alibis, statements and behavior. 
AUSA Glenn Kirschner will position Joe Price as a ring leader of a conspiracy; one who had a powerful hold on his two (former?) housemates Victor Zaborsky and Dylan Ward. 
The motive?  The fact that they are a family with incredibly strong bonds make it likely that they coalesce and hang together, otherwise they hang… 
In his opening statement, the prosecutor said that Robert was not a part of that household and the defendants made a clear choice and a decision that night, don't take sides against the family. 
The defense leaned hard on relationships in the opening days; the closeness and strength of Robert and Price's longterm friendship, one that Price's housemates inherited, the shock and grieving the three felt after the murder, and the idea that this family could in no way harm Robert or cover up for someone who may have. 
The fault line and other thoughts after the jump. 
The distancing we caught a glimpse of this week was first noticed during last year's status hearing:  Victor Zaborsky counsel Thomas Connolly, trying to keep his client above the fray.  Connolly had the shortest opening statement on Monday, and perhaps the best: Victor is a kind and gentle soul who was telling the truth; he knew nothing and is only sharing what he heard and saw. 
The defense may be unified with the common goal of an across the board acquittal, but when it gets down to brass tacks, maybe it's every man for himself. 
Robert's nighttime habits (bite guard, showers on hot days), bed covers, deodorant, gym clothes and hanging up his neckties are just some of the many small details we may see emerge as the defense tries to depict what authorities found at 1509 Swann Street, as being entirely consistent with a burglary/home invasion not an orchestrated and arranged scene that the government will put forth. 
Judge Lynn Leibovitz has really grabbed hold of the reins.  We've seen her command of the details, her striving to be fair, her sometime lack of patience and ready sense of humor were all on display this week.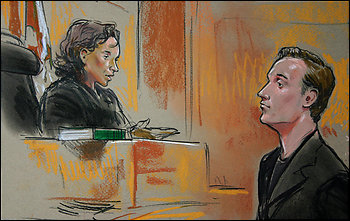 The media coverage of the trial has been significant and we'll do our best to keep the media page up-to-date.  A special thanks to courtroom artist William J. Hennessy, Jr.  A freelance artist under contract to the MSM outlets, he's graciosly allowing us to republish his terrific work.  Mr. Hennessy of CourtroomArt.com has been there every step of the way, going all the way back to Joe Price's arraignment in November 2008. 
More thoughts from the past two sessions may bubble up and we'll update throughout the day.  A few days ago we decided to close comments on older posts, hoping to keep them better grouped on the current ones.  We don't know if it's working well or not.  WordPress comment sections are lacking in features at times and we'll adopt whatever works best.   
For those who want to see a longer list of comments than the one that displays on the "Home" page, we suggest using an RSS feed reader like Google Reader, or iGoogle. Enter the URL for the comments feed (http://whomurderedrobertwone/comments/feed) after selecting "Add a subscription" in Google Reader, or "Add Stuff" in iGoogle. iGoogle displays a complete list of the comments when the small icon in the upper right corner of the summary box is clicked. We recognize many follow the extensive comment threads and this should make that easier. 
Doubting Thomases:  Mr. And Mrs. Thomas, forty year residents of 1507 Swann Street, took the stand yesterday to place fixed points on the government's timeline.  Asked by attorneys how long they were married, Mr. Thomas wasn't so certain; Mrs. Thomas was, 44 years.  That was greeted with knowing laughter in the courtroom. 
Although at times not-so-solid, Mr. Thomas' testimony may have proved helpful; he was not the absent-minded retiree the defense team may have been hoping for.  Although he did admit to refreshing his memory of the night of the murder by using his three and a half year old grand jury testimony, he knew what he knew and made a convincing case.  
He and his wife had very specific nighttime routines, an early dinner, the news ( the Lehrer NewsHour too), an early evening nap for Mrs. Thomas and an early bedtime for her husband.  Mrs. Thomas would awake and watch Maureen every evening at 11:00pm and would then clean up the kitchen. 
Not much of a Ted Koppel fan, she said repeatedly that she either ignored or turned off the TV after Bunyan signed off at 11:35p.  Why did  Nightline matter to the defense team?  We were wondering the same thing last April.
Both witnesses were very credible in stitching together those long ago elements.  Maybe that's what 44 years can do.
Model Home:  Yesterday, Judge Leibovitz admonished AUSA Glenn Kirschner for letting his EMT witness, Jeff Baker, get a little too far out in front with his opinions and feelings ("..hair on back of my neck…"), and directed the prosecutor to keep Baker and his other witnesses focused squarely on their observations alone.
We empathize with Robert's family and try and understand and respect their feelings.  Many do the same for the accused also.  We've seen many of their supporters at all of the status hearings and occasionally hear from some as well.  One can't sit in the courtroom for very long and not help but wonder how the defendants feel, case in point, Zaborsky's tears, as he listened to his 9-1-1 call.  It's only human.
Sure, the defendants have had the better part of two years to emotionally prepare for this strenuous and very public week. They fully expected to hear the government rip the bark off them, Kathy Wone's moving testimony and a first responder's harrowing account of the evening.
But what must have been going though their minds as the four foot-long, mocked-up version of their well-appointed, million dollar plus home, built for the sole purpose of convicting them, was unceremoniously hauled into room 310?
A nearby reporter heard Price say aloud, "not to scale," sending his attorney Bernie Grimm to his feet with an objection, parroting his client's remark.  Aside from the exactness of the dimensions, a model of the home that showcased their previous model life, must have been pretty hard to look at.  Then again, maybe that was the least of their worries yesterday.
-craig
At Their Words:  Maybe a bad choice of words.  It's a wonder we even spelled it right.  It goes without saying we respect the defendants' rights and the sanctity of the process, but we remain skeptical of all.
Tomorrow morning, the words and testimony of first responding EMT, Jeff Baker continues.  Tuesday's session ended with him demonstrating to Judge Leibovitz, the path he took through the house by using the 1509 model.  The model was impressive, like something you'd see in an architect's office.  The FBI artist responsible for it has built nearly 50 of them.
A 9:45am start tomorrow, a line may form early.  All sessions are open to the public.
A few pictures from yesterday, including the legal teams departing Moultrie Courthouse, follow.  The WMRW Shakey-Cam has given way to the Blurry-Cam: 
Courtroom Artist William J. Hennessy, Jr. 
Wheels Up: Legal teams depart the Moultrie Courthouse