Despite The Judge's Ruling, The Blood Stays In
Left on the table for next week's pre-trial hearings are Judge Lynn Leibovitz' rulings on several matters: Doug Deedrick's stab wound and fiber experiments, Robert Spaulding's testing methodology, statements and in turn the motions to sever and suppress, and specific testimony of the EMT and certain MPD officers.
That's a lot of ground to cover.  Argument on this unfinished business is expected to be completed by Tuesday so the three days of jury selection can begin Wednesday.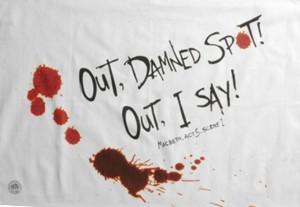 The defense racked up a number of wins on Monday.  Tossed out was any "inflammatory" testimony on specific sexual acts, any talk of physical or chemical restraints, and a couple minor elements – The New Yorker magazine found on defendant Dylan Ward's floor and some titles from his bookshelf.
But it was one key ruling, a gift to the the defense, that stood out yesterday.
The alleged lack of blood found at the scene is considered to be a rather damaging point to the defense and Leibovitz ruled in their favor.  The government's forensic expert, former MPD crime scene tech Mary Walsh won't be allowed to testify that more blood should have been found at the crime scene.
A big win for Price, Ward, and Zaborsky?   Well, not so fast.
Mary Walsh was singled out by the government to testify on the amount of blood expected at the scene as her colleagues, David Sergeant and Joseph Anderson, were jettisoned perhaps in hopes of slimming down the jumbo list of expert witnesses.
Whether one expert or three, Leibovitz wasn't having any of it.  She believed that this testimony was better suited for those techs and cops who were actually on the scene.
So where does that leave the government?  Maybe in a good spot.  AUSA Glenn Kirschner said he may call up to nearly two dozen DC EMTs and police officers.  Of those, it may be a safe bet that a majority of them have seen their share of bloody crime scenes and also had the opportunity to see 1509 Swann immediately after the murder.
These officials will testify without having to rely on any testing, methodology or sophisticated science.  They will speak directly to what they saw at the scene, and in the guestroom in particular, with their own two eyes.   Make that twenty sets of eyes, which could end up being powerful and visceral testimony and evidence.
And if the government follows through on Leibovitz' suggestion that they prepare evidence binders for the jury, it's entirely possible that crime scene photos will be included among the exhibits.  While the defense continues to fight on the inclusion of some of the first responder testimony on their 'opinions,' first-hand recollections of the scene and the apparent lack of blood found may be harder to rub out.
As to those binders: among the mountains of papers on the government's desk on Monday, there was one binder that from a distance, appeared to be loaded with photographs.  Maybe this is what gets sent to the copy shop so jurors have them on their laps.
-posted by Craig