One Week from Trial, and the Defense Closes Ranks
As we head into the final week before the scheduled May 10 trial start, a final flurry of documents have accumulated in the DC Superior Court clerk's office.  Most regard defense efforts to limit or exclude certain evidence and testimony.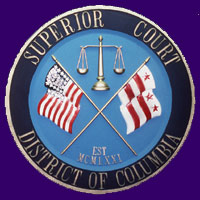 At the close of business at Wednesday's day-long evidentiary hearing, we may be closer to knowing what evidence and experts will actually be presented to the jury.  
More paper will come ahead of Wednesday's procedural hearing no doubt, but two key defense motions hit last Friday.  Both address their continued concerns over what they may find most damaging.
Defendants' Reply in Support of their Joint Motion in Limine to Exclude argument and Testimony that the Crime Scene was Cleaned and to Limit argument and testimony regarding Lack of Blood Evidence

Defendants' Joint Motion in Limine to Exclude Opinion and Speculation Testimony of EMS Technicians and Police Officers
These filings touch on two of the first alarming aspects of the government's charges, set out when the Ward affidavit detonated in October 2008.  Namely: the supposed lack of blood found at the scene and the recollections of the first responders – the two EMS techs and several MPD officers.
We know why the defense wants this evidence spiked, but on what basis do they argue it inadmissible?  After the jump, the twenty quick pages that spell it all out.
As to the alleged cleaning of the crime scene, this filing signed by Schertler & Onorato associate Veronica Jennings stresses that there were:
"…175 samples and items collected from 1509 Swann Street, including sections of hardwood flooring, a staircase tread and riser, doors, sink drain traps, sections of dry wall, wall board, and a section of a ceiling, determined – as early as October 2006 – that there was no blood on any of it. [bold theirs]

"The FBI Laboratory also tested every sink trap in 1509 Swann Street for blood and cleaning agents and found neither."
Then the defense blasts away at the government's contention that lack of blood found at the scene  is evidence of a clean up.  They continue their attack on the credentials of the government's experts.
In their March 29 motion , the defense spelled out why they wanted the evidence of government expert witnesses, former FBI ace Robert Spaulding and former MPD crime techs David Sergeant, Maureen Walsh, and Joseph Anderson tossed:
"(They lack) sufficient skill, knowledge or experience to testify regarding the degree of external bleeding that would be expected to occur as the result of the particular stab wounds suffered by Mr. Wone.

"(None have) medical background and training in human anatomy…

"None is a medical doctor or forensic pathologist…"
The second defense motion filed wants to spike the EMT and police statements, first laid out in the Ward affidavit, and this subsequent government motion, their Omnibus Opposition to Defendants' Motion in Limine.
These are two pages of incriminating police statements the defense wants out:
"The observed conduct of Zaborsky, Ward and Price 'made the hair on the back of [W-1's (an EMT) neck stand up]."

"W-1 was so concerned with the odd behavior that he visually checked Price's hands for weapons"

"W-1 saw a very light film of blood with striation marks as if someone had taken a towel and wiped it down Mr. Wone's chest."

"W-1 will testify that Mr. Wone's body presented as if he had been dead for some period of time."

"These officer all encountered the same, strangely pristine scene, and some will testify at trial about their observations."

"The government will present the testimony of MPD officers who, upon arrival, observed Price, Zaborsky and Ward huddled closely together and appearing to be whispering to one another.  The officers will consistently testify that Price effectively spoke for all three defendants while on the scene, and by his actions and words was the dominant, and controlling personality among the three men."
These statements and several others must be striken – the defense contends – because they are "improper opinion testimony."  Perhaps.  However, the only opinion that matters now is Judge Lynn Leibovitz. 
Wednesday's hearing may yield greater clarity…or more questions.  There's still Miranda, Severance,  Statements, Orientations, evidence…and who knows how many more motions to come.  Only seven days until trial but still a long way to go.
-posted by Craig and Doug
Cleaning & Blood Evidence
EMS & MPD Testimony