A Year In The Making
Joining Paul Duggan's masterful two-part Washington Post series on Robert's murder from last June, is another must-read for every case watcher's bookshelf.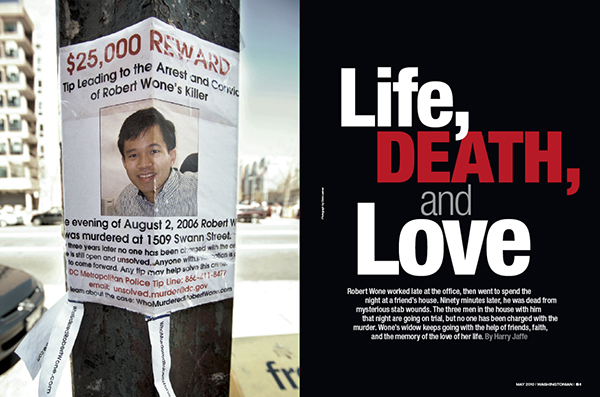 In the May issue of Washingtonian Magazine, veteran DC journalist Harry Jaffe has penned an opus on the case.  He chronicles the years since Robert's murder, those caught up in its wake, the still-emerging magnitude of the loss, and most importantly, the resilience of the human spirit.
A sneak peek after the jump.
Before the story of heartbreak, Harry tells a story of romance and commitment, friends and family.  This was a difficult article to write, but he struck the right balance of compassion and thoroughness.  He broke news, too.
Harry obtained an email that Joe Price sent a William and Mary friend, from just before the indictments came down:
"It's a true Catch-22.   The police get to accuse us of not saying all we know, but we are not allowed to fully respond for fear that they will retaliate by arresting one of us.  Based on what we know of the investigation, it seems they were just so sure from the get go that one of us did it, they never bothered to EVER investigate the possibility of an intruder.

"Now that their theory that it was one of us has not panned out, they are doing their very best to cover up from the Wones and the public that they never bothered to pursue the intruder theory."
Washingtonian readers new to the case don't have the benefit that many wmrw.com readers have of more than a year of microscopic examination of the principals and details.  For those with the home field advantage, this email raised red flags immediately.
We were told last fall, direct to our four faces from a very informed source with first hand knowledge of the investigation, that the intruder theory was taken very seriously and was vigorously pursued.  "Our instincts said intruder," we were told.  The intruder that was most suspected?  Michael Price.
The investigators' instincts said 'intruder' for many of the same reasons, as you'll see in Harry's piece, that those close to the housemates believed 'intruder' as well.  Friends couldn't do that to a friend; motive didn't fit anywhere.
What the housemates say they knew of the investigation contradicts what we know about the investigation.  Odd, because we were all probably talking to the same people.
Washingtonian.com has a preview of the feature online.  The issue is on newsstands now and will be arriving in subscribers' mailboxes later this week.
The full article will not hit their website for another few weeks.  Go grab a copy.  For out-of-towners, single issues are available: call 202-331-0715.  The cost is $10.00, which includes shipping.  It's money well spent.
Our thanks to Harry for his interest, hard work and good nature throughout. We'll remain forever wild about him.
-posted by Craig