Kicking Up Distractions Before the Court.  Why It Matters

In modern times it dates back to December 15th, 1991.  H. Ross Perot – remember him? – then a member of the General Motors board, parried with GM CEO Roger Smith's optimistic perspective of GM's future.  Distilling Smith's rosy sales pitch, Perot scooped imaginary dirt and tossed it in the air, saying: "…when gorillas fight, they throw dust in the air to distract one another."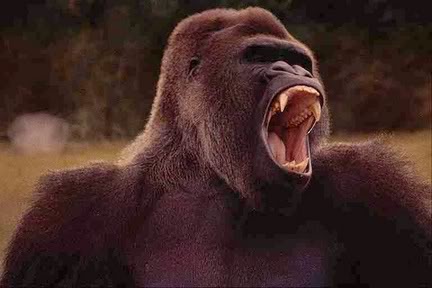 Mr. Perot would later invoke the dust of the greatest of Great Apes in debates with Al Gore.  "Gorilla dust" became something of a political joke.
But there's no joking of the root of the argument.  Repeated and collected observations of African Lowland Gorillas confirms they actually do throw dirt in the air – both to intimidate and, in the off-chance, to momentarily distract their opponent.  In evolutionary terms, this makes great sense: all it takes is one bit of dirt in the eye to take your opponent off game, after all.
With last week's Easter basket of motions from the defense, we now see  their strategy: to kick up as much dust as possible, and hope just a little lands in their opponent's eye.
As far as the Government strategy, one case watcher with a front row seat described their release of the defendants' interrogation transcripts as a typical maneuver; an effort to bloody up their opponents before the trial.  Or maybe best described in the Great Ape House as hurling feces.  Price's 120 pages of rambling was an eye opener.  Zaborsky's goes up on Monday and Ward's later.
How much dust, and where it may land…after the jump.
By our tally we count 10 motions from the defense just before last Friday's hearing….and we note even more from the DC Court this week…all to confound, obfuscate or blunt the prosecution's weapons.  Among the titles:
"Defendant's Joint Motion In Limine To Exclude All Evidence of Cadaver Dog Searches and "Alerts"",
"Defendant's Joint Motion In Limine to Exclude Argument, Testimony and Evidence Regarding Alleged Restraint And to Exclude Testimony of Mr. James Plant",
"Defendant's Joint Motion In Limine To Exclude Evidence and Argument Regarding the Burglary of 1509 Swann Street", and, in one big breath…
"Defendant's Joint Motion In Limine To Exclude Argument, Testimony, and Evidence Regarding Defendant's Sexual Histories and to Limit Argument, Testimony and Evidence Regarding Defendants' Sexual Orientation."
(exhale)
And on, and on.  We have more filings we could add, and doubtless more to come.  We shall spare you the details: for those interested, consult our documents.
What is the point of all this?  Why a motion to "…Exclude Argument…Regarding Sexual Assault and Chemical Incapacitation," when the prosecution has all but abandoned that line of argument?   Why file "…To Exclude All Evidence of Cadaver Dog Searches and "Alerts"," when it's already been established that cadaver dog 'evidence' cannot be admitted into any trial?
In fact, Judge Leibovitz has already discarded that one with her recent ruling of  "…Order Denying as moot Defendant's Motion in Limine to Exclude All Evidence of Cadaver Dog Searches and "Alerts."
Memo to cadaver dogs:  can you smell the scent of desperation?
Memo from Judge Leibovitz:  we already knew that wasn't admissible.  Stop with the meritless filings, already.
By defense wishes, no mention shall be made of the Trouple's sexual orientation or history, their practices or devices employed, or the burglary of 1509 by Michael Price.  Nor shall there be any argument of sexual assault or chemical incapacitation, or, it seems, any testimony brought by just about any of the government's witnesses.  (This, by the way, after years of defense moaning about not knowing every prosecution expert witness to testify, and their sudden announcement of a brand new witness with a brand new argument last Monday.  Whoops.)
Leaving, uh…what, exactly?  The wattage of the patio bulb by which Joe spied the spider?
Look, we fully expect the next month shall generate enough paper in this case to cover the Tidal Basin.  And we well regard the robust legal jousting that accompanies a case such as this.  Every man is entitled to the fullest defense, and we salute the Trouple's team efforts.  It is our system.
But one other thing – and why this is important.  Our system ensures because every petitioner is entitled a full airing of their grievances before the accused.   The court cannot allow itself to be distracted by the clouds of dust kicked up by opponents.
In the Wone case, we hope for the dust to settle, and no-one to be distracted from the issues at hand.
-posted by Doug