Gearing Up for Today's 3:00pm Status Hearing
A lot is on Judge Lynn Leibovitz' plate this afternoon.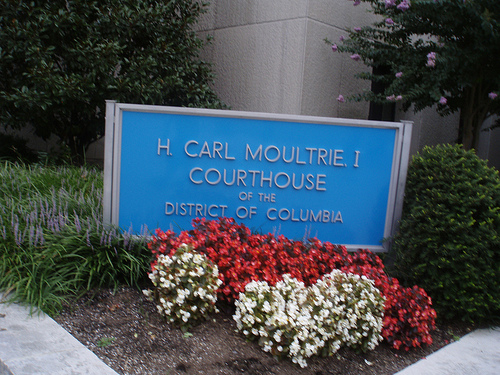 Key defense motions awaiting rulings include those for severance  (separate trials) and those to suppress the defendants' statements of their interrogations on the night of the murder, informally the Miranda challenges.
It's just over a month away from the scheduled start of the May 10 trial and this may be the final status hearing.  By 4:30pm this afternoon we should know.
Leibovitz gavels in at 3:00pm today in room 310, her usual comfy courtroom.  Updates from the courthouse will be filed here beginning at 2:00pm. 
A full report of the day's news will come around 7:00pm.
4:30pm: Adjournment. Lots of house keeping today. Another status scheduled for April 23. The Judge wants this trial to happen on time. Full hearing report in a couple hours.
2:50pm: Inside 310. All electronic devices off. Next update at adjournment. No defendants still. Nationals' opening day causing traffic tie ups?
2:45pm: Members of Wone family arrive. Still no sign of defendants.
2:40pm: Defense counsel Grimm, Schertler, Spagnoletti and Connolly arrive.
2:30pm: At room 310 now. No sign of defendants or any counsel. A few Swann supporters are waiting to get into courtroom with us.
2:00pm: I guess the world will stop for Tiger, but we're just getting started. The last time we had such a warm day @ Moultrie Courthouse was last May, when the trial date was set. Very long lines @ security checkpoints today. C Street entrance may be the best bet.
10:25am:  A number of filings hit the Clerk's office late Friday.  We'll try to pull and post later this week:
04/02/2010  Defendants' Joint Motion in Limine to Exclude Argument, testimony and Evidence Regarding Defendants' Sexual Histories and to Limit Argument, Testimony and Evidence Regarding Defendants' Sexual Orientations Filed Attorney: GRIMM

04/02/2010 Defendants' Joint Motion in Limine to Exclude Argument, Testimony and Evidence Regarding Sexual Assault and Chemical Incapacitation Filed Attorney: GRIMM

04/02/2010 Defendants' Joint Motion in Limine to Exclude Argument, Testimony and Evidence Regarding Alleged Restraint and to Exclude Testimony of Mr. James Plant Filed Attorney: GRIMM

04/02/2010 Defendants' Joint Motion in Limine to Exclude Evidence and Argument Regarding the Burglary of 1509 Swann Street Filed Attorney: GRIMM

04/02/2010 Notice of Filing: Attorney: MACHEN

04/02/2010  Government's Response to Defendants' Joint Motion to Compel Discovery Filed: Attorney: MACHEN

04/02/2010  Defendant's Joint Response to the Government's Opposition to Defendants' Motions to Suppress Statements and Motion for rule 16 Sanctions Filed Attorney: GRIMM

04/02/2010  Government's Response to Defendant's Joint Motion to Compel Discovery Filed Attorney: MACHEN

04/02/2010 Defendant's Joint Reply to the Government's Consolidated Response to Defendant's Motions to Sever Filed Attorney: SCHERTLER

03/31/2010  Defendants' Joint Motion in Limine to Limine to Exclude all Evidence of Cadaver Dog Searches and "Alerts"