There are no secrets on the Internet
In documents filed recently and in Friday's status hearing, Prosecutor Glenn Kirschner once again brought up Michael Price, Joe's brother, as a person close to the defendants. Kirschner confirmed that evidence associated with Michael would be presented during the trial in the Government's Notice of Uncharged Conduct I.
But apparently Michael Price is not the only "Michael" associated with the trouple.  No, not a fourth to form a quadruple, but a pseudonym for one of the trouple, Dylan Michael Ward.  In last week's post, Separation Anxiety, we disclosed that it appears Dylan is working again in the Miami-Ft. Lauderdale area as a massage therapist, advertising on a web site called Masseur Hunter.
The tan sported by Dylan in Friday's status hearing certainly did not come from the Ariel Way patio during last week's rain storms. Well, it seems that Dylan has decided that his profile on Masseur Hunter was perhaps a bit indiscreet, and has removed the advertisement for Thai, Swedish, and sensual massage.
But that's not the end of it.  More, after the jump.
We found it peculiar that Dylan's address still is listed as Ariel Way in McLean, VA, when he was promoting his services in Florida, so some additional research was indicated.  A quick and dirty Google search for Thai massage for men in South Florida turned up an interesting ad from "Michael", who specializes in Thai and Swedish massage offering in and out calls in Miami and Ft. Lauderdale.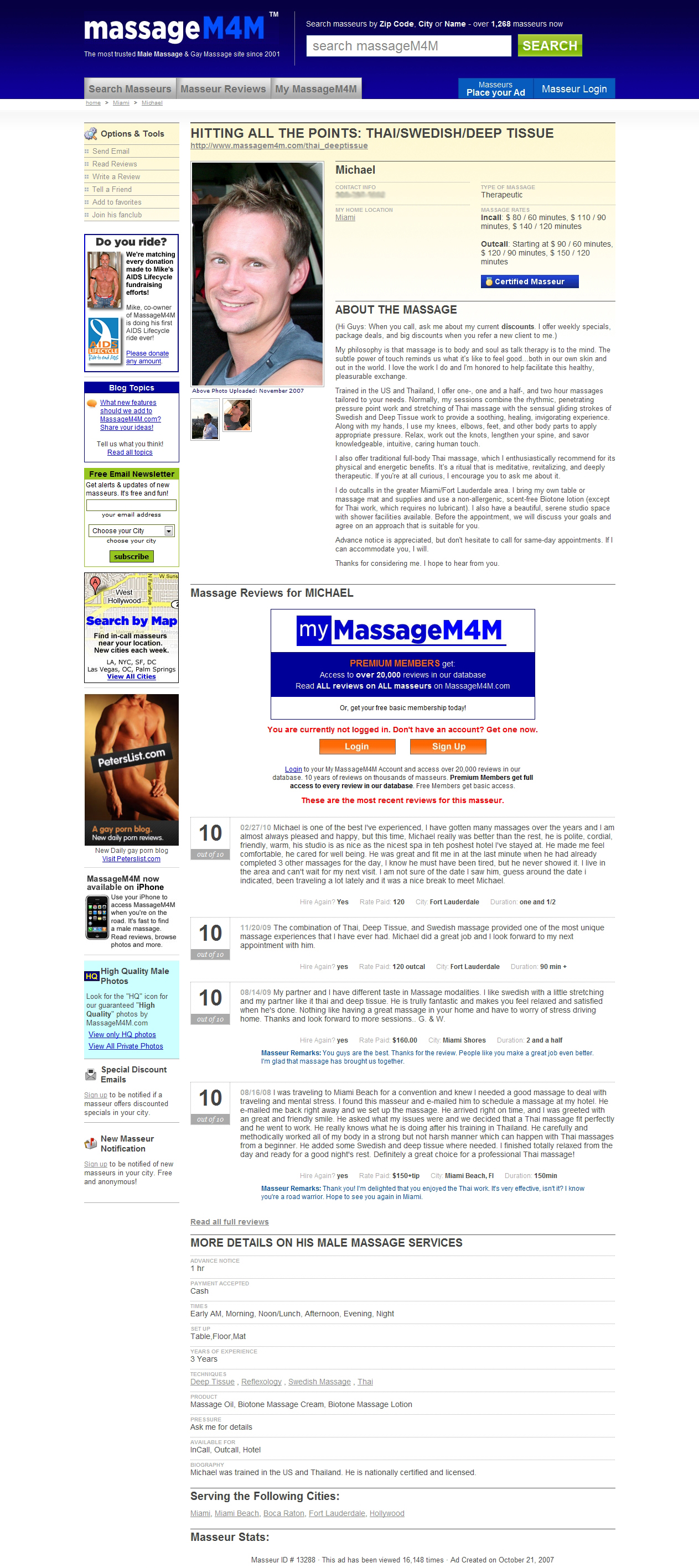 Now MassageM4M.com, where Michael's profile appeared describes itself as
"…a free male massage directory designed for browsing and contacting Male Massage therapists who massage men is whatever taste the client wishes including m4m nude massage."
From all appearances, the majority of the site's clients are seeking sensual or erotic massage. While Michael's profile is more vague than many of the others, the reviews posted by clients, some as recent as February 27, 2010, indicate that Michael rates high in the satisfaction department of his clients:
08/14/09 My partner and I have different taste in Massage modalities. I like Swedish with a little stretching and my partner like it Thai and deep tissue. He is truly fantastic and makes you feel relaxed and satisfied when he's done. Nothing like having a great massage in your home and have to worry of stress driving home. Thanks and look forward to more sessions.. G. & W.

* Hire Again? yes
* Rate Paid: $160.00
* City: Miami Shores
* Duration: 2 and a half

Masseur Remarks: You guys are the best. Thanks for the review. People like you make a great job even better. I'm glad that massage has brought us together.
Check out Michael's now inactive profile.
It's nice that Dylan is meeting other couples while in Florida.
– posted by Michael