Govt's Streamlined Case Up Ends the C.W.  Who Wins and Loses?
Friday's status hearing revealed that the government was "winnowing" their case as the May 10 trial date draws near.
By dropping  many of the uncharged conducted aspects and focusing only on the charges against the defendants, the government dramatically changed the contours of the trial.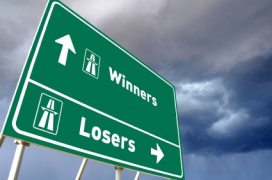 With this new wrinkle, which certainly caught both the defendants and their counsel by surprise on Friday, let's look at the winners and losers as a result.
Keep in mind that AUSA Glenn Kirschner's Uncharged Conduct II filing is due on April 2, days before the next status hearing.
Will he winnow his theories any further?
Read who made the list after the jump.
WINNERS
The Government's Case: ASUA's Glenn Kirschner and Patrick Martin stripped away the case's weakest elements thus strengthening their hand. With the weak flank of arguments about sexual assault, paralytic drugs and torture jettisoned, the government won't have to defend against powerful defense artillery on this these issues.  Now, the government can focus on their stronger theories and evidence (clean up, lack of blood, no defensive wounds.)  With the weak flank not in a starring the role, the government runs less risk having it color their entire case before a jury.
Jury's Eyelids: Jury won't be subjected to as many long-winded experts opining on the methodology of DNA analysis.
Defense's experts sunk costs: The Defense has already spent money on an array of experts in the uncharged conduct area.  That money has been spent and they won't see it again, unless it comes to the fore at trial.
Donors to Legal Defense Fund: With less for the defense to defend, will donors to the Swann Street housemates legal defense fund receive rebates?
Blushing Nancys  — Those folks who were queasy with those areas that told secrets out of gay school (BDSM and Polyamory) can rest more comfortably knowing that the jury will only hear about Joe Price, his domestic partner Victor Zaborsky and their roommate Dylan Ward.  That's all we will hear about the relationship.  AUSA Attorney Glenn Kirschner could fit into this category, and may not have the stomach to try this portion of the case.
Taxpayers: DC taxpayers saved a chunk of change with a shortened trial.
LOSERS
Defense Attorneys' Billable Hours: The public database shows Victor with one attorney, Joe Price has just one, but Dylan Ward lists four.
Alternate Reality of Henry Lee: Brought on to opine on the DNA evidence, Henry Lee has far less to work with and spinning alternate realties, such as the one found in the Kathleen Peterson case.
The "Frye"ing Pan: No sexual assault, no paralytic drugs, no torture, no need to file Frye motions to prevent discussion of these subjects.  Defense's lower rung attorneys late-night motion writing just became manageable. Type-A personalities working on the case seriously depressed.
Mae West Rubber Necks: For those hoping for a presentation of Swann Street Confidential, the seedier aspects will not make the main government's "case in chief".  Doesn't mean it can't show up, say during cross-examination, but the government certainly won't lead with it.
"Succinylcholine" drinking games: Younger DC case watchers lose out on new drinking game that takes a shot every time a member of media, court, government, defense, and man-on-the-street-interviews mispronounce "succinylcholine" — a paralytic drug. Bar owners re-evaluate May and June bar tabs.
Gay prejudice: Since Joe and Victor are now committed domestic partners, and Dylan is just their roommate, their argument about the government's gay prejudice takes a disco nap.  What will gay defense attorney Robert Spagnoletti do now?
UP IN THE AIR
Sarah Morgan: Now that the trial will strictly be about the charges against the defendant's, what role will Sarah Morgan's testimony play?  Is she called to testify, and will she be the protector claiming she knew nothing about the Swann Street housemates proclivities or arrangements, or will she be the truth-teller spilling all she knows about the relationship(s) and why she was mysteriously absent that evening?
Michael Price: What role Joe Price's younger brother has is now in question.  Will we learn about his fledgling phlebotomy career from the witness stand?  Glenn Kirschner sure loves to talk about him.
These are just a few of the winners and losers and we are sure our dedicated readers can add few of their own.  Please do.
— Posted by David