What's Cooking with Chef Ward?   << Updated>>
The first whiff we get that the Swann Street housemates were less than gracious hosts is in the affidavit.  According to their statements, they spent from 1030pm – 1100pm talking in the kitchen with Robert with only water on the menu. 
Their bad manners have already been picked apart a few months ago, and those entertaining slights certainly pale in comparison to the alleged crimes that followed.  Yet other small elements that seem of place here and only make one of the defendant, Dylan Ward, even more of a cipher.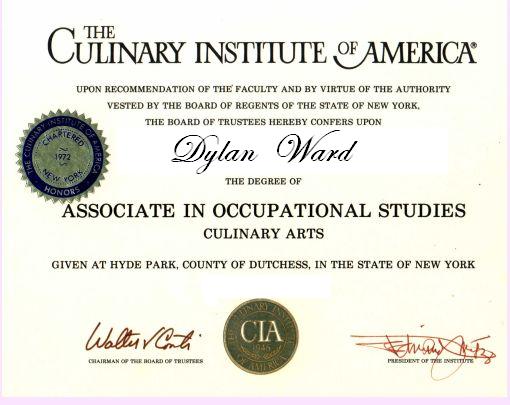 Dylan Ward's two-year degree at the Culinary Institute of America probably cost the better part of $40,000 in tuition. 
Ward attended the school between stints of teaching English overseas.  From the Post Duggan series:
After graduating summa cum laude from Georgetown University's School of Foreign Service in 1992, he taught English on the Japanese island of Kyushu, where he befriended a couple who owned a restaurant.  That got him interested in cooking, and he enrolled in the Culinary Institute of America in New York's Hudson Valley.

With a two-year degree in culinary arts, he worked as a caterer in Oregon for a while, then quit in 1996 to teach English again, this time in Taiwan.
We've long been familiar with Ward's circuitous career path and can't really be surprised that he really didn't put his CIA degree to work in a professional setting aside from working briefly in a catering outfit.  >> We just learned from a private investigator pal of ours that Ward may have plied his trade at Portland's Enchanted Table Catering.
The culinary career was missing, but what else?
We won't read too much into his failure to apply his education professionally in the culinary arts; the restaurant business is a grind afterall, and burned out cooks far outnumber the celebrity chefs.  But as casual Food Network viewers and devotees of such figures as Pepin, Bourdain and le Grand Dame Julia Child, we can't help but feel a little jealous for not having such an experience.
Many gay men afterall, even as amateurs tend to excel in the kitchen.  We flex our muscles in our own way – over our trophy ranges, choice granite, expensive ingredients and complicated recipes.  But where was Ward's committment to cooking?  Anyone with the wherewithal to graduate from CIA must have some inner passion for food, right?
Perhaps so, but that dedication to the culinary arts was certainly not on display when Robert came over, not offered so much as a Cheesy Poof or bag of chips, and it's certainly missing from what else we've learned while trying to develop  a better picture of the mysterious Dylan Ward.
From what we've heard here and from others who traveled in the Trouple' social circles, 1509 Swann Street was not known as the place to go for dinner parties that featured large spreads of food.  Odd when one considers that the one roommate with perhaps the most time on his hands was a trained chef.  We've been told that on those rare 1509 dinner party occasions it was Victor Zaborsky who managed the menu and cooking.
Also, Victor's kitchen chores may not have ended with the prep and serving.  After dinner, it was Joe and Dylan who would go out, perhaps leaving clean up to the domestic partner too.
What trained chef and nearly equal member of the family does not cook for the household, his family?
What trained chef keeps his fancy cutlery "tucked away in a cabinet?"
What trained chef is such a lousy host?
-posted by Craig