Six Months and Half the Distance to the Goal
At the May 22 status hearing, Judge Frederick Weisberg asked the defense if they were able to go to trial by the end of this year; Weisberg even grabbed his December calender to look at dates.   A pump fake?
Defense counsel David Schertler and Tom Connolly argued December would be impossible because the Government was so slow turning over material, their independent testing of many of the items would be delayed.  Ruled in bounds.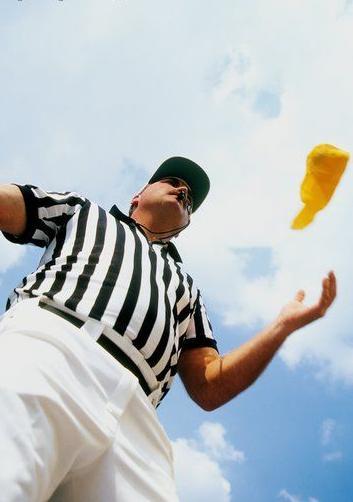 But the D also had a couple other plays to run out the clock:  a prior engagement with the gentlemen from Blackwater, former contract employees Nicholas Slatten and Dustin Heard, who were indicted on manslaughter charges in the aftermath of the September 16, 2007  Nisour Square shooting incident in Baghdad.
This complex trial scheduled for February 1, has 50 witnesses flying in from Iraq; a long and complicated ordeal that will go on for a number of months.
Q: What else was in the Team Swann playbook?
At the May hearing the defense told Weisberg there would be no time to prepare for that February 1, court date since the Wone trial was expected to last two months.  December was impossible.
A: The long count.
At the September 18 status hearing for Kathy Wone's $20 million wrongful death civil suit, that defense team coordinated by Schertler and his colleague Robert Spagnoletti, was now claiming the criminal trial would last one month.
In less than four months time they went from running a prevent defense to a hurry up offense.
What explains the new compressed trial length?  There's no telling.
Were they being square with Weisberg in May that the Wone trial was going to last two months, making a December trial date impossible?

Could this trial have been getting under way right about now, three and one half years since Robert's murder?
Could there have been the possibility there would be a verdict, maybe after the first of the year, well  before Erik Prince's ringers have to suit up?
And now, six months out from the Wone trial date, the defense is saying the May 2010 trial date is in jeopardy because of the possible substitution of  referees judges, Lynn Leibowitz for Frederick Weisberg.
The new judge will have too much trouble getting up to speed and ruling on pending motions they contend.
What ruling they get from the booth Chief Judge Lee Satterfield is not yet apparent.  He makes the call if  Weisberg hits the showers and Leibowitz makes the starting lineup.
-posted by "Bronco" Craig