Big Shoes to Fill
This Saturday,  the American University's Washington College Of Law will host the Robert E. Wone Judicial Clerkship & Internship Conference.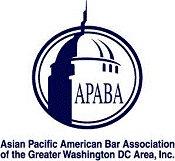 This annual affair offers minority law students  insight and information about judicial clerkships and internships from judges and law clerks.  They will meet judges from federal and state trial, administrative, and appellate courts and hear from law clerks who will describe the work of their courts and their own experiences.
This conference has been held in Washington since 2003. 
The man who first initiated this meeting?  Robert Wone.  He started this after attending a similar event the year before at and ABA meeting.
In 2007, the co-sponsoring organizations which include the Asian Pacific American Bar Association, the Hispanic Bar Association DC, the South Asian Bar Association of DC, and the Washington Bar Association Judicial Council, renamed the conference in Robert's honor.
John Truong, Assistant US Attorney and past president of the Asian Pacific American Bar Association of DC said the conference would serve as an excellent memorial to Robert.  The conference would:
"…expose minority law students to the benefit that they would gain by having a judicial internship or a clerkship after they graduated from law school… and allows us to carry on his ideals about ensuring that there is diversity in the judicial system."
We wish this next generation of students the best of luck in their studies and careers.  A very high bar has been set by the conference's namesake.
For those who wish to help continue Robert's work and further his legacy, his family established The Robert E. Wone Memorial Trust, in which funds are distributed to some of his favorite projects.  Please send contributions to: HoltzmanVogel PLLC   98 Alexandria Pike, Suite 53   Warrenton, Va.  20186.
We encourage everyone to reach deep and cut a nice check.
-Doug, Michael, David, Craig