Truth is Stranger than Fiction
On Monday we looked at what effect a newsroom retirement could have on the media coverage of the Wone case.  WUSA-TV's Gary Reals was certainly working his sources hard early in the investigation.
What other retirements may have impacted this case?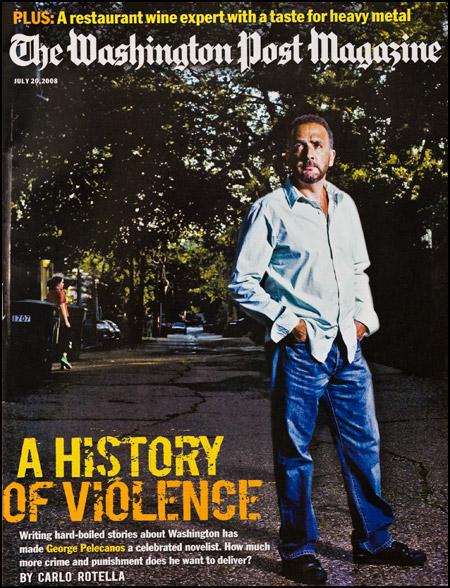 A few weeks ago I had the opportunity to chat with noted author and "the poet laureate of the D.C. crime world," George Pelecanos.
He was speaking at an author's function at Busboy and Poets, a neat little place around the corner from Swann Street.
Pelecanos is known for more than a dozen richly textured crime novels, all of them focused on DC's mean streets.
His 2006 book, The Night Gardener looked at a serial killer whose victims were found with semen in their rectums.  Go figure.
Known for having excellent contacts and friends among the MPD, Pelecanos often rides around town in patrol cars with his officer pals.
George was good enough to entertain a question about Robert's murder.  He knew about it and then went on to provide some context about crime in DC and the skills of the MPD.
Pelecanos knew of the investigative issues in the Wone case and said that in cases like this, solving a murder without a confession could be near impossible. "These things happen," he said with a hint of despair.
He said one of the problems in the Wone investigation may have to do with the retirement of "a lot of seasoned murder investigators" over the past four years.  This can take a toll on any police department's ability to track and crack cases.
It seems this exodus coincided with the Robert's murder.  Bad timing on his part I guess.  Perhaps this is a question best posed to Chief Lanier the next time she surfaces on WTOP or News8: "How is the MPD compensating for such a loss of institutional experience and investigative ability?"
Pelecanos related a story about riding shotgun with the MPD in March 2005 when Wanda Alston, former Mayor Tony William's liaison to the gay community, was viciously stabbed in her home by a neighbor, someone she knew.  From the Post:
On Wednesday afternoon, Alston apparently was still fighting when she was attacked with a knife in her home.  Her partner, Stacey Long, 37, found her hours later in a pool of blood in the living room, defensive wounds on her arms, police said.

…District police arrested William Parrot Jr., 38, who lived two doors away from her duplex on East Capitol Street NE.  He was charged with first-degree murder and was expected to appear in court today.  Police said Parrot knew Alston, but they would not discuss a motive.  Police said there was no sign of forced entry into her house.
He was with the detectives the night of the arrest and interrogation of Parrot and he, "…saw the guy confess in the box."   Nice work boys.
(The "box" was probably the Violent Crimes Branch in Anacostia that hosted the Swann Street defendants during the early hours of August 3, 2006.)
Parrot, strung out on drugs at the time of the killing ultimately copped a plea to Murder 2 and was sentenced that July to 24 years in prison, the maximum term under sentencing guidelines.  Over and done with in four months, not four years.
The MPD motto:  We always sometimes get our man.
-Craig