Burying the Lede
After the first wave of media coverage hit on August 4th and 5th, the next significant piece was on the 14th by Emma Schwartz of the Legal Times.  And she had the goods – the search warrants for Price's home, his office and computers at Arent Fox, and his BMW 325.
Included is this bombshell:  the crime scene, "had been tampered with, to include cleaning the area of blood."   Two days after the murder that much was apparent but there appeared very little urgency with this case.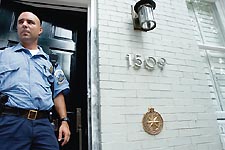 The warrants were issued on August 4 but it took 10 long days before the car and home computers were searched.   Who else was slow-walking this case?  Maybe Emma's source.  Whoever it was that took 10 long days to get this story into print. 
The allegation of tampering was pretty explosive.  If we can assume that the authorities were trying to turn up the heat on the threesome, it seems they may have missed a good opportunity – publicity.  Had this story surfaced a week earlier, could the then "witnesses"  have started to sweat a little bit more and a whole lot faster?  What other dominoes would have fallen?
Kudos to Emma for the scoop.  This began a three-year run of great case coverage by the Legal Times.  But it's important to consider how another Washington Post page 1 story just a few days after the murder, would've increased the pressure on the threesome, accelerated the investigation, and magnified the public's awareness of the depravity on that August evening.
Is this another instance of DC authorities never missing an opportunity to miss an opportunity?
Also getting first mention in Emma's article is downstairs roommate Sarah Morgan.  
We're told all four residents of 1509 were lawyered up.  It got very expensive very quickly.  The full story after the jump. 
Police Comb Law Firm for Clues in Murder
By Emma Schwartz  14 August 2006
The crime scene where murdered Washington lawyer Robert Wonewas found had been tampered with before police arrived, according to an affidavit for a warrant to search the office of D.C. lawyer Joseph Price.
Price, a partner at Arent Fox, owns the Northwest Washington house in which Wone's body was found around midnight Aug. 2.
Police executed the search warrant Aug. 4 at the Connecticut Avenue N.W. offices of Arent Fox and seized Price's computer.
Price owns the Swann Street house with Victor Zaborsky, a marketing manager at the International Dairy Food Association.  A third man, Dylan Wade (sic), also resides there.  All three were home the night of Wone's murder, according to police and Wade's lawyer.
At least one of the residents told police the night of the murder that Wone was killed by an intruder, according to the affidavit for the search warrant.
D.C. Metropolitan Police officers were called to the house at 1509 Swann St. N.W. around midnight Aug. 2. Upon arrival, they found Wone unconscious in a second-floor bedroom, suffering from three stab wounds to the chest.  He was pronounced dead after being transported to George Washington University Hospital.
According to the affidavit by Detective William Xanten III, technicians determined that the "crime scene had been tampered with, including that the area where the victim's body was located had been cleaned.  The use of chemicals and an artificial light source showed trace blood evidence located around where the victim's body was found.  This trace blood evidence was located on the walls, floors, sofa bed and door frame of the bedroom where the decedent was killed."
Investigators were told that Price and Wone, who knew each other through their alma mater, the College of William & Mary, had spoken and e-mailed each other before Wone came over to Price's house that evening, the affidavit states.
Wone, who was general counsel for Radio Free Asia and a former associate at Covington & Burling, had decided to stay with Price that evening instead of driving to his Oakton, Va., home, where he lived with his wife of three years, Katherine Yu, say friends, co-workers, and police.
MPD Capt. C.V. Morris told Legal Times that, right now, the residents are considered witnesses, although he says that could change. The three residents have hired criminal defense lawyers.  Price and Zaborsky turned to Kathleen Voelker, a former Arent Fox partner who is now running a solo practice.  David Schertler, former chief of the homicide section of the U.S. Attorney's Office, is representing Wade (sic), who could not be reached for comment.  Price and Zaborsky did not return phone calls.
Jonathan Rosen, a partner at Mintz, Levin, Cohn, Ferris, Glovsky and Popeo, says he is representing Sarah Morgan, a friend of the owners who lives in the English basement apartment at the Swann Street house.  Meanwhile, former Deputy Attorney General Eric Holder Jr. of Covington has been brought in to represent the Wone family.
Lawyers for the three men say their clients gave extensive statements to police the night of the murder.  Regarding her clients, Price and Zaborsky, Voelker says, "They remain hopeful that the police will identify the intruder who committed this senseless crime."
Of Wade (sic), Schertler says, "My client has not done anything wrong, and I don't believe he will be charged."
The case is being investigated by a squad of homicide detectives working alongside Assistant U.S. Attorney Colleen Covell.
As of press time, police had yet to bring charges in the case, and investigators maintain that witness accounts from that night don't add up. "Some of the information we were told, I just don't believe," Morris said at a televised press interview Aug. 3.
Police took custody of the house after the incident and have been searching it ever since.  On Aug. 10, FBI investigators began assisting the probe and were heard sawing and hammering inside.
"We don't think it was a random act of violence," says Brett Parson, sergeant in the MPD's Gay and Lesbian Liaison Unit, which is aiding in the investigation.
According to the police affidavit, one of the residents told police that an intruder had entered the house through the back door. But "there were no signs of any forced entry to the house, either through the back door or any other location," the affidavit states.  "There was nothing that appeared out of place, nothing disturbed, nothing ransacked and nothing was taken."
Morris told Legal Times that the police had not entirely ruled out a break-in.
On the night of Aug. 2, Wone, who started his job at Radio Free Asia about a monthearlier, met up with his counterpart at Radio Free Europe, John Lindburg.  The two shared an early dinner at Subway on 18th Street N.W. and then walked over to a continuing legal education class at the D.C. Bar. During the approximately three-hour-long course on federal grants, the two exchanged notes and whispers, Lindburg says.  "He clearly wanted to learn as much as possible that could help him at his job," he says.
The class ended at 9:15, and while the two were walking back to the Metro Center Metro station, Wone told Lindburghe needed to head back to the office to meet up with workers on the night shift.  Lindburg last saw Wone when he exited at the Farragut North station.  Radio Free Asia Communications Director Sarah Jackson-Han says that Wone returned to the office that night.
Eventually, Wone showed up at the Swann Street house. At 11:49 p.m. police received a phone call from someone in the house saying that Wone had been stabbed. Police arrived on the scene 13 minutes later.  Wone was taken to GWU Hospital, where he was pronounced dead at 12:24 a.m., according to the police report.
Wone was found in a second-floor bedroom, but the MPD's Morris would not say whether he was lying on a bed or a sofa. He was fully clothed, Morris says.  The knife used in the attack was located on the table next to Wone and was from a "set of matching knives located in the kitchen of the house," according to the affidavit. The residents told police that everyone else in the three-bedroom house was sleeping when the incident occurred.
Price, who handles litigation and intellectual property at Arent Fox, has also done considerable legal work on gay rights issues.  He is general counsel to Equality Virginia, for which he represented Janet Miller-Jenkins, a woman who sought custody rights after she and her partner broke up. Wade is a former spokesman for Equality Virginia, according to the group's Web site.
"Joe's [Price] one of those people in the legal community that everyone looks up to," says Jeff Trammell, a political consultant.
Price and his domestic partner, Zaborsky, bought the Swann Street house last year for $1.2 million. In 2004, Price and Zaborsky were the subject of a USA Today article on gay parents.  The two fathered children with a lesbian couple in Silver Spring, Md., by donating sperm.
William Charyk, managing partner at Arent Fox, says that Price has been at work all week.  "He's gone through a horrible tragedy," Charyk says. "We're just making sure that he'll hang in there."
-Craig