For Sale:  History 
Tasked with tracking a number of properties, the Real Estate Editor has the busiest job at wmrw.com.  Of course there's the site of Robert's murder, the previous home of the defendants, 1509  Swann Street; the 16th Street apartment they lived in after the murder and the McLean home in which they all share now. 
There is the investment property portfolio too:  The Silver Spring condo  Joe owned that his brother Michael and partner Louis Hinton lived in;  Joe's Dupont Circle condo on R Street, and of course the Miami Shores home that Dylan was holed up in prior to his arrest and extradition back to DC.   And finally, the home in Northeast DC targeted in a search warrant early in the investigation.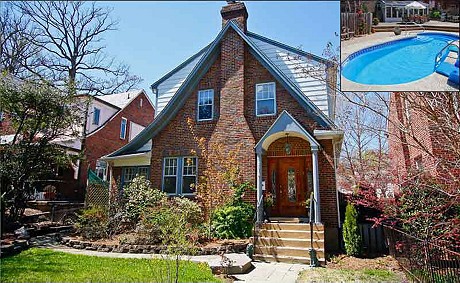 We came across this real estate listing for a home in Chevy Chase DC.   Held open this Sunday from 130pm-430pm, the ask is a reasonable $850,000, and in addition to it being a classic pre-war home in a highly desirable neighborhood, you're buying a piece of First Amendment history.
The connection to the Wone case?  None.  The connection a previous owner has to our mission?  Inseparable.  Mentioned in a post a few months back, the man who lived there from 1940 – 1970 is a guiding light for what we strive to do here.   Iconoclastic journalist I.F. Stone called 5618 Nebraska Avenue home. 
Stone started in journalism as a teen in the 1920's only to find himself virtually excommunicated from the press corps and much of official Washington in the early 1950's.  In 1953 he began self-publishing (blogging as the kids say these days) a four-page weekly newsletter that he helmed until 1971. 
A role model for independent journalists, he fought the biggest of the big and the worst of the worst:  McCarthy's witch-hunts, Hoover's abuses, Nixon's criminality and more than often Stone found himself at odds with a lethargic and compliant Washington press corps.  
Known for his towering intellect, curiosity and indefatigable ability to chase leads and develop sources, Stone scoured the official records and public documents covering stories unseen elsewhere. 
Although the real estate listing provides no clue to the home's past celebrated owner, we sniffed this out using the available databases and the public records.  Izzy's tried and true methods can still pay off.  
Daybook:  On Monday we begin a countdown to a key anniversary, August 2.  Two weeks out from that fateful date the advanced planning for Robert's overnight stay began, although some were clearly not looped in. 
-Craig